This page is part of © FOTW Flags Of The World website
13 Star Flags - (1777-1795) (U.S.)
Last modified: 2015-09-18 by rick wyatt
Keywords: thirteen | united states | hulbert | abel buell | buell | arthur lee | alliance | yorktown | fort independence | sprengel |
Links: FOTW homepage | search | disclaimer and copyright | write us | mirrors

---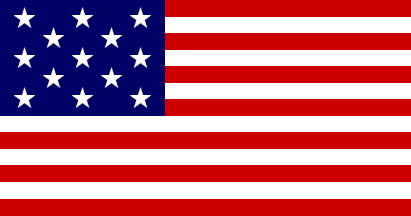 image by Clay Moss, 24 February 2007
---
---
See also:
External sites:
---
The thirteen stars and thirteen stripes represented the thirteen original colonies:
Connecticut - Delaware - Georgia - Maryland - Massachusetts - New Hampshire - New Jersey
New York - North Carolina - Pennsylvania - Rhode Island - South Carolina - Virginia
---
Flag Resolution


Continental Congress's June 14, 1777 Flag Resolution
image by Joe McMillan, 14 June 2000
---
Description of the flag
During the Revolutionary War, numerous flags were used. After the Declaration of Independence was signed on 4 July 1776, the people realized they needed one flag to replace all the assortment of flags used previously. On 14 June 1777, the Continental Congress adopted the following resolution:
"RESOLVED, that the flag of the 13 United States be thirteen stripes, alternate red and white: That the union be thirteen stars, white in a blue field, representing a new constellation."
Because the resolution was not specific there were a number of variations of the 13 star flag.

Although legend has it that Betsy Ross sewed the first flag from a design by George Washington, this has not been substantiated. The first documented U.S. flag was the staggered star pattern shown above. A strong case for the designer of the first flag is Francis Hopkinson. A delegate from New Jersey to the Continental Congress and a signer of the Declaration of Independence. He submitted a bill to Congress for "currency designs, design for the great seal of the U.S., a treasury seal, a design for the flag ..."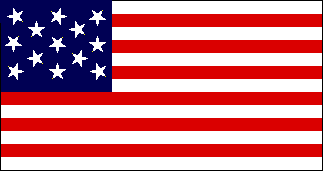 image by Dave Martucci, 6 December 1997
This flag is a "typical" 13 star flag of the early period. Although there were countless variations, this one shows some of the common traits. Specifically, note that the stars point every which way. This was common prior to the last quarter of the 19th century.
Dave Martucci, 6 December 1997
---
Jack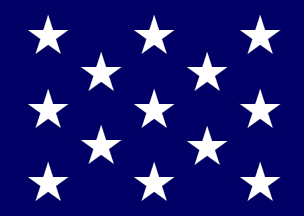 image by Clay Moss, 24 February 2007
---
17 Stripe Flag On Bank Note

image by Devereaux Cannon, 22 February 2000
I have an interest in early forms of the U.S. flag. Yesterday I came across one that is not an actual cloth flag, but is depicted in a vignette on an 1854 banknote of a Tennessee bank. The flag in question has 13 stars, arranged in three rows of 5/3/5. It has a total of 17 stripes, 9 white and 8 red. Also of interest is the extreme length of the flag, which is proportioned approximately 3:1.
Devereaux Cannon, 22 February 2000
---
9 Stripe Flag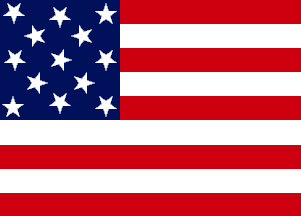 image by Blas Delgado Ortiz, 10 August 2001
The closest thing I could find is a flag with 13 stars and 9 stripes in "The Stars and The Stripes" by Mastai [m2o73]. The flag is in the Mastai Collection, and the book identifies it as a sea captain's flag from the time of the revolution.
Devereaux D. Cannon, Jr., 19 February 2001
---
Some 13 Star Designs
Some of the 13 star flags used are shown below. A link indicates a page about that particular flag in more detail.

Bennington
image by
Rick Wyatt
14 November 1997



Betsy Ross
image by
Edward Mooney, Jr.
19 January 2008



Cowpens
image by
Rick Wyatt
9 July 2001


Six Pointed Star Design
image by
Steven M. Schroeder
18 November 2000

John Shaw (white first stripe)
image by
Rick Wyatt
3 April 2002



John Shaw (red first stripe)
image by
Rick Wyatt
3 April 2002

---
Hulbert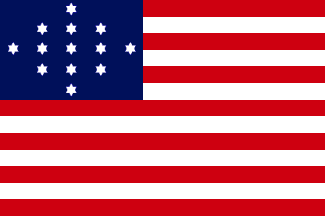 image by Blas Delgado Ortiz, 10 August 2001
Hulbert Flag (1775-1776?) is said to have been made in 1775 by Captain John Hulbert. While this flag was found in a home once owned by Captain Hulbert, there is no reference to this flag in his otherwise rather detailed diaries. The dates are contested by recent scientific studies of the flag's cloth.
Blas Delgado Ortiz, 28 July 2001
---
13 Blue Stars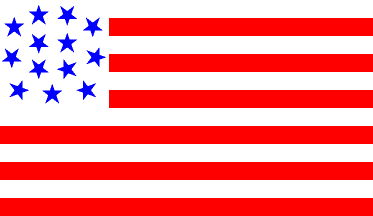 image by Blas Delgado Ortiz, 27 July 2001
13 Blue Stars & 12 Stripes Flag. The use of blue stars in this flag of the Revolutionary period suggests militia use. The omission of the thirteenth stripe probably indicates the loss of a state to the British during the conflict. The band at the bottom was added in 1880 during the presidential campaign of that year, when Winfield Scott English (a former Civil War general) and William Hayden English ran on the Democratic ticket.
Blas Delgado Ortiz, 27 July 2001
---
Arthur Lee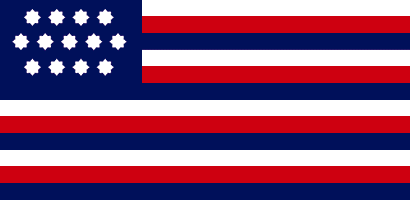 image by Blas Delgado Ortiz, 27 July 2001
Design proposed by Arthur Lee, a Commissioner to France, September 20, 1778.
Source: Sons of the Revolution of California website
Blas Delgado Ortiz, 27 July 2001
---
Alliance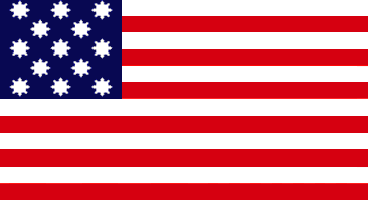 image by Blas Delgado Ortiz, 27 July 2001
This flag was flown on the Continental Frigate "The Alliance", October, 1779. John Paul Jones had taken refuge in the harbor of The Texel, Holland, after the engagement between the Richard and Serapis.
Blas Delgado Ortiz, 27 July 2001
---
Bauman's Yorktown Flag 1781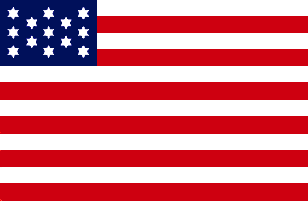 image by Blas Delgado Ortiz, 27 July 2001
Maj. Sebastian Bauman, 2d (NY) Regiment of Artillery, depicted this flag on a map of the siege of Yorktown.
Blas Delgado Ortiz, 27 July 2001
---
1876 Centennial 13-star flag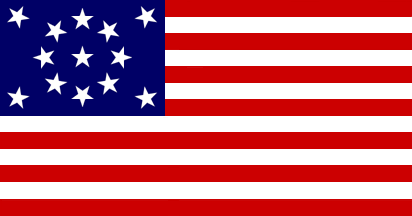 image by Clay Mass, 14 March 2007
Many 13-star flags sold on e-bay were produced for the nation's centennial, 1876. According to the owner, this version was made for the centennial celebrations around 1876.
Clay Moss, 14 March 2007
---
Abel Buell 1783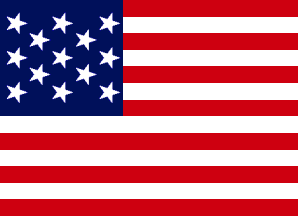 image by Blas Delgado Ortiz, 27 July 2001
In 1783 Abel Buell published A New And Correct Map Of The United States Of North America, in which this image was reproduced. Abel Buell, 1742-1822, was an American silversmith, engraver, and type founder, born in Killingworth, Conn. He engraved a number of maps, including maps of the Florida coast and a large wall map of the United States, the first produced in America after the Treaty of Paris in 1783. He experimented in type founding, cast the first font of native-made American type (1769), and later supplied type to Connecticut printers. He invented machinery for cutting and polishing precious stones, for coining money, and for a period produced copper coins for the state. He also established in 1795, at New Haven, one of the first cotton mills in the country (which soon failed), and was involved in many other projects.
Blas Delgado Ortiz, 27 July 2001
---
Fort Independence 1781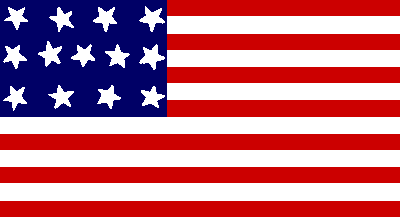 image by Dave Martucci, 16 January 2006
This version of the "Stars and Stripes" flag was said to have been the flag at Fort Independence, in Boston during 1781.
Blas Delgado Ortiz, 28 July 2001
---
Cross Pattern
image by Blas Delgado Ortiz, 28 July 2001
This flag has the stars making a St. Andrew Cross in such a way that when the flag is hung as a banner, it looks like an hourglass.
Blas Delgado Ortiz, 28 July 2001
---
Vertical Star Pattern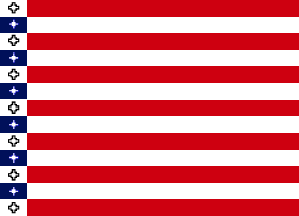 image by Blas Delgado Ortiz, 28 July 2001
This flag was one of many different takes on the 'stars without a field' idea. The designer is unknown and its use is as well. The only record of it is from a French paper published in 1796.
Blas Delgado Ortiz, 28 July 2001
---
Sprengel's Almanac Flag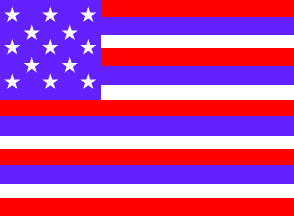 image by Blas Delgado Ortiz, 27 July 2001
Matthias Sprengel's British Almanac depicted this flag in 1784.
Source: Sons of the Revolution of California website
Blas Delgado Ortiz, 27 July 2001
---
Trumbull Flag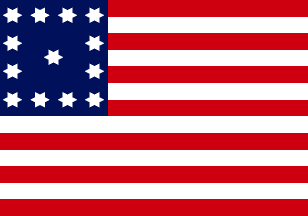 image by Blas Delgado Ortiz, 29 August 2001
This design is one of the 'square' canton flags as recorded by the painter John Trumbull in his historic canvases, "The Surrender at Saratoga", 1778, and "The Surrender at Yorktown", 1781.
Blas Delgado Ortiz, 27 July 2001
This entry implies that John Trumbull recorded this flag as a contemporary witness but in reading 'The Fate of a Nation' by W M Cumming and H Rankin it mentions that the painting 'The Surrender of General Burgoyne at Saratoga New York 17 October 1777' was not planned until 1786, was designed in a small oil in 1816 and not completed until 1824. This webpage en.wikipedia.org/wiki/Surrender_of_General_Burgoyne however says that it was completed in 1821, but hung in 1824. Trumbull visited the site to plan the painting in 1791 ... so what was his source for the flag? A point for discussion as to whether he invented it, or took it from an example that he served under elsewhere?
David Barry Lawrence, 16 October 2011
I can't directly answer the question, but can say the artist had served in 1777 under Horation Gates, the American general depicted in the scene. I could not locate a definite answer as to the exact date he resigned, and so do not know if he was actually present at Saratoga, but it seems that at the very least he would have been an eyewitness to whatever flag Gates used at some point that year.
Ned Smith, 17 October 2011
---
Later Use As A Boat Ensign
The Revolutionary War era flags with stars arranged in rows 3-2-3-2-3 were used in the late 19th/early 20th centuries--this is the "boat flag" used by the U.S. Navy and Coast Guard during that period. Ensigns flown on boats were too small for the 45, 46, or 48 stars to be clearly visible (or maybe they were just too hard to make with the technology of the time), so boats flew a 13-star ensign instead of the standard one.
Joe McMillan, 5 July 2000