This page is part of © FOTW Flags Of The World website
Flag superlatives
Last modified: 2020-12-05 by rob raeside
Keywords: flag | flag:largest | flag: oldest | flag: smallest representation | flag: most on display | flagpole: largest | flag: most colors |
Links: FOTW homepage | search | disclaimer and copyright | write us | mirrors

---
See also:
---
From time to time the question arises what is the biggest / oldest / longest / etc. flag. This page records some of the answers to these questions.
Largest/Smallest flags
Largest flag aloft
Reported by Ven Online:
The world's largest APEC flag, which is 80 m wide and 125 m long and is 10,000 sq.m. With an APEC Vietnam 50 m high, 55 m wide logo, the flag was flown aloft by five large balloons on November 20 to welcome APEC Vietnam 2006. It was then given to the Vietnam Revolution Museum.
from a contribution by Phil Nelson, 20 January 2006
---
Largest flag hung
On August 18, 2005, the following was reported by Agence France Presse about an attempt to hoist the world's largest flag in Jakarta Indonesia on August 17:
The flag, 156 metres (171 yards) long, 50 metres wide and weighing 1.3 tonnes, was unfurled from the top of a tall new building in Central Jakarta on Wednesday but the wind tore the seams apart, the Jakarta Post said.
from a contribution by Lewis A. Nowitz, 18 August 2005
---
Mexico has mounted monstrous 164-by-94-feet Mexican flags, hung from gigantic 109-ton flagpoles over three football fields tall, in three locations directly across from the U.S. - El Paso, San Diego, and Laredo TX.
quoted by Roy Stilling, 04 February 1998
For more details on these Mexican flags, see Mexico.
---
Largest flag
"The largest flag in the world - an Israeli flag the size of two football stadiums - has arrived in Israel this week and will be presented at a ceremony in honor of 50 years of friendly relations between Israel and the Philippines.
"Two flags of identical size, one Israeli and one Philippine, will be measured by representatives of the Guinness Book of Records, who are anticipated to declare them the "largest flag in the world."
"Each flag was sown in the course of 3 weeks by six professional sewers under the direction of two designers and 40 volunteers, and weighs 5,200 kilos (11,000 lbs). Each flag is twice the size of the American "super flag" which holds the title at the moment as the largest flag in the world."
Steve Carol, 23 November 2007 citing Arutz-7 News report
This has indeed come to pass: http://www.haaretz.com/news/giant-israeli-flag-breaks-world-record-for-largest-in-world-1.233957
"... The huge blue and white Israeli flag, 660 meters (2,165 feet) long and 100meters (330 feet) wide and weighing 5.2 metric tons, breaks the
record for the world's largest, according to the Tourism Ministry. It was measured by representatives for the Guinness Book of Records. ...
The record-breaking Israeli flag was accompanied by a giant Philippines flag - huge, but not quite as big. It weighed only about 3.8 metric tons."
Photograph: http://koreanewsonline.blogspot.nl/2013/11/60-years-discussion-finally-ended.html (used for illustrating an article that happened to be about Israel and Philippines).
Peter Hans van den Muijzenberg, 24 August 2014
---
In August of 2004, Pakistan unfurled a 340 x 510 (173,400 square foot) foot National flag. In December 2004, Bahrain unfurled a 318 x 555 foot (176,490 square foot) National flag, breaking Pakistan's short-lived record.
Sources:
Shell Pakistan unfurls world's largest flag - PakTribune
Tiny Gulf state unfurls huge flag - BBC
Walter Ring, 18 March 2006
---
On Saturday, June 12th the largest American and largest flag in the world was on display for one hour at Moffett Field in Mountain View California. This flag is 255 feet by 505 feet. It's by Ski Demski who had the Stars and Stripes unfolded on the Hoover Dam.
Jarig Bakker, 02 May 1999
Ed: This can be seen at http://www.superflag.com/
---
The site http://www.fraternet.org/mdh/mdh_drapeau.htm shows a postcard (450 x 654 pixels) with a photography of the largest flag in the world.
According to the legend, it was displayed in Calais on 6 June 1998 and homologated by the Guinness Book. It is shown lying on soil and I doubt it ever flew. Dimensions are 125 x 90 m, therefore 11,250 sq. m. The text translated as:
"My deepest thanks to all of those who contributed to realize the largest flag in the world, the Tibetan flag. May all these merits be dedicated to freedom in Tibet and peace in the world. Signed by the Dalai-Lama, 6 December 1998".
Ivan Sache,15 April 1999
---
The very large Tibetan flag compares to "Ski" Denski's giant US flag as follows:
Large US/Tibetan comparison

| | | | |
| --- | --- | --- | --- |
| | Fly | Hoist | Area |
| Tibet | 125m (340 feet) | 90m (295 feet) | 11,250 sq m |
| United States | 154m (505 feet) | 78m (255 feet) | 12,012 sq m |
As you can see, the total area of the US giant is a bit more, although the Tibetan's 1:1.3 ratio gives it a greater hoist.
Obviously, neither will ever fly from a pole.
William E. Dunning, 18 April 1999
An estimated 200 people in the Romanian village of Clinceni have unfurled what the Guinness World Records say is the largest flag ever made: http://www.bbc.co.uk/news/world-europe-22681834
The flag, measuring 349 m (1,145 ft) by 227 m (744 ft) and weighing five tonnes, was spread over seven acres of an airfield south of the capital, Bucharest. It was broadcast live on national TV.

Work on the enormous red, yellow and blue tricolor began two months ago and took hundreds of hours to complete. An estimated 44 miles (70 km) of thread was needed. Prime Minister Victor Ponta and other members of the Romanian government attended Monday's event, which was celebrated with an air show.

The previous record for the world's largest flag was held by Lebanon
Esteban Rivera, 27 May 2013

Other reports of this Romanian flag: http://www.geekosystem.com/romania-fla/
Walter H. Ring 3rd, 8 July 2013
---
From the Guinness Book of Records

The largest flag draped measured 101,978 m² (1,097,682 ft²) and was achieved by Moquim Al Hajiri (Qatar) of Brooq Magazine (Qatar), in Doha, Qatar, on 16 December 2013. The dimensions of the flag are: 509.97 x 199.97 m (1,673 ft 1.5 in x 656 ft 0.83 in).
http://dohanews.co/qatar-smashes-guinness-world-record-for-largest-flag/

It seems the record keeps changing. Here is an interesting article about a proposed flag:
http://www.thenational.ae/news/uae-news/worlds-largest-flag-the-size-of-100-football-pitches-to-be-unveiled-in-uae-this-year
Provided by "nsdap18", 16 July 2014
---
Longest Flag
According to the Gay Financial News, Gilbert Baker, creator of the Rainbow flag, put together the longest Rainbow flag for the upcoming Rainbow25 festival. The flag is projected to be 8,000 feet long by 16 feet wide in the original 8 colors. It surpasses a mile long flag used in New York in 1994 for Stonewall 25.
Phillip L. Nelson, 6 April 2003
A photo of an exceptionally long Syrian flag is published by the BBC at http://news.bbc.co.uk/nol/shared/bsp/hi/dhtml_slides/11/syria_beginners_guide/img/005.gif. The caption reads, "Although the major cities of Damascus and Aleppo have seen pockets of unrest and some protests, it has not been widespread - due partly to a heavy security presence. There have been rallies in the capital - one with an enormous Syrian flag - in support of President Assad, who still receives the backing of many in Syria's middle class, business elite and minority groups".)
Source: http://www.bbc.co.uk/news/world-middle-east-14363559
Esteban Rivera, 1 August 2011
---
Turkmenistan: quoting H. Hasanov, "Trend", 20 February 2012:

"A day has been given as a public holiday on the occasion of the National Flag Day of Turkmenistan, originally celebrated on February 19th, but transferred to Feb 20, an official Turkmen source reported. President Gurbanguly Berdimuhamedov's decree expects all agencies, enterprises and organisations irrespective of ownership to observe it. [...]
A flagpole has been erected in the main square of the Turkmen capital Ashgabat in front of the national museum. With a height of 133 metres and weighing nearly half a ton and measuring 52.2 by 35 metres it has been accepted into the Guinness Book of Records.[...]"
http://en.trend.az/regions/casia/turkmenistan/1994168.html (with color photo)
Ivan Sache, 20 February, 2012
Saudi Arabia
Quoting "Arab News", 17 February 2012:
"In cooperation with Jeddah Municipality, Abdullatif Jameel Community Community Initiatives (ALJCI) has agreed to create the world's tallest and biggest flag in Saudi Arabia. [...]
The flag will be 165 meters tall, and its area will be 2,000 square meters. A virtual film of the anticipated flag, which will be an important landmark of Jeddah, can be viewed at http://www.aljci.org/en/saudi-flag."
http://arabnews.com/saudiarabia/article576938.ece
Ivan Sache, 20 February, 2012
Statista.com reports the world's tallest flag poles in 2020:
560 feet (171 m) Jeddah, Saudi Arabia
541 feet (165 m) Dushanbe, Tajikistan
531 feet (162 m) Baku, Azerbaijan
525 feet (160 m) Kijongdong, North Korea
436 feet (133 m) Ashgabat, Turkmenistan
430 feet (131 m) Aqaba, Jordan
416 feet (128 m) Amman, Jordan
400 feet (122 m) Abu Dhabi, UAE
400 feet (122 m) Wagah, Pakistan
---
Smallest flag representation
Two electrical engineering students at the University of Texas at Dallas, Jang-Bae Jeon and Carlo Foresca, produced the smallest flag: 7 microns in height (a human hair is 100 microns in width). The flag, with pole, was cut into a silicon wafer using a microscopic laser (ion beam). The "flag" has not been recognized by Guiness which has no way to verify the image at this time. The two students have also spent months to create a 4 micron U.S. and Texas flag.
from a contribution by Lewis Nowitz, 4 July 2006
---
Largest Kite Decorated as a Flag
From the Bristol 'Evening Post', Friday 3 September 2004:
The £50,000 mega-kite that flies the flag

The world's biggest kite - a giant Kuwaiti flag - will be flying at the International Festival of Kites and Air Creations in Bristol this weekend.

Wealthy Abdul Rahman Al Farsi, who runs a cut glass business in Kuwait, commissioned top kite maker Peter Lynn to create the £50,000 mega-kite.

It is 42m (115ft) wide, 25m (68ft) long and 7m (19ft) deep and is shaped like a giant pillowcase. It needs filling with air when it is launched.

The giant flag took 750 hours to make, using 27,000 sq ft of material. It weighs 400 lbs. and needs to be anchored to four-wheel drive trucks.
André Coutanche, 6 September 2004
---
Displays
Most flag-adorned building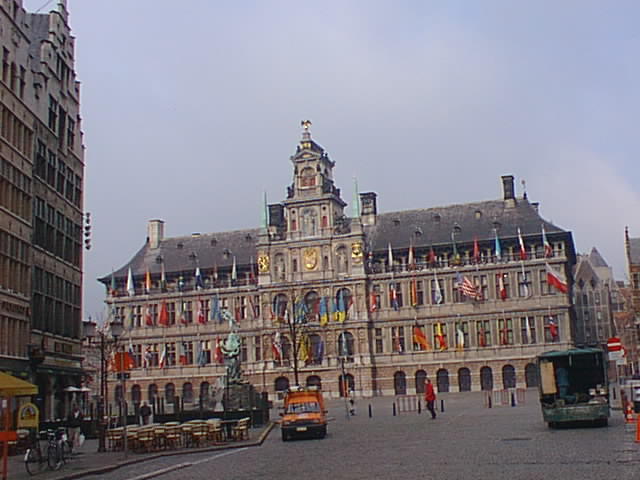 contributed by Herman De Wael
The Town Hall of Antwerpen, Belgium. It is said that they hang the flags of all the nations that have ships in the harbour.
This picture shows only the front. To the left is another face with some more flags. In the center, first floor, are the flags of Belgium, Flanders, EU and Antwerp. On the second floor are the flags of the districts.
Quite a nice sight in reality!
Herman de Wael, 15 April 1998
---
Most flags on display
My neighbours flew in from Canberra and gave me a fact sheet of the International Flag Display there. Some points from the fact sheet "..To celebrate this unique aspect of Canberra (i.e. being home to 80 nationalities and cultures) as our capital, the National Capital Authority designed and created the International Flag Display". "The IFD is arguably the world's largest, continuous display of International Flags. Located on the foreshore of Lake Burley Griffin in Canberra's Parliamentary Zone, the Display colourfully acknowledges and is dedicated to those nations and organisations that maintain a diplomatic presence in the national capital." "Maintained by the Authority, the 80 flags fly continuously, 24-hours a day on 12-metre flagpoles. Each flag is lit at night, casting a beautiful and vivid reflection on the Lake ....etc..etc"
OK, some questions and issues:
(1) "arguably the world's largest" - any challenge from anywhere on this statement?


(2) "fly continuously, 24-hours a day" - smart move, save hoisting them up and lowering them.
Tom Koh, 25 January 2000
---
In Madrid, the flags of all OAS member states can be seen on permanent display at the Casa de América (Linares Palace, Cibeles Square), and occasionally (on the 12th October for instance) at the Museo de América (near the start of the A6 highway). The flags of all Spanish autonomous communities are on permanent display at the Spanish Senate (near the Royal Palace) and at the IFEMA Trade Fair (halfway to the airport).
Santiago Dotor, 25 January 2000
---
Three that I have seen:
The Commonwealth Institute in High Street Kensington, London, where all the member nation flags are flown, including Mozambique, and in October, even Pakistan, even though they had just been suspended. I was staying around the corner from the Institute, and it seemed as if the flags were up 24 hours a day. The poles are arranged in rows.
There are flags of all nations that the United States has diplomatic relations with in the US State Department. They are in a row, side-by-side, on poles attached to the wall about 5 meters above the ground. According to my almanac, the US has diplomatic relations with 180 nations, so the following 11 should not be represented: Bhutan, Cuba, Iran, Iraq, North Korea, Libya, Liechtenstein, Monaco, San Marino, Somalia, and Taiwan.
I also saw many national flags along the road outside the Foreign Office in London (is it Whitehall?) but I do not know if this a permanent display. They seemed to be mostly Commonwealth nations. I must say it was rather nice to see some "obscure" flags such as Tuvalu flying in public (for my first time anyway!)
Roger Moyer, 25 January 2000
---
These are on the road between Whitehall and St James's Park and so form the backdrop to the parade ground where the Trooping of the Colour and other state events take place. I think they are only flown during the Summer, but I must admit I haven't visited the area in Winter. The flags line both sides of the street and appear to be in random order until you remember that this is a display of Commonwealth countries and that they are ordered by their original entry (i.e. ignores any temporary absences) into the Commonwealth. They start by the Guards Memorial directly opposite the clock tower of Horseguards and work their way round anti-clockwise.
Graham Bartram, 25 January 2000
---
The headquarters of the United Nations in New York is where the flags of 191 members are displayed (all independent countries except Taiwan and City of Vatican).
J. Patrick Fischer, 29 April 2006
---
Rockefeller Center, a few blocks away, has about 200 flagpoles. Sometimes they have the nations of the world, which I assume would have one or two more than the UN (although not as up-to-date). The US flag is front and center, under Flag Code rules. Sometimes they have flags of the fifty states (more than once each, of course), sometimes all US flags, sometimes decorative monocolored flags.
Nathan Lamm, 29 April 2006
---
The "Vlaggenparade" ("Flag parade") in Rotterdam (The Netherlands) has 220 permanent flagpoles with flags of all nationalities (165) in Rotterdam and flags of sponsors. In April there was/is an exhibition of the flags of the Dutch polderboards.
Mark Sensen, 29 April 2006
---
The flags in the Hall of Nations at the Kennedy Center in Washington DC displays the flags of countries whom the United States has diplomatic relations, in alphabetic order from the left hand side by the main entrance (as if your back were to the road), going down the left hand side to the terrace end and coming back up to the right.
In the Hall of States, are the flags of the fifty States, in order of admission into the Union, again starting off on the left hand side with Delaware, proceeding down to the terrace end and coming back up to the right hand side, where may be seen the flags of the five territories of the United States.
Colin Dobson, 30 April 2006
---
The Swiss National Exposition in Lausanne 1939 and 1964, displayed the flags of Swiss communal and cantonal flags (3000) exceeded all these.
Ned Smith, 29 April 2006
---
Flag with most colours
I think that flags with most colours are those with a seal, like flags of Haiti, St. Helena, Falkland Islands, Bermuda, Cayman Islands and so on and it's a little hard to count them precisely. Without a seal, it's certainly South Africa that have the most colours with 6, but we can also mention the local flag of St. Pierre & Miquelon.
Pascal Gross, 18 April 1998
---
Flags (Largest during a skydiving event)
WAM agency reports on 12 January 2006:
Nasr Hamood Al Nayadi, member of the Emirates Aviation Society and the UAE Free Fly Team, has performed a stunning flight carrying a 15 meter long and 7.5 meter wide UAE flag, which would guarantee him a place in the Guinness World Record through skydiving with the world's largest flag.

Al Nayadi is also the first Asian skydiver that flies wearing a 'bird man' costume, which requires a special skill and hard training.
Ivan Sache, 18 January 2006
---
Largest Human National Flag
The biggest human flag was built a few days ago in the National Stadium of Lisbon (Portugal) by 18,788 women. Rob Molloy officialized the new world record for the Guinness Book. The event was part of the support ceremonies for the football national team leaving to Germany. The now second biggest human flag was built in last February by 13,254 people in Scotland during the rugby Six Nations Tournament.

Source: La Primera, Peru
Ivan Sache, 2 June 2006
---
Unrecognized contender
The British Broadcasting Corporation reported on its website on 31 May (2006) that 35,000 England fans (of a 56,233 attendance), prior to their "friendly" match against Hungary at the Manchester United ground, Old Trafford, in Manchester on Tuesday, 30 May 2006, held up 17,500 pieces of plastic to make up a large England flag graphic. The article later states there was a "bit of a hole" in one end of the flags the stand was not full, but if the numbers quoted are correct - and I wonder what the methodology of the Guinness Book of Records is - then this might well have beaten the Portuguese record attempt by some way.
The graphic designer behind the project describes it as "public art".
Sources:
(1) British Broadcasting Corporation (BBC) web site http://news.bbc.co.uk/1/hi/uk/5016046.stm, dated 31 May 2006, (7 June 2006)
(2) Football Association web site, www.thefa.com, (7 June 2006)
Colin Dobson, 7 June 2006
---
Most Expensive?
On 14 June Sotheby's (New York) sold four battle flags of the American Revolution captured by Col. Tarleton. The first flag (striped, captured in New York in 1779) sold for $12,000,000 (plus a $336,000 buyer's premium), and a set of three Virginia flags captured in South Carolina in 1780 (two regimental, one with stars) sold as a single lot for $5,000,000 (plus $56,000 buyer's premium).
Nathan Lamm and Devereaux Cannon, 14 June 2006
---
Posted 29 April 2006 to Flagwire was an article from The Scotsman about the sale of the Irish tricolour from the Easter Rising. This certainly tops the value of the Shackleton flag which held the record for most expensive.
Irish flag from 1916 Easter Rising sells for £415,000

The Irish tricolour used in the 1916 Easter Rising was sold yesterday to an anonymous bidder for €600,000 (£415,000) [that's $758,000 USD or $847,000 CAD].

The linen flag was believed to have flown over the General Post Office in Dublin and was captured by a British Army sergeant after the Rising, before ending up in the hands of a wealthy Catholic family.
Ian MacDonald, 29 April 2006
---
Oldest references
According to Ivan Sache, one of the oldest references to flags on ships with purpose to identify the nationality is a treaty of 1297 between English king Edward I and Flemish duke Vido (sp?) where it is prescribed that "ship should fly the flag of her souvereign". Also, according to the same source, the flag gained the meaning of the national state identity only in 15th century (in England, many other navies retained practice of putting their identification markings on the sails until much longer).
In reference to Adriatic, the Republic of Ragusa (Dubrovnik) had flag prescribed already in the statutes of 1272 (I guess other small states in Adriatic and Tirene seas must have had similar at the same time). E.g. in the statute of the city of Senj from 14th century it was prescribed that a ship that enters the port without a flag shall be financially fined.
Željko Heimer, July 2002
---
Most enthusiastic effort
In searching a link recently sent to me by The Norwegian Post, I came across the following story dated May 17, 1999, which qualifies as perhaps a superlative in its own right:
Flag pole carried 35 kilometres

The 200 inhabitants of Drevvatn north of Mosjoen didn't want to waste money on special transport when they took their 12 metre long flagpole to the town hall. They carried the pole the 35 kilometres from Mosjoen. After three years and 16,000 hours of voluntary work the town hall in Drevvatn is finished at last.

On Friday came the icing on the cake: a 12 metre flagpole given to the district as a gift. It came overland, reports NRK, carried by the fit townsfolk who didn't want to waste money on expensive transport. After five hours and 18 exchanges the world's longest relay baton has arrived and the flag is raised for the town hall, its bearers, and Norway's national day, the 17th May.
Phil Nelson, 22 October 1999
---
Oldest flags in use
Oldest flag representing a people:

Flag with the longest history of representing a people:

Oldest flag, now in use to represent a country:

Oldest flag at one time in use to represent a country:

Flag with the longest history of representing a country:

Earliest adoption of a flag of a country:

Flag with the longest history of representing a country and its people:

Earliest adoption of a flag for a nation and its people:
compiled by Peter Hans van den Muijzenberg, 29 August 2003
---
So: What is the oldest flag?
This apparently straightforward question is actually a trap for the unwary, and one into which I have fallen several times. Switzerland and Denmark certainly have a very respectable pedigree, as does the flag of England (even if they were, perhaps, beaten to it by Genoa), whilst the triband of Austria has its adherents etc.
I am not a flag historian, none the less (and as an example), according to sources the white cross of Switzerland first made its appearance as a common symbol of the Swiss cantons at the Battle of Laupen in 1339, whilst the Cross of St George made its first appearance in 1277, however, in this latter case (and very possibly in both) it was not a flag but was rather, a distinguishing badge to be worn on the clothing. On the other hand, the Swiss Confederation did not formally adopt the cross until 1814, and as a National Flag until 1889, whilst the Cross of St George has been the de facto flag of England since the end of the 14th Century?
Along as we accept that the concept of a 'National Flag' as such is a comparatively recent invention I would say that the Dannebrog is the national flag currently flown which has the longest period of continuous use, however, other flags have valid claims and I don't propose to dig any more of a hole for myself than I have already.
Christopher Southworth, 16 May 2005