This page is part of © FOTW Flags Of The World website
Gay Pride / Rainbow Flag
Sexual Orientation Flags
Last modified: 2022-11-26 by randy young
Keywords: rainbow flag | baker (gilbert) | stripes: 6 | stripes: 7 | stripes: 8 | gay pride |
Links: FOTW homepage | search | disclaimer and copyright | write us | mirrors

---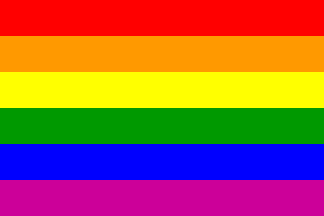 image by António Martins, 20 April 1999

---
See also:
External links:
---
The rainbow is a symbol of gay pride, as opposed to gay liberation, which used the pink triangle on various colored fields.
Jim Ferrigan, 14 February 2003

The plain 6 stripes does seem to be the flag of choice over the world and probably so for a simple reason of recognition: the flag is often use to mark "gay-friendly" (and in some places, "gay-safe") establishments, so you want to be sure that your target clientele will recognise you.
Marc Pasquin, 26 October 2004

The rainbow flag has become the easily-recognized colors of pride for the gay community. The multicultural symbolism of the rainbow is nothing new and it plays a part in many myths and stories related to gender and sexuality issues in Greek, Native American, African, and other cultures.
M. Schmöger, 26 August 2001
quoting from this page

The rainbow flag [meaning]:

red: light;
orange: healing;
yellow: sun;
green: calmness;
blue: art;
lilac: the spirit;
[black: AIDS awareness]
M. Schmöger, 26 August 2001
translating from EuroGay.NET

The Alyson Almanac: A Treasury of Information for the Gay and Lesbian Community describes Rainbow Flag as follows:

In 1978, Gilbert Baker of San Francisco designed and made a flag with six stripes representing the six colors of the rainbow as a symbol of gay and lesbian community pride. Slowly the flag took hold, offering a colorful and optimistic alternative to the more common pink triangle symbol. Today it is recognized by the International Congress of Flag Makers, and is flown in lesbian and gay pride marches worldwide. In 1989, the rainbow flag received nationwide attention after John Stout successfully sued his landlords in West Hollywood, when they prohibited him from displaying the flag from his apartment balcony. Meanwhile, Baker is still in San Francisco, and still making more flags.
In San Francisco, the Rainbow Flag is everywhere: it can be seen hanging from apartment windows throughout the city (most notably in the Castro district), local bars frequently display the flag, and Rainbow Flag banners are hung from lamp posts on Market Street (San Francisco's main avenue) throughout Pride Month. Visiting the city, one can not help but feel a tremendous sense of pride at seeing this powerful symbol displayed so prominently.

Although the Rainbow Flag was initially used as a symbolof pride only in San Francisco, it has received increased visibility in recent years. Today, it is a frequent sight in a number of other cities as well — New York, West Hollywood, and Amsterdam, among them. Even in the Twin Cities, the flag seems to be gaining in popularity. Indeed, the Rainbow Flag reminds us that ours is a diverse community — composed of people with a variety of individual tastes of which we should all be proud.

Sources used for this article were found at Quatrefoil Library in St. Paul, and include:

[zom86] "Vexed by Rainbows" by Paul Zomcheck, in Bay Area Reporter (June 26, 1986)
[u9s89a] "Rainbow Flag" in The Alyson Almanac (1989)
[u9s90a] "The Rainbow Flag," in Parade 90: San Francisco Gay/Lesbian Freedom Day Parade and Celebration (June 24, 1990)
Christopher Pinette, 12 June 1996

For a long time past the rainbow flag has been a sign under which gays and lesbians declare themselves to homosexuality. The rainbow colours symbolize plurality and love of life. The original version had been designed in 1978 by Gilbert Baker, an artist from San Francisco, and has been changed several times since then due to printing reasons (colours). Over the last years the flag has gained popularity as a symbol. The open display of the flag in different forms (e.g. car sticker, button on clothes) shows, that the gay community has enormously gained in self-confidence. They don't hide themselves any longer, but openly show their gayness in the public.
M. Schmöger, 26 August 2001
translating from BcWsD.COM

It is interesting to note that the flag's colors are used for many other items also - such as mugs, beach towels, T-shirts, etc. - for sale in souvenir shops. Sometimes the actual flag is reproduced and sometimes the colors are used for non-flag design elements, e.g. a T-shirt with six small beach umbrellas embroidered across the front, one in each color of the flag.
Tom Gregg, 20 August 2001

A question about the Rainbow Flag: wasn't it formerly the symbol of the Cooperativist Movement?
Juan Jose Morales, 13 June 2017

Yes, indeed. It was adopted in 1925 until 2001.
Esteban Rivera, 13 June 2017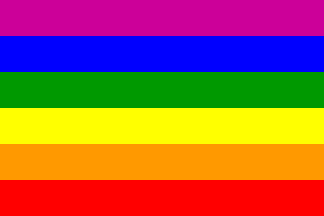 image by António Martins, 12 January 2000

There is no "right-side up" for this flag. It may be flown either red up or purple up. This information comes directly form Gilbert Baker, the gay artist who conceived of the "The Rainbow Flag" as a symbol of Gay Pride.
James Ferrigan, 26 July 1999

I guess that this applies to the plain rainbow flag and to the horizontally symmetrical variants (pink triangle at hoist, etc.). However, things like the white lambda on a rainbow background or rainbow smiley flag can't be freely hoisted upside down, meaning that they may be produced either with red up or with purple up. However, I'd say that most of those variations are more often with red stripe up, as well as plain rainbow flags, especially those that are produced with such a hoisting device that they cannot be inverted.
António Martins, 27 July 1999

True enough, and yet it somehow underscores that very point, each gay person is free to be "oriented" in any direction, the freedom it give to groups is likewise unique. A survey we conducted in San Francisco showed that the ratio was about 4 to 1 for red to purple up. We used to tell customers fly red up if you're in a good mood! The rainbow with the lambda did come both ways in the 1980s, also we would also give the customer a choice when mounting the flag on poles. The "red up," so far as I know, came from an incorrect handout from Lambda Rising in Washington, D.C.
James Ferrigan, 28 July 1999

I work for COC Nederland, which is the oldest existing gay rights organisation in the world (founded 1946). I have noticed that in Western Europe we use the flag red stripe up, while our colleagues in Eastern Europe use it the other way round. I've seen this use in Romania, Bulgaria and Moldova. The countries in former Yugoslavia use it with the red stripe up, maybe because Yugoslavia was always a "Western European" country.
Maxim van Ooijen, 12 June 2005

The Gay Pride Flags I observed in Provincetown, the US East Coast's gay Mecca, were being flown with the red stripe at the top.
Tom Gregg, 20 August 2001

Not only that there is no "right-side up," but the flags with red and purple stripes up are frequently used together as well. A good example is the photo found here (image). Unfortunately, there is no info on the origin of the photo, except that it was clearly taken before 3 October 2012 and that it is from some Gay Pride event. It is used merely as an illustration of the article, which was published on the date given above, but is rather vaguely related to its content.
Tomislav Todorović, 28 December 2014

---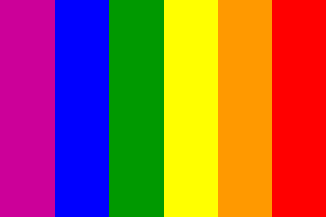 image by Joàn-Francès Blanc, 7 July 1999

On a bar at Bergerac/Brageirac (France) displayed at the entrance of the city, a gay flag with vertical stripes.
Joàn-Francès Blanc, 7 July 1999

A more recent sighting of the flag was at the Leeds Pride 2011: https://www.flickr.com/photos/fairynormal/6025945804/. The shades differed somewhatfrom those of 1999: green was visibly lighter than usual, violet was visibly darker, better to be described as purple, and yellow and blue were also slightly lighter as well.
Tomislav Todorović, 20 May 2020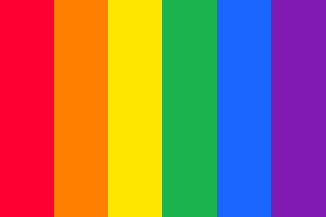 image by Tomislav Todorović, 14 June 2015

Similar flags with red stripe at the hoist were carried at Atlanta Pride 2009 in Atlanta, Georgia. The photo is available here.
Tomislav Todorović, 14 June 2015

This flag was also used in Portland, Maine, at the South Maine Pride 2006.
Tomislav Todorović, 1 August 2015

Flags with the same design, except somewhat different color shades, were used in Bucharest, Romania at the GayFest 2009 parade. Photos from the event can be found here, here, here, here, here, here, and here. These flags were used again at GayFest 2010, as can be seen here, here, and here.
Tomislav Todorović, 26 December 2015

The flag was also photographed in Toronto, Canada, on 22 June 2016. As it was hoisted next to the national flag of Canada, it was made with the same ratio of 1:2.
Tomislav Todorović, 17 July 2016

The "landscape" variant with red stripe at the hoist was recently used in Kochi, India at the 8th Kerala Queer Pride, which took place on 12 August 2017. The photo album from the event can be found here.
Tomislav Todorović, 2 September 2018

The flag was also used at the 6th Pride March in (Vitoria de) Durango, on 17 June 2017. Photos from the event, available at https://laguna.telediario.mx/noticias/durango/realizan-sexta-marcha-gay-en-durango-marcho-por-mis-derechos (image 1: https://image.laguna.telediario.mx/sites/default/files/styles/article_wider__1x_/public/1efc0635-2bb5-425f-b36f-c97cfc93c310_1.jpg and image 2: https://image.laguna.telediario.mx/sites/default/files/styles/article_wider__1x_/public/04f6d8e0-99b5-42f2-bfa1-3f5c37df0d34.jpg), reveal a variety of color shades appearing in individual flag copies. This was not the first appearance of these flags, for one of them had also appeared in the photo used to illustrate the announcement of the event (http://durango.com.mx/habra-marcha-gay-durango-17-junio/ [image: http://durango.com.mx/wp-content/uploads/2017/06/marcha-gay-en-durango.png]), which consequently must have been made at an earlier event.
Tomislav Todorović, 30 September 2019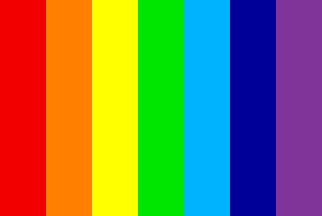 image by Tomislav Todorović, 30 September 2019

Increasing use of vertical variants of 6-striped flag has also inspired the introduction of 7-striped vertical flags. A flag with this design was seen at the 6th Pride March in (Vitoria de) Durango, on 17 June 2017. The photo can be viewed here: https://laguna.telediario.mx/noticias/durango/realizan-sexta-marcha-gay-en-durango-marcho-por-mis-derechos (image: https://image.laguna.telediario.mx/sites/default/files/styles/article_wider__1x_/public/f465430e-add1-48b8-904a-728f83dc7d06.jpg).

Although the flag is not completely visible, the orientation of stripes, with red at the hoist, can still be clearly recognized.
Tomislav Todorović, 30 September 2019



image by M. Schmöger, 22 August 2001

This is a vertical variant of the rainbow flag, actually a Knatterfahne (flapping flag), i.e. a vertical flag with vertical stripes, the red at the hoist. Seen during the CSD (Christopher Street Day) Parade in Munich.
M. Schmöger, 22 August 2001



image by Tomislav Todorović, 6 July 2013

Just like the horizontal variant may be flown either with red or with purple at the top, the "portrait" vertical variant may be flown either with red or with purple at the hoist. The flags with the purple at the hoist were used at the Pride Parade in Jerusalem, on 26 June 2008. Their hoisting was a combination of those of German Knatterflaggen and Auslegerflaggen, only with both the staff and the outrigger going each through a sleeve.

The flags with the same pattern, only hoisted like German Haengeflaggen, were used in Tel Aviv, on 18 July 2005 and in Jerusalem, on 25 June 2009.
Tomislav Todorović, 6 July 2013




image by Tomislav Todorović, 9 June 2015

Another variant, with colors arranged horizontally but in shape similar to the German Auslegerflaggen, only with the outrigger going through the flag sleeve, was seen at Stockholm Pride Parade on 31 July 2010. The photos can be found here and here.
Tomislav Todorović, 9 June 2015

Similar flags, only a bit less oblong, were also used in Hannover, Germany, during the "Demo for All" (Demo für Alle) rally on 22 November 2014. The photos from the event can be found here, here, here, here, here, here and here.
Tomislav Todorović, 19 June 2015

A flag with this design and hoisting like the German Knatterflaggen was seen in Columbus, Ohio, on 17 July 2007.
Tomislav Todorović, 27 June 2015

---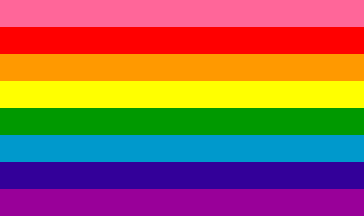 image by António Martins, 15 October 2003; updated by Tomislav Todorovic, 1 August 2015

"Now, more than 20 years later, Baker has decided it is time to bring his initial design out of the closet." ... "But the new-old flag, which was unfurled with no fanfare or explanation on Valentine's Day, left many Castro" (San Francisco, Calif., U.S.) "residents and tourists puzzled." ... "the prospect of having to revert to an eight-color flag after more than 20 years of using the six-color version is cause for major headaches." ... "So far, Baker says he does not plan to insist that all the rainbow flags flying in the Castro be changed to show their true colors; only the big one honoring [Harvey] Milk" ... "the nation's first openly gay [politician assassinated] in 1978). 'The idea of the rainbow is what counts,' he says."
Knut A. Berg, 9 May 2000
quoting from sfWeekly.COM

However, contrasting written descriptions of the original flag against the currently proposed 8-stripe version suggests that some color shades are noticeably different.
António Martins, 1 April 2005

External links: Leo Bauer, 7 July 2003

As exposed above, Gilbert Baker has tried to re-introduce the 8-striped version of the Gay Rainbow Flag in 2000. As can be read here, he kept doing so since then: in 2004, he created a collection of flags named "Out 2 Vote" by adding the colors of original Gay Rainbow Flag to the designs of flags of all U.S. states and territories. The whole collection can be viewed at Baker's website.
Tomislav Todorović, 1 September 2013

The flag was used in New York City on 12 November 2008, during the demonstration in support of the marriage equality, at the San Francisco Pride on 28 June 2009, at the National Equality March in Washington, DC, on 11 October 2009, and in San Diego, California, in February 2012 (exact date not specified). One of the latest occasions when it was used was in Washington, DC, on 28 April 2015, at the rally during the session of the Supreme Court of the USA at which the arguments were heard concerning whether same-sex marriage is a constitutional right (ruled that it is, on 26 June 2015). The photos from the rally can be found here and here.

The flag is being introduced outside the USA as well. It was used in Sweden, at Stockholm Pride 2008 and Stockholm Pride 2009, and one of the most recent examples of its use was in Riga, Latvia, on 20 June 2015, with the photos available here and here.
Tomislav Todorović, 27 June 2015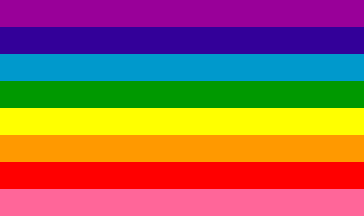 image by Tomislav Todorović, 1 August 2015

Although usually flown with the pink stripe at the top, the flag is sometimes used with the reversed color order. Such was the case in Detroit, at Motor City Pride 2009.
Tomislav Todorović, 1 August 2015

---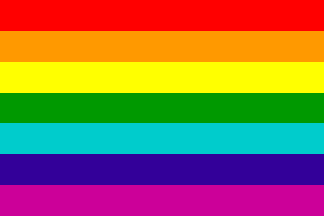 image by Tomislav Todorović, 1 September 2013

The 7-striped version seems to have been re-appearing recently as well. A photo of this flag, hoisted together with the U.S. national flag, can be found here (image). However, the fifth stripe from the top is not blue, which was described as used on the original 7-striped flag, but turquoise, which was the part of original Baker's design.
Tomislav Todorović, 1 September 2013

The seven-striped rainbow flag was hoisted in front of the Legislative building in Regina, Saskatchewan, on 2014-02-09, as shown in a video, @ 0:01 - 0:16, available here. A photo of the flag hoisted in front of the building is available at the same page, as well as a close-up of the flag. Another close-up is available here (photo) and another photo showing both the flag and the building can be found at the Saskatoon Pride Festival Facebook pages.
An unrelated photo of hoisting the flag in the USA can be found here (image) and although it is not quite clear, it is possible that the flag was hoisted with the purple stripe at the top.
Tomislav Todorović, 24 June 2014
NOTE: Links verified and corrected by Emily Milnei, 15 December 2018.

The flag use is spreading outside the North America as well. As early as in 2007, it was used at Madrid Pride (Orgullo Madrid). The photo of a building flying the flags in honor of the event can be found here. The flag has become especially widespread in India. Its photos from Chennai Pride 2009 can be found here, here and here. A photo from Bengaluru Pride 2009 can be found here. The way the photographed man wears it resembles the shawls in party colors frequently worn by the activists and supporters of political parties in India and might be influenced by that custom. More photos from the Bengaluru Pride 2010 can be found here, here, and here. The flag was also used at Belfast Pride Parade 2013. More photos from New Delhi, taken on 28 November 2014, can be found here, here, here, and here.
Tomislav Todorović, 28 June 2015

The flag was also seen in Phuket, Thailand, at the Phuket Pride 2014.
Tomislav Todorović, 24 October 2015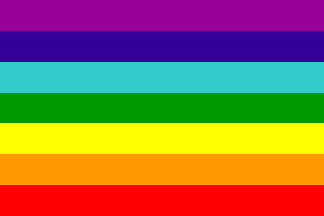 image by Tomislav Todorović, 28 June 2015

Just like the 6-striped version, the 7-striped one does not have the "right side up" and may be flown with the reversed color order. Flags with purple stripe at the top, photographed at Chennai Pride 2009, can be seen here, here and here. Their photos from Chennai Pride 2010, sometimes used together with the 6-striped flags, can be found in the photo gallery at Chennai Dost website. Such flags were also seen at Stockholm Pride 2014.
Tomislav Todorović, 28 June 2015

The 7-striped flags have also spread into Italy, where they have gained much popularity, possibly due to their similarity with Italian peace flags, which also have 7 stripes in rainbow colors. The fact that they seem to have always been used with "no right side up" also speaks in favour of this assumption, because Italian peace flags have no fixed order of stripes, the orientation of word PACE on a particular flag being the only factor that can determine it. The earliest currently known example of their use is from the Puglia Pride 2003, which took place in Bari. [1] Later, they were used at Venezia Pride 2014, [2-4] but they seem to have gone out of use in Venice afterwards, probably due to the introduction of local LGBT flags, which combine the flag of the Republic of Venice with the (6-striped) Rainbow Flag.

The flags have also been introduced in Milan and widely used at the local Gay Pride events, the earliest recorded examples of their use being those from the Milano Pride 2015. [5-10] They were widely used again in 2016, [11-17] sometimes together with the PACE flags. [18] The recorded examples from 2017, [19] 2018, [20] and 2019 [21] are much less numerous, still they exist, thus verifying the continuity of the flag use. In 2016, the use was also recorded at the Varese Pride, [22] as well as the Salento Pride, [23] which took place at Gallipoli that year. [24]
Tomislav Todorović, 2 December 2020
Sources:
[1] La Repubblica newspaper website - Report on the Puglia Pride 2003 and 2017: https://bari.repubblica.it/cronaca/2017/02/06/news/pride_bari-157685997/
[2] Io Sono Minoranza website - Photo from the Venezia Pride, taken on 28 June 2014: https://iosonominoranza.it/img_6322/
[3] Io Sono Minoranza website - Photo from the Venezia Pride, taken on 28 June 2014: https://iosonominoranza.it/img_6337/
[4] Venezia Pride at Facebook - Photo taken on 28 June 2014: https://www.facebook.com/VeneziaPride/photos/a.260391137467390/280115728828264/?type=3
[5] Gay Star News website - Report from the Milano Pride 2015: https://www.gaystarnews.com/article/00000-attend-milan-pride-support-marriage-equality-italy280615/
[6] 123rf.com photo archive - Photo from the Milano Pride 2015: https://www.123rf.com/photo_41770284_milan-italy-june-27-people-at-gay-pride-parade-in-milan-june-27-2015-thousands-of-people-march-in-th.html
[7] Wikimedia Commons - Photo from the Milano Pride 2015: https://commons.wikimedia.org/wiki/File:Milano_Pride_flags.JPG
[8] Getty Images photo archive - Photo from the Milano Pride 2015: https://www.gettyimages.co.uk/detail/news-photo/people-take-part-in-the-annual-gay-pride-parade-on-june-27-news-photo/478785468
[9] Getty Images photo archive - Photo from the Milano Pride 2015: https://www.gettyimages.co.uk/detail/news-photo/the-gay-pride-in-milan-the-first-time-it-was-addressed-to-news-photo/1159426860
[10] Getty Images photo archive - Photo from the Milano Pride 2015: https://www.gettyimages.co.uk/detail/news-photo/pier-francesco-majorino-attends-the-annual-gay-pride-parade-news-photo/478785472
[11] La Repubblica newspaper website - Report from the Milano Pride 2016: https://milano.repubblica.it/cronaca/2016/06/25/news/gay_pride_milano-142796589/
[12] Getty Images photo archive - Photo from the Milano Pride 2016: https://www.gettyimages.co.uk/detail/news-photo/thousands-of-people-gathered-for-the-march-in-milan-in-news-photo/542993420
[13] Getty Images photo archive - Photo from the Milano Pride 2016: https://www.gettyimages.co.uk/detail/news-photo/thousands-of-people-gathered-for-the-march-in-milan-in-news-photo/542995038
[14] 123rf.com photo archive - Photo from the Milano Pride 2016: https://www.123rf.com/photo_58860938_milan-italy-june-25-people-at-pride-parade-in-milan-june-25-2016-thousands-of-people-march-in-the-ci.html
[15] 123rf.com photo archive - Photo from the Milano Pride 2016: https://www.123rf.com/photo_58860899_milan-italy-june-25-people-at-pride-parade-in-milan-june-25-2016-thousands-of-people-march-in-the-ci.html
[16] Dreamstime photo archive - Photo from the Milano Pride 2016: https://www.dreamstime.com/editorial-photo-people-pride-milan-italy-june-parade-june-thousands-march-city-streets-annual-parade-image73496401
[17] Flickr - Photo from the Milano Pride 2016: https://www.flickr.com/photos/il_drugo/28070663052/
[18] Flickr - Photo from the Milano Pride 2016: https://www.flickr.com/photos/il_drugo/28140688206/
[19] Flickr - Photo from the Milano Pride 2017: https://flickr.com/photos/pierinosacchi/34753595363/
[20] Radio Lombardia website - Report from the Milano Pride 2018: https://www.radiolombardia.it/2018/06/29/milano-pride-2018-tutto-pronto-per-la-parata-arcobaleno/
[21] Getty Images photo archive - Photo from the Milano Pride 2019: https://www.gettyimages.co.uk/detail/news-photo/the-gay-pride-in-milan-the-first-time-it-was-addressed-to-news-photo/1159424968
[22] Varese Pride at Facebook - Photo album from the Varese Pride 2016: https://www.facebook.com/pg/varesepride/photos/?tab=album&album_id=590865354426976
[23] Salento Pride at Facebook - Photo album from the Salento Pride 2016: https://sr-rs.facebook.com/pg/SalentoPride/photos/?tab=album&album_id=1720914624825904
[24] Salento Exp website - Announcement of the Salento Pride 2016: https://salentoexp.wordpress.com/2016/08/18/salento-pride-a-gallipoli-21-agosto-proud-to-be-pride/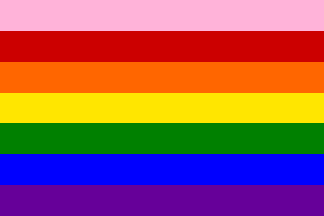 image by Tomislav Todorović, 7 September 2014

Gilbert Baker's efforts to promote the use of his original eight-striped design, which did have some success, albeit limited, also seem to have had interesting side effects - revival of interest in the original seven-striped variant, but also the creation of another seven-striped variant, which keeps pink and omits turquoise color. It has appeared at Guatemala Pride 2012 (Orgullo Guatemala 2012) in Guatemala City, on 30 June 2012. The photos are available here, here and here.
Tomislav Todorović, 7 September 2014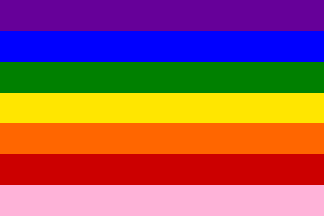 image by Tomislav Todorović, 7 September 2014

An earlier photo, from the Guatemala Pride 2011 (Orgullo Guatemala 2011), can be seen here (image), but it shows the variant with reversed order of colors. The same flag was used at the celebration of the International Day Against Homophobia in Guatemala City, on 17 May 2012.
Tomislav Todorović, 7 September 2014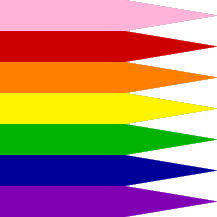 image by Tomislav Todorović, 7 September 2014

Even before all these events, a more complex flag with the "pink stripe up" pattern was used at the Santa Cruz Pride 2008, in Santa Cruz, California. Its length was smaller than width and each of seven stripes was ending with a pointed tongue in same color. The photos can be found here, here, here and here. It is possible that there are also earlier flags with this color pattern, which are yet to be discovered.
Tomislav Todorović, 7 September 2014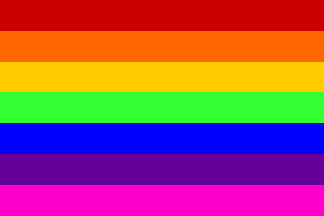 image by Tomislav Todorović, 1 July 2015

Another flag with the same colors, but pink placed next to the purple, at the very bottom of the flag, has been used in India since at least 2011. Its photos from Chennai Rainbow Pride 2011 can be found here and here. The flag was used again at Chennai Rainbow Pride 2012, as shown here, and at Chennai Rainbow Pride 2014, as shown here and here. Along with a deep shade of pink, much more so than originally introduced by Gilbert Baker, the flag displays rather dark shades of other colors, except green, which is unusually light for a rainbow flag.
Tomislav Todorović, 1 July 2015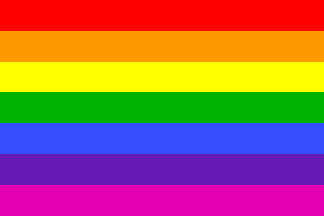 image by Tomislav Todorović, 2 September 2018

A recent appearance of this design was at the Gay Pride Parade in San Francisco on 28 June 2015. There, the pattern was seen on the shirt of a participant. Unfortunately, it is difficult to tell whether it was attached to the shirt (i.e. a flag) or its integral part (i.e. a flagoid). Regardless of that, the colors other than pink looked rather like the typical shades of a 6-stripe Rainbow Flag - i.e. blue instead of indigo and/or turquoise, which is also true for the other flags with this design. The shade of pink was very similar to that which appeared on the flag seen in Chennai, India, in 2011-2014 (see above), which differed from this one is visibly different shades of most of other colors, especially green.
Tomislav Todorović, 2 September 2018

The same flag has appeared again in Iowa City during the Iowa City Pride Fest 2018 (as seen at https://www.flickr.com/photos/alan-light/41947613075/). The flag was worn as a cape, as is frequently done by the participants of Pride events, with various flags. The same was done at the Iowa City Pride Fest 2019 (as seen at https://www.flickr.com/photos/alan-light/48069784668/). In both cases, most color shades may have looked a bit lighter than on the flag used in San Francisco in 2015, although that could have been the result of the lighting conditions.
Tomislav Todorović, 13 May 2022

---


image by Tomislav Todorović, 5 March 2016

An unusual rainbow flag with ten colors has appeared at the World Pride London 2012. Its photos can be found here, here, here, and here. The colors are, from top to bottom: red, orange, yellow-orange (much like the FOTW color Y+), yellow, light green (inclining somewhat towards yellow), dark green, light blue (inclining a bit towards green), dark blue, indigo and violet. The flag shape was also unusual: each field was in form of a trapezium with the top edge shorter than the bottom one, so that the fly edge of the flag was in form of 10 pointed tongues.
Tomislav Todorović, 5 March 2016

The same flag was used again at London Pride 2017. The photos from event are shown here. Another photo of the same participants can be found here.
Tomislav Todorović, 4 October 2018

The earliest currently known use of the flag was at the Leeds Pride 2011. The photos from the event are available here, here, here, and here. As the first of those reveals, the staff top is curved, bending towards the fly edge, so this is actually a feather flag. In fact, it is possible that the flags seen at later events, especially the one from 2012, were also the feather flags, although the photos do not reveal enough details for telling it precisely.
Tomislav Todorović, 21 May 2020

---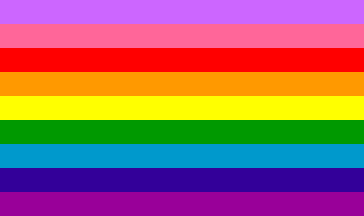 image by Tomislav Todorović, 23 December 2017

In March 2017, shortly before his death, Gilbert Baker created a new version of the Rainbow Flag, by adding the ninth stripe in lavender color, next to the stripe in hot pink. This color is meant to represent diversity, something Baker thought is endangered in present-day America. He had made 39 copies of this flag with the intention to have them displayed in San Francisco in June, for the 39th anniversary of the Rainbow Flag. A video showing the making of one of these flags can be currently seen at Gilbert Baker website: https://gilbertbaker.com/, and also at the YouTube: https://www.youtube.com/watch?v=Ef5sXewQWbA.

There, also note the word DIVERSITY inscribed on Baker's shirt, each letter in a different color - the fact that there are as many letters as colors in the new flag must have been a source of inspiration. The flag is also presented in the articles published at the Los Angeles Blade website: http://www.losangelesblade.com/2017/03/31/gilbert-baker-gay-betsy-ross-created-rainbow-flag-dies-nyc/, Queer History For the People website: https://medium.com/queer-history-for-the-people/dear-gilbert-f475a6efb9ba and the San Francisco Bay Times website: http://sfbaytimes.com/our-enduring-lgbtq-symbols/.

The last article, accompanied with even more illustrations, was published in the San Francisco Bay Times issue of 9 March 2017, which can be read online here: https://issuu.com/sfbt/docs/03.09.17_final.small.
Tomislav Todorović, 23 December 2017

---
images by Tomislav Todorović, 18 June 2017
These images show the color shades which seem to appear the most frequently, as well as a typical ratio.

The Gay Pride / Rainbow Flag is frequently replaced with the set of six plain flags, each in one of its colors. The color shades vary a lot, just like they do when appearing together on a single flag, and the same is true about the ratio. Also, two or more sets of these flags are often used together. One of the earliest recorded examples of their use was in Manchester, England, at Manchester Pride 2001. The flags have appeared again at Amsterdam Pride 2002. There are currently no available photos from Amsterdam from the following years until 2014, when they were photographed again, which does not necessarily mean that they were not in use during that period. The flags were also seen at the Jerusalem Gay Pride Parade 2008 and at the Taiwan LGBT Pride 2011, the photos from the event being available here: https://www.flickr.com/photos/68513806@N08/sets/72157627884289947.

In the USA, some of earliest examples date from 2007:
Tomislav Todorović, 18 June 2017

One of the most recent replacements of the Gay Pride / Rainbow Flag with six plain flags is from the Columbus Pride 2016, with the photos available here, here, here, here, here, and here.
Tomislav Todorović, 20 June 2017


---
There re-introduction of 7-striped flag seem not to have inspired its replacement with the set of seven plain flags, except perhaps in one case - at Columbus Pride 2008, with the photos available here, here, here, and here.

However, the fact that there are two green flags, making the total number of eight, leaves the observer in doubt whether the original intention was to make a set of eight flags, the pink one having been found to be missing too lately, so it was replaced with a second green flag in the last moment. Still the fact that there were the flags in seven colors may be worth recording.
Tomislav Todorović, 20 June 2017


---
images by Tomislav Todorović, 19 June 2017
These images show the color shades which seem to appear the most frequently, as well as a typical ratio.

The re-introduction of 8-striped version of the Gay Rainbow Flag has also inspired a limited introduction of its replacement in form of the set of eight plain flags, modelled after the similar set made to replace the 6-striped flag (see above). Currently, all the known examples of its use are from Columbus, Ohio.

Photos from Columbus Pride 2011 can be found here, here, and here, and those from Columbus Pride 2012, here, here, here, here, and here.

The flags have appeared again at Columbus Pride 2013, with the photos available here, here, and here (there are many more, but those do not display all flags), and at Columbus Pride 2014, with the photos available here and here.
Tomislav Todorović, 19 June 2017

---