This page is part of © FOTW Flags Of The World website
Mexico - Subnational flags
Last modified: 2017-08-05 by juan manuel gabino villascán
Keywords: mexico | state | coat of arms | unofficial (flags) | white (background) | municipality | ethnic |
Links: FOTW homepage | search | disclaimer and copyright | write us | mirrors

---
See also:
---
Flag
Official
Flag
De facto or alternate version
Coat of arms
Name
2-letter code
(RENAPO) 1
3-LETTER CODE
(iso 3166-2) 2
Conventional code 3
Administrative division 4
Statehood 5
Capital
Capital's flag
Aguascalientes
AS
AGU
AGS
11
5 February 1857
Aguascalientes
n. a.
Baja California
BC
BCN
BC
5
16 January 1952
Mexicali
n. a.
Baja California Sur
BS
BCS
BCS
5
8 october 1974
La Paz
n. a.
Campeche
CC
CAM
CAMP
11
29 April 1863
San Francisco de Campeche
Chiapas
CS
CHP
CHIS
122
14 September 1824
Tuxtla Gutiérrez
n. a.
Chihuahua
CH
CHH
CHIH
67
6 July 1824
Chihuahua
Coahuila de Zaragoza
CL
COA
COAH
38
7 May 1824
Saltillo
n. a.
Colima
CM
COL
COL
10
12 September 1856
Colima
n. a.
Durango
DG
DUR
DGO
39
22 May 1824
Victoria de Durango
n. a.
Guanajuato
GT
GUA
GTO
46
20 December 1823
Guanajuato
n. a.
Guerrero
GR
GRO
GRO
81
27 October 1849
Chilpancingo de los Bravo
n. a.
Hidalgo
HG
HID
HGO
84
16 January 1869
Pachuca
n. a.
Jalisco
JC
JAL
JAL
125
23 December 1823
Guadalajara
México
MC
MEX
MÉX
125
20 December 1823
Toluca
Mexico City
(Country's capital city)
CX
CMX
CX
16
(Delegaciones políticas)
18 November 1824
Mexico City
Michoacán de Ocampo
MN
MIC
MICH
113
22 December 1823
Morelia
Morelos
MS
MOR
MOR
33
17 April 1869
Cuernavaca
n. a.
Nayarit
NT
NAY
NAY
20
26 January 1917
Tepic
n. a.
Nuevo Leon
NL
NLE
NL
51
7 May 1824
Monterrey
Oaxaca
OC
OAX
OAX
570
21 December 1823
Oaxaca de Juárez
n. a.
Puebla
PL
PUE
PUE
217
21 December 1823
Puebla de Zaragoza
n. a.
Querétaro
QT
QUE
QRO
18
23 December 1823
Santiago de Querétaro
n. a.
Quintana Roo
QR
ROO
QROO
10
8 October 1974
Chetumal
n. a.
San Luis Potosí
SP
SLP
SLP
58
22 December 1823
San Luis Potosí
Sinaloa
SL
SIN
SIN
18
14 October 1830
Culiacán
n. a.
Sonora
SR
SON
SON
72
10 January 1824
Hermosillo
Tabasco
TC
TAB
TAB
17
7 February 1824
Villahermosa
n. a.
Tamaulipas
TS
TAM
TAMPS
43
7 February 1824
Ciudad Victoria
n. a.
Tlaxcala
TL
TLA
TLAX
60
9 December 1856
Tlaxcala
n. a.
Veracruz de Ignacio de la Llave
VZ
VER
VER
212
22 December 1823
Xalapa
n. a.
Yucatán
YN
YUC
YUC
106
22 December 1823
Mérida
Zacatecas
ZS
ZAC
ZAC
58
23 December 1823
Zacatecas
n. a.
---
Thirty-two 4:7 ratio-white flags charged with the state's coat of arms are hoisted at the President's house called Los Pinos in Mexico City. These flags are flown during inter-government meetings and national sports events such as the National Olympics [Olimpiada Nacional]. By some reason, those of Jalisco, Puebla, and Yucatan, feature their respective capitals' coat of arms. In addition to that, most of the shields are odd depictions of the original ones.
Juan Manuel Gabino Villascán, 6 May 2001
Though some states have already adopted a distinctive flag, white flags with coat of arms are still used in federal organized events to represent each state.
Juan Manuel Gabino Villascán, 23 January 2014
---
There's a significant Mexican population in this part of the U.S., and I occasionally see automobiles with bumper stickers consisting of the Mexican (national) flag and the name of a state ("Coahuila", "Chihuahua", etc.), presumably indicating the driver's loyalty or nostalgia for his home state. None of these stickers ever displays a flag other than the national flag.
Bruce Tindall, 22 Jan 1997
---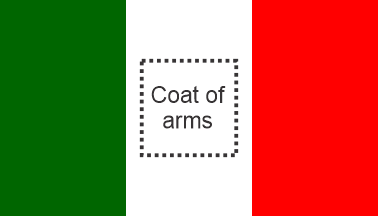 by Juan Manuel Gabino Villascán, May 06, 2001.
Another report refers that these very same state coats of arms are used in the central panel of a Mexican tricolor, mainly for tourist purposes (some reports refer it's exogenous usage, especially in border line US locations).
António Martins, 22 Jun 1999
---
Images by: