This page is part of © FOTW Flags Of The World website
Transgender flags
Last modified: 2023-07-15 by randy young
Keywords: transgender | helms (monica) | pellinen (jennifer) | stripes: 5 | holland (dawn) | transgender nation | triangle (pink) | female sign | male sign | sevan |
Links: FOTW homepage | search | disclaimer and copyright | write us | mirrors

---
See also:
National or subnational flag variations:
---
Transgender: The superset of all those persons who act out the other gender role in society. This includes transvestites and transsexuals.
Andy Weir, 5 February 2001

The Transgender Flag (for those who act, dress, or otherwise identify as the opposite gender) appears to be a brand new invention.
Steve Kramer, 29 November 2000

There's little agreement about a flag for the community, although a symbol of a pink triangle with a combined male and female symbol ("⚥") in the center has become the most common symbol by far. (I'd actually never seen the two flags you show. But then, the interesting part of all this is how such a community acquires a symbol.)
Anne Ogborn, 12 December 2005

---


image by António Martins, 1 April 2005



The most widely known transgender flag. It's a pale pink, white and baby blue set of horizontal stripes.
Vanessa Foster, 17 February 2003

Monica Helms, who is a TG activist now living in Arizona, designed the transgender flag several years ago. She has told me that the original is now in a transgender or rainbow museum, but I know not where.
Willow Arune, 16 February 2003

Wondering where it might be, I saw another article that it might be at the U.S. "National Museum of American History" (in Washington, DC). This was confirmed by an agent there: Matt MacArthur, in the below email. Apparently, this flag is object/item#1694617.

Thank you for writing. This record indicates the object is in our collection: https://americanhistory.si.edu/collections/search/object/nmah_1694617. Sorry there is currently no photo!

Matt MacArthur
Office of Audience Engagement
National Museum of American History

William Garrison, 6 August 2021

Here's another version of this flag, in which the pink stripe is actually fuchsia.
Esteban Rivera, 6 July 2016
Source: http://wearyourvoicemag.com/identities/lgbtq-identities/singapores-transgender-community

I wouldn't go as far as to consider it a new variant, since the sexual orientation flags usually don't have the prescribed color shades, and in this case, it may be just the lighting conditions during the making of the photo which make the pink look different.
Tomislav Todorović, 7 July 2016


---

"Helms devised the transgender flag in 1999, 20 years after the introduction of the rainbow flag for the LGBT community. Just like the American flag represents the whole country but each state has its own flag as well, Helms feels like "the rainbow flag is the LGBTQ flag for everybody, and each individual group can have their own flag for their own individuality."

In fact, she was inspired to create a flag for the trans community by Michael Page, who had designed a flag for the bisexual community the year before. Following his example, Helms says that "it was almost like waking up from a dream and seeing it." She drew it out, contacted the same company who had created Page's bi pride flag, picked out some swatches, and about a week later she had the first flag. It was that very first flag that she donated this month.

The trans flag has five stripes. The outer two are light blue and the inner two are light pink, representing the traditional colors for baby boys and baby girls, while the middle stripe is white to represent "those who are intersex, transitioning, or consider themselves having a neutral or undefined gender." Helms designed it to be horizontally symmetrical so that "no matter which way you fly it, it is always correct, signifying us finding correctness in our lives." Helms' design was further adapted in a flag designed in 2010 by Marilyn Roxie for the genderqueer and non-binary communities.

In regards to how the trans pride flag caught on with the community, Helms explains, "I just used it everywhere and anywhere," beginning with the 2000 Phoenix Pride parade and then at marches, conferences, Transgender Day of Remembrance ceremonies, and other events since then. "People caught on and decided that they wanted one." She has since seen it displayed in various countries across the world, noting that she recently saw a picture of it displayed in Peru."
David Phillips, 27 July 2017
Source: https://thinkprogress.org/transgender-pride-flag-designer-applauds-smithsonian-lgbt-artifacts-collection-51a7d1ade112


---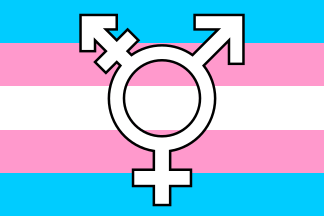 image by Tomislav Todorović, 18 July 2021
derived from the SVG image of transgender symbol from Wikimedia Commons

A variant of this flag adds a large transgender symbol in white, fimbriated black, upon the field. The symbol was created in 1993 by transgender activist Holly Boswell [1] and represents a combination of astronomical/astrological symbols for Mars and Venus, which stand for male and female genders, respectively, with addition of a third "branch," an arrow crossed by an additional stroke, for "mixed" gender identities. The symbol has been included into Unicode since version 4.1.0 and assigned the code point U+26A7.[2]

In 2016, the flag was used in the USA at Baltimore Pride [3] and in Sweden at Malmö Pride.[4,5] The 2017 examples of its use from the USA include Cleveland Pride [6] and Chicago Pride,[7,8] as well as Capital City Pride in Olympia, Washington.[9] In the same year, it was also used in Berlin, Germany, at the protests against an anti-LGBT gathering called Demonstration for Everyone.[10] In 2018, the flag was used in the USA at Columbus Pride,[11] as well as in Germany, first at Christopher Street Day Munich [12] and later in Berlin at the Civil Registration Office Action, an event in support of adding a third gender option to the official documentation.[13,14] In 2019, the flag was hoisted together with unmodified version in Winston-Salem, North Carolina, on the Transgender Day of Visibility [15] and was used alone again at Capital Pride Parade in Washington, DC.[16]
Tomislav Todorović, 18 July 2021
Sources:
[1] BBC website: https://www.bbc.co.uk/bitesize/articles/z33yp4j
[2] Unicode Consortium website - code chart for Miscellaneous Symbols block in version 4.1.0 (in PDF format): http://www.unicode.org/charts/PDF/Unicode-4.1/U41-2600.pdf
[3] Wikimedia Commons - Photo from Baltimore Pride, on 17 June 2016: https://commons.wikimedia.org/wiki/File:2016.06.17_Baltimore_Pride,_Baltimore,_MD_USA_6698_(34573762763).jpg
[4] Wikimedia Commons - Photo from Malmö Pride, on 6 August 2016: https://commons.wikimedia.org/wiki/File:Happy_police_officers_(28750557671).jpg
[5] Wikimedia Commons - Photo from Malmö Pride, on 6 August 2016: https://commons.wikimedia.org/wiki/File:Malm%C3%B6_Pride_(28826883725).jpg
[6] Wikimedia Commons - Photo from Cleveland Pride, on 24 June 2017: https://commons.wikimedia.org/wiki/File:End_of_pride_02_-_Cleveland_Pride_2017_(38179008771).jpg
[7] Flickr - Photo from Chicago Pride, on 25 June 2017: https://www.flickr.com/photos/hillarystarpants/45738046071/
[8] Flickr - Photo from Chicago Pride, on 25 June 2017: https://www.flickr.com/photos/hillarystarpants/45738045221/
[9] Flickr - Photo from Capital City Pride, on 20 July 2017: https://flickr.com/photos/fadichphotography/35239618783/
[10] Wikimedia Commons - Photo from protests against the Demonstration for Everyone, in Berlin, on 15 September 2017: https://commons.wikimedia.org/wiki/File:Protest_gegen_die_Demo_f%C3%BCr_Alle_vor_dem_Kanzleramt_in_Berlin_02.jpg
[11] Flickr - Photo from Columbus Pride, on 16 June 2018: https://www.flickr.com/photos/13189410@N07/28969837978/
[12] Flickr - Photo from Christopher Street Day, Munich, on 14 July 2018: https://flickr.com/photos/eval5750/43487973171/
[13] Wikimedia Commons - Photo from the Civil Registration Office Action, in Berlin, on 13 October 2018: https://commons.wikimedia.org/wiki/File:Aktion_Standesamt_2018_Abschlusskundgebung_vor_dem_Kanzleramt_in_Berlin_43.jpg
[14] Wikimedia Commons - Photo from the Civil Registration Office Action, in Berlin, on 13 October 2018: https://commons.wikimedia.org/wiki/File:Aktion_Standesamt_2018_Abschlusskundgebung_vor_dem_Kanzleramt_in_Berlin_44.jpg
[15] Wikimedia Commons - Photo from Winston-Salem, North Carolina, on 31 March 2019: https://commons.wikimedia.org/wiki/File:Transgender_day_of_visibility_at_Starbucks.jpg
[16] Wikimedia Commons - Photo from Capital Pride Parade, in Washington, DC, on 8 June 2019: https://commons.wikimedia.org/wiki/File:122.GayPrideParade.WDC.8June2019_(48055274897).jpg

---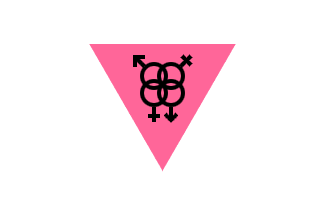 image by António Martins-Tuválkin, 13 March 2017

Queer Nation's transgender focus group, Transgender Nation, created T-shirts and banners based on the pink triangle on white design. Dawn Holland added a symbol in the center with 4 circles interlocked, with the cross sticking up and right, the arrow down, the cross down on the left, and the arrow up to left, symbolizing various transgendered people working together.

For what it's worth, it happened in about Oct 1991 in a sandwich shop (San Francisco, Calif., US) on Castro between 17th and 18th. The original T-shirts were printed with a home silk screen kit on the floor of my apartment, and the original banner was created in my back yard. The banner and an original T shirt are in my possession at moment, but are on permanent loan to the G&LHS in San Francisco.
Anne Ogborn, 12 December 2005

---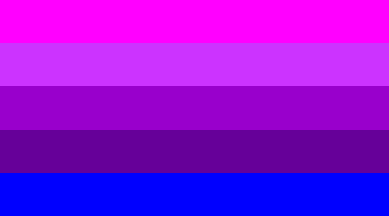 image by António Martins, 1 April 2005

I have created a design for a Transgender flag info on the flag and graphics for it can be found at my website.
Jennifer Pellinen, 20 July 2002

It surely is similar to the bi-sexual pride flag, and certainly bears the same symbology: a transition range from blue (male) to pink (female) — and/or inversely. The number of stripes may convey a symbolic reference to what makes the difference between a bi-sexual and a transgender, or perhaps is just an unrelated reference to the gay pride rainbow flag.

(A challenge for vexillonomists: how would you describe this flag, especially the color names?

Proposal: P− Pb− Pb Pb+ B — now the words: pink, fuchsia, lilac, plum, blue? A comment: It would look much better with a much darker blue.)
António Martins, 22 July 2002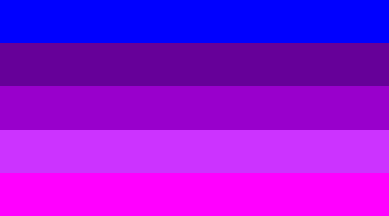 image by Tomislav Todorović, 21 May 2020, based on original image by António Martins, 1 April 2005

This is another flag with no "right side up;" it may be used with pink at the top, as was the case at Dublin Pride 2011 [1,2] and succeeding events in 2013 [3,4] and 2015 [5,6], but also with blue at the top, as was done at Leeds Pride 2011 [7,8,9].
Tomislav Todorović, 21 May 2020
Sources:
[1] Wikimedia Commons - Photo of the flag from Dublin Pride 2011: https://commons.wikimedia.org/wiki/File:Dublin_Gay_Pride_Parade_2011_-_Before_It_Begins_(5870756333).jpg
[2] Wikimedia Commons - Photo of the flag from Dublin Pride 2011: https://commons.wikimedia.org/wiki/File:Dublin_Gay_Pride_Parade_2011_-_Before_It_Begins_(5870758141).jpg
[3] Wikimedia Commons - Photo of the flag from Dublin Pride 2013: https://commons.wikimedia.org/wiki/File:LGBTQ_Pride_Festival_2013_-_Dublin_City_Centre_(Ireland)_(9181368405).jpg
[4] Wikimedia Commons - Photo of the flag from Dublin Pride 2013: https://commons.wikimedia.org/wiki/File:Pride_Festival_2013_On_The_Streets_Of_Dublin_(LGBTQ)_(9181567067).jpg
[5] Wikimedia Commons - Photo of the flag from Dublin Pride 2015: https://commons.wikimedia.org/wiki/File:DUBLIN_2015_LGBTQ_PRIDE_PARADE_(WERE_YOU_THERE)_REF-105971_(19182855426).jpg
[6] Wikimedia Commons - Photo of the flag from Dublin Pride 2015: https://commons.wikimedia.org/wiki/File:DUBLIN_2015_LGBTQ_PRIDE_PARADE_(WERE_YOU_THERE)_REF-106087_(19185571926).jpg
[7] Flickr - Photo of the flag from Leeds Pride 2011: https://www.flickr.com/photos/fairynormal/6025628567/
[8] Flickr - Photo of the flag from Leeds Pride 2011: https://www.flickr.com/photos/fairynormal/6026187810/
[9] Flickr - Photo of the flag from Leeds Pride 2011: https://www.flickr.com/photos/fairynormal/6025634835/

---


image by Tomislav Todorović, 11 June 2022

In 2012, a transgender blogger from Spokane, Washington, who posts under the name Sevan, designed a new flag for the "trans* people" (the name they insist on using) with the help of their acquaintances from the local TG support group. [1] The reason they did it was their dissatisfaction with the flag by Monica Helms, especially its colors, while the general design was only partly modified. Instead of "baby" shades of blue and pink, darker, more intense shades of these colors were employed, while the wide white stripe in the middle was replaced with a narrow white stripe between two wider purple stripes. The meaning of blue and pink was retained (male and female people, respectively), while purple stands for non-binary and genderqueer people (borrowed from the flags representing them) and white represents all people, the thin stripe also standing for the transgender people's transition in life ("crossing the line"). [1] The flag was meant to be used at the Spokane Pride 2012, several small handheld copies with the ratio 5:7 having been produced. [1] While no photos can currently verify that, such flags were used at the Spokane Pride 2014, [2,3] most likely being the same ones which were created two years earlier.

Another location where this design has been introduced is Mexico City, where the flag was used at the Mexico City Pride in 2015 [4] and 2016. [5] The flag was visibly more oblong - about 3:5 [4] - and the shade of purple was visibly darker, [4,5] but it was clearly the same design. It is not quite clear how it was transplanted from Spokane to Mexico City, but most likely, the medium was the World Wide Web.
Tomislav Todorović, 11 June 2022
Sources:
[1] Candiussell corner blog - Trans* flag by Sevan (published on 7 June 2012): http://candiussellcorner.blogspot.com/2012/06/trans-flag-sevan.html?m=1
[2] Spokane Pride at Facebook - Photo from Spokane Pride 2014 (uploaded on 14 June 2014): https://www.facebook.com/spokanepride/photos/10152564133985688/
[3] Spokane Pride at Facebook - Photo from Spokane Pride 2014 (uploaded on 15 August 2014): https://www.facebook.com/spokanepride/photos/10152600890815688/
[4] Chai by the Fjord blog - Entry on 29 June 2015: http://chaibythefjord.blogspot.com/2015/06/happy-37th-pride-mexico-city.html (Photo: http://2.bp.blogspot.com/-tPgicZXXgT8/VZB3kBjfCCI/AAAAAAAC1VQ/csfWysjHKhc/s1600/2015.06.27%2BMexico%2B-%2BMexico%2BCity%2B-%2BMexico%2BCity%2527s%2B37th%2BPride%2BMarch%2B23.jpg)
[5] Flickr - Photo from Mexico City, on 25 June 2016: https://www.flickr.com/photos/jesuschairez/27862951932/

---