This page is part of © FOTW Flags Of The World website
Dictionary of Vexillology: H (Hooch flag - Hussar Cut)
Last modified: 2022-08-27 by rob raeside
Keywords: vexillological terms |
Links: FOTW homepage | search | disclaimer and copyright | write us | mirrors

---
On this page:
---
HOOCH FLAG
In US military usage (particularly during the Vietnam War) the colloquial term for a small, entirely unofficial, company or unit flag.
---
HOOKED-CROSS
See 'swastika'.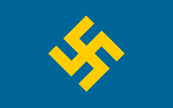 Flag of the National Socialist Front, Sweden (fotw)
---
HORIZONTAL BICOLOUR
See 'bicolour 1)' and 'bicolour 2)' (also 'over').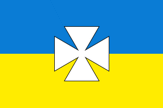 Civil Flag of Niederösterreich, Austria (fotw); Naval Jack of Ukraine (fotw)
---
HORIZONTAL LATIN CROSS
See 'off-centred cross2)' and 'Scandinavian cross' (also 'Latin cross').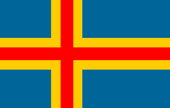 Flag of Domingos Martins, Brazil (fotw); Flag of the Aland Islands (fotw)
---
HORIZONTAL MERIDIAN (or MEDIAN)
See 'meridian'.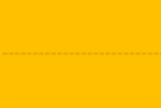 ---
HORIZONTAL MULTI-STRIPE
See 'multi-stripe'.
---
HORIZONTAL STRIPES IN HERALDRY
See 'bar', 'barrulet' and 'fess'.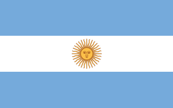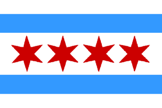 National Flag, Argentina (fotw); Barrulet Example; Flag of Chicago, US (fotw)
---
HORIZONTAL TRIBAND
See 'triband 1)' and 'triband 2)'.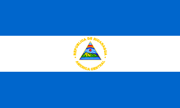 National and Civil Flags of Nicaragua (fotw)
---
HORIZONTAL TRICOLOUR
See 'tricolour 1)' and 'tricolour 2)'.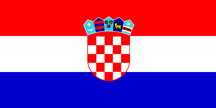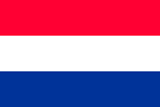 National Flag of Croatia (fotw); National Flag of the Netherlands (fotw)
---
HORN(S)
1) Concerning a musical instrument in heraldry see 'bugle horn'.
2) Concerning an animal in heraldry see 'attire(s)'.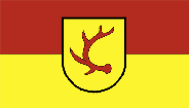 Flag and Arms of Troubky, Czechia (fotw); Flag of Trzebiel, Poland (fotw)
---
HORNED
In heraldry see 'attired'.


Flag of Mettembert, Switzerland (fotw)
---
HORN OF PLENTY
See 'cornucopia'.
---
HORSE-HEAD SHIELD
The term sometimes used to describe a shield of the decorative, post-medieval type most often seen in Italian personal and civic heraldry but see note below - an 'Italian shield' (see also 'renaissance shield').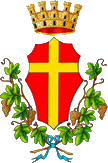 The Arms of Messina, Italy (ita24)
Please note that several of the terms giving shields a national identity, as well as those describing a specific type, are still in the process of standardization, and that no consistent approach has thus far been identified.
---
HORSESHOE(S)
1) In heraldry a charge that, unless blazoned otherwise should always be shown with its open ends downward – a fer-de-cheval see also 'blazon').
2) In vexillology a charge, sometimes undetailed, that has no specific orientation.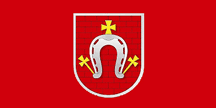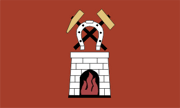 Flag of Dribin, Belarus (fotw); Arms of Cmolas, Poland (fotw); Flag of Poczesna, Poland (fotw)
---
HORSETAIL
A decoration for military flags, especially in China where it is usually red; made of real or simulated horsehair and is almost certainly descended from a Mongolian vexilloid (see also 'tugh 1)').

Please note that the standards of some former French cavalry units (notably the Spahis originally raised in North Africa) were also decorated by horsetails - see 'toug'.
---
HORSETAIL STANDARD
See 'tugh 1)' and 'toug'.

Turkish Horsetail Standards (worldimages)
---
HOUSE FLAG (or HOUSE PENNANT)
1) The distinguishing flag or pennant of a merchant marine company flown at sea by ships owned or managed by that company, and from their headquarters on shore – a shipping or shipping company house flag or pennant (see also 'flags and funnels', 'logo', 'pennant 2)') and 'whaling flags'.
2) See 'corporate flag'.
3) The personal flag of the owner of a pleasure vessel or home – a private signal (see also 'personal flag 2)').
4) See 'battle flag 2)'.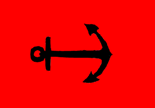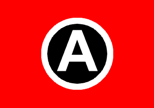 Black Diamond Co, Canada (fotw); Green and Co., US (fotw); Alaska Steamship Co., US (fotw)
HOUSE MARK (or HOUSE BRAND)
In Continental usage those terms, and translations of the German hausmarken or housmarke, that may be used to describe the symbol or symbols used by non-armigerous tradesmen in place of a coat of arms – a house brand – but see 'merchant mark' (see also 'armigerous', 'coat of arms 2)' and 'mark 2)')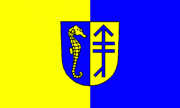 Flag of Hiddensee Island, Germany (fotw)
HOUSEWIMPEL
See 'house flag 1)'.


Housewimpel/House Pennant of The Blue Star Line, UK (fotw)
Please note that the correct term in English language vexillology is house pennant - see 'wimpel' and following note.
---
HUNTING HORN
In heraldry see 'bugle horn'.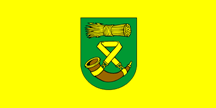 Arms and Flag of Bilje, Croatia (fotw)
---
HURT
The heraldic term for a blue disc – a roundel azure (see also 'bezant', 'plates', 'roundel 3)' and 'torteau').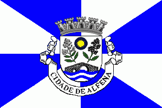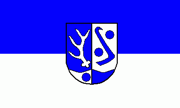 Flag of Alfena, Portugal (fotw); Flag of Lenzburg, Switzerland (fotw); Flag of Bodenfelde, Germany (fotw)
Please note that in strict English heraldic usage this term should only be applied when the charge described in blue ("azure") – see 'tinctures'.
---
HUSBAND PENNANT (or WIMPEL)
In Scandinavian (particularly Finnish) usage the colloquial term, and a direct translation of the Finnish "isännänviiri" or Swedish "husbondsvimpel", used for a provincial wimpel – see 'provincial wimpel' (also 'wimpel').


Husband Pennant/Provincial Wimpel of Kainuu, Finland (fotw)
---
HUSSAR CUT
A variation of the swallow-tail in which the cut in the fly of the flag is shaped by several curves, and was formerly typical of the flags used by Prussian later German cavalry regiments (see also 'descate', 'palm', 'guidon 2)', 'indentation(s)', 'rounded swallow-tail' and 'swallow-tail(ed)').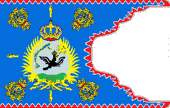 2nd Hussar Regiment, Prussia c1740 (fotw); Cavalry Guidons, Hamburg 1709 (fotw)
---
Introduction | Table of Contents | Index of Terms | Previous Page | Next Page