This page is part of © FOTW Flags Of The World website
Unidentified Flags or Ensigns (2014) Page 2
flags submitted in 2014 - 2 of 5 pages
Last modified: 2023-07-22 by

zachary harden
Keywords: ufe | unidentified flags | 2013 |
Links: FOTW homepage | search | disclaimer and copyright | write us | mirrors

---
Please note our Policy for Submissions and Enquiries.
Below is a series of images of flags that have been provided to FOTW; some we have recognized, and some we have been unable to recognize. If you can help us identify any of these flags, please let us know! Contact the: UFE Editor.
Identification Key:
= Positive ID (Positive Identification)
= Tentative ID (Tentative Identification)
= Some Speculation
---
14-18. Russian Military UFE Positive ID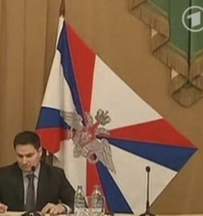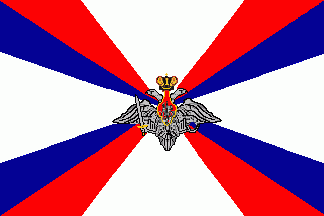 Images from Klaus-Michael Schneider, 28 Feb 2014
During a report upon the Crimea Crisis a Russian Flag could be seen. Ratio like national flag, i.e. 2:3, design similar to the Defence Ministers flag, but with silver double-eagle and without fringes, red disc and wreath. So my first guess is, it has something to do with the ministry of defence.
Source: Tagesschau, German TV-news; 27 Feb 2014; 8:00 pm
Klaus-Michael Schneider, 28 February 2014
It is the flag of the Ministry of Defence (adopted 23, July, 2003).
Victor Lomantsov, 28 February 2014
---
14-19. Ukrainian flag UFE Positive ID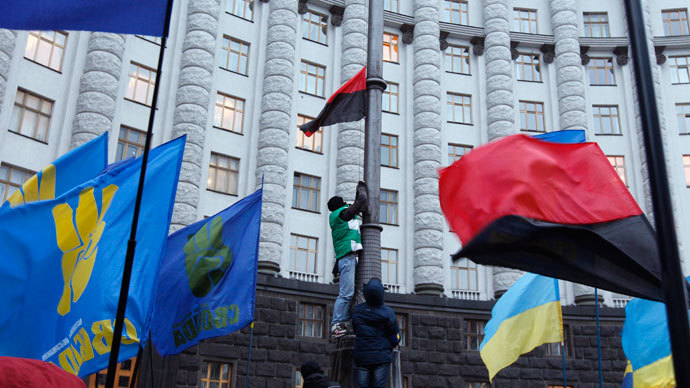 #19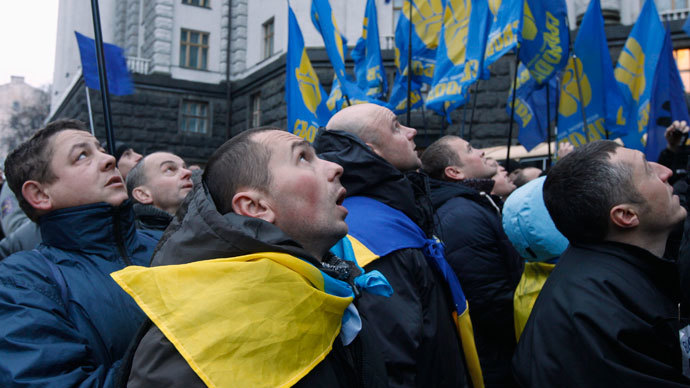 #19a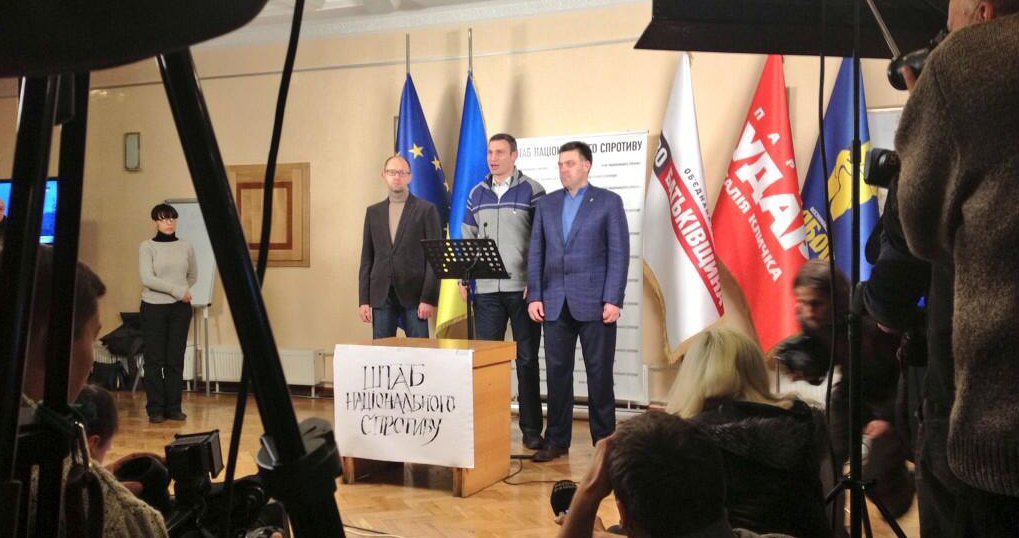 #19b
Images from Esteban Rivera, 3 March 2014
Information has moved to All-Ukrainian Union "Svoboda"
---
14-20. Strange Rebel Flag. Some Speculation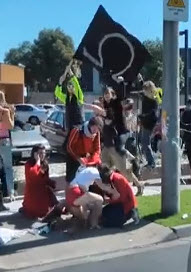 Images from Bishop Lamoureux, 3 March 2014
This flag was shown as part of a [YouTube video] comic video claiming it to be a flag of a rebel movement [factitious] being covered in a satire news skit. From what I understand about the video, the flag represents a group that is demonstrating. I asked on Reddit and was told it could be the flag of a college sorority or just a revolutionary flag made for the video. I was wondering if anyone here would know about it.
Bishop Lamoureux, 3 March 2014
I wonder whether Bishop Lamoureux actually asked the poster of the video about this flag?
Peter Hans van den Muijzenberg, 31 March 2014
---
14-21. Flags at Barneo, Russia. Some Speculation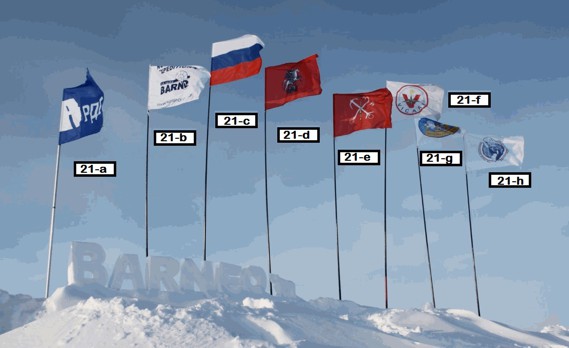 The discussion about these flags is continued on the Camp Barneo, Arctic Ocean page.
---
14-22. William Wyllie Etching Some Speculation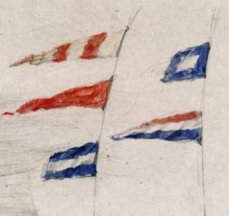 Images from John Harvey-Lee, 8 March 2014
I attach an image of an etching which we have by William Wyllie dedicated to W.D.Kirkpatrick. As you see it has a gun in the foreground, with a separate image of naval vessels approaching. But can you tell us what is the significance of the flags ? Do they spell out some kind of message?
John Harvey-Lee, 8 March 2014
I'm not a naval signal flag expert, but since nobody else has taken a swing at helping with this, I'll give it a try. This is a strange one. They appear to be a mixture of some NATO signal flags and some International Code of Signals (ICS) flags. The top right flag is the pattern of both the NATO and ICS "Answering"" pennant. But it has the opposite color pattern starting with a white vertical stripe instead of a red one. Usually this flag is used to answer a flag signal or indicate all flags being used are ICS. It also can be used to represent a decimal point. An artistic error perhaps?
The middle right flag is the NATO "Speed" (proceed at a specified speed) maneuvering flag. The bottom right flag (blue-white blue) is the ICS "Juliett" or "J" pennant.
The top left flag (blue with white square) is the ICS "papa" or "P" pennant. The bottom left flag is the NATO "Formation" (ships are to form in specified formation) maneuvering flag.
What the message is I leave up to the naval experts, but since NATO uses some of the ICS flags, it would indicate to me either a maneuvering command or perhaps an artillery firing solution? The artwork, however, seems to pre-date NATO to me.
So who is up-to-bat next?
Pete Loeser, 30 March 2014
Wyllie died in 1931. All the flags were used by the Royal Navy in the 1920s (and probably before). The Left hoist could be: 5 pennant, 8 pennant, Echo flag. The Right hoist could be: Zero flag, 2 pennant. Zero flag could also be ICS Papa, but it is unlikely that flags from different codes would be used together.
David Prothero, 30 March 2014
So it would be 5,8,E and 0,2 (or Z,2)? Still sounds like maybe either a maneuvering command or an artillery firing solution.
Pete Loeser, 30 March 2012
I don't know what these are; they look like CODE in reverse, SPEED, J and P, FORMATION, of the NATO-flags. Whether they actually are, and what they might mean I don't know. But no doubt they spell out a message, as otherwise they'd have no reason to be there.
Peter Hans van den Muijzenberg, 31 March 2014
I think that it might be something entirely personal to Wyllie and Kirkpatrick. A little more information about the etching at can be found at Lawrences Auctioneers: 300 Works by William Wyllie, Lot 15.
David Prothero, 31 March 201
---
14-23. Four Unidentified Flags from Reddit Some Speculation
#23a

#23b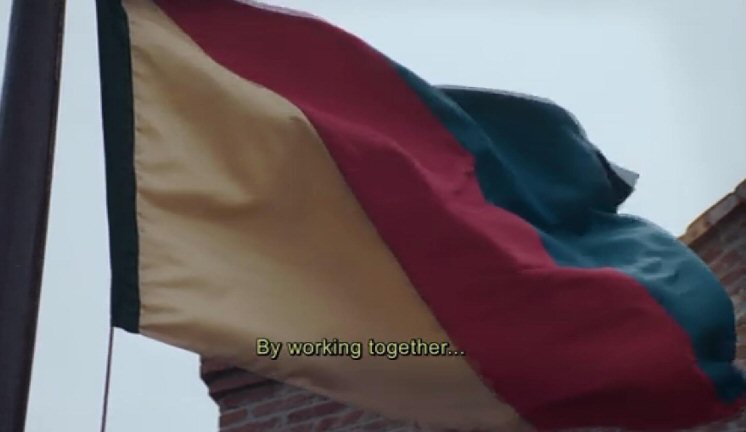 #23c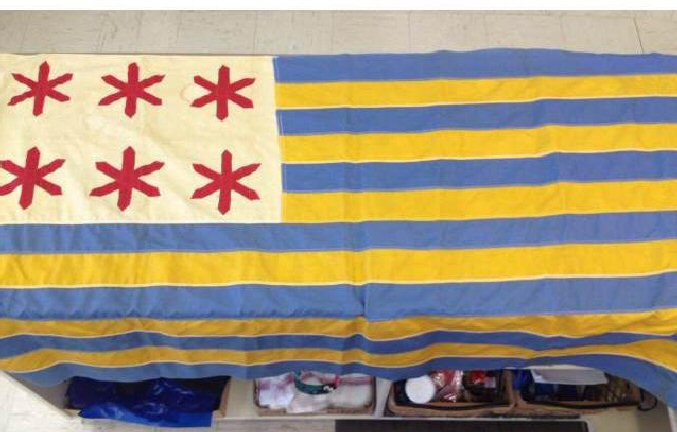 #23d
Images from Bishop Lamoureux, 8 March 2014

I am not sure if this is allowed on FOTW, but I will try anyways. There are a couple of UFEs asked about by users on Reddit. All of the information for each flag is at the following links.

The description and images of the flags are in the posts.
Bishop Lamoureux, 8 March 2014

I would add these descriptions to Bishop Lamoureux flags.
Flag #23a - a green flag with a white Shahada and in each fly corner a moon and star.
Flag #23b - I find rather unlikely.
Flag #23d - the design similarities with the Stars and Stripes are rather noticeable.
Peter Hans van den Muijzenberg, 31 March 2014

Flag #14-23b reminds one of some of the Tudor Naval Ensigns or the Baffin and Stuart Ensigns.
Pete Loeser, 4 April 2014

Since image UFE14-23c appears to be from the Jet Li film "Fearless," my guess is it is probably fictional in nature. The colors are loosely based on traditional Asian colors - perhaps the yellow representing the Manchu people, the red representing the Japanese and the blue representing the Han people as one respondent indicates. I've never seen the diagonal arrangement like that before, but I'm not an expert on Chinese flags, so any suggestions?
Pete Loeser, 28 August 2014
Image by Clay Moss, 28 August 2014
With the artistic help of Clay Moss, I was able to ""straighten out"" UFE14-22d to better help identify it. Does it ring any bells with anybody now seeing it as a flat illustration?
Pete Loeser, 28 August 2014
---
14-24. Chile Political UFE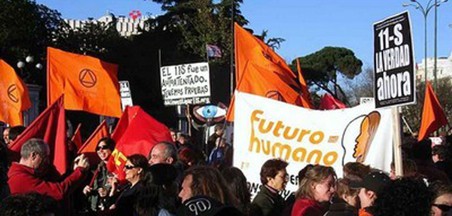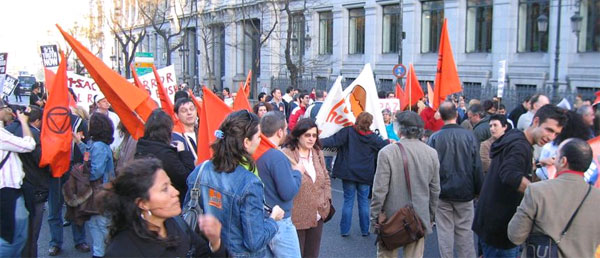 Images from Esteban Rivera, 9 March 2014
Here are two pictures showing an orange horizontal flag with a blue logo in the middle, consistng of an encircled triangle: Sources: El Ciudadano article #1 and El Ciudadano article #2. These images may also be the flag already reported back in 2006 and I guess is the flag of the PH (Partido Humanista).
Esteban Rivera, 9 March 2014
---
14-25. EAR&H Badge Some Speculation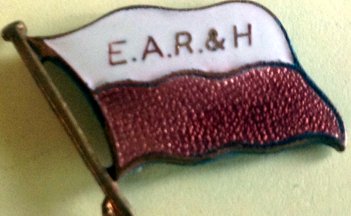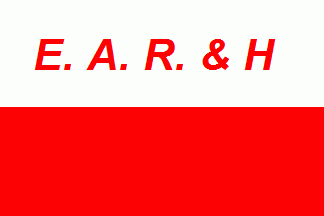 Image from Julia C. Morgan, 11 March 2014 - Drawing by Klaus-Michael Schneider, 12 March 2014
I am interested in date etc. Is it East African Railway and Harbour? Pin is marked with makers name DOW???, Birmingham.
Julia C. Morgan, 11 March 2014
It's not at like any of the flags we show at East African Railways and Harbours ensign page, but the abbreviation EAR&H seems pretty widely accepted as the East African Railway and Harbour.
Rob Raeside, 11 March 2014
At the Silver Makers' Marks - Birmingham Assay Office Website, a mark DOW, without additional unreadable letters, is reported as: David Dow, mark seen 1891 and 1896..1912 on Fob medal. Comment: Argyle Street, Glasgow.
This would seem a bit early for said company, though maybe a son might have continued the Dow business.
Peter Hans van den Muijzenberg, 23 March 2014
---
14-26. Ship House Flag on Mug Some Speculation

Image from Kathleen Lathom, 11 March 2014
This photo is of a sidemarked ship mug circa 1920s possibly up to early 1930s. Any ideas on the house flag?
Kathleen Lathom, 11 March 2014
This flag is on a white china mug. I have reviewed the shipping lines for several maritime nations, and although there are several in Germany that use this pattern, all seem to have some letters on them, or a device in the centre. The closest match I can find is Great Yarmouth Shipping Co., Ltd. in Britain, but again it should have some letters.
Rob Raeside, 12 March 2014
We do show per slatire blue over white for Pontevedra Maritime Province 1905-1933 (Spain), but I'm not sure that it would fit with a mug.
Peter Hans van den Muijzenberg, 14 March 2014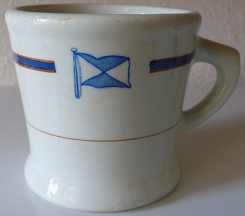 Image from Peter Hans van den Muijzenberg, 26 August 2014
Kathleen considers that mugs were typically used on board and that they did tend to have flags on them. With the Grindley backstamp indicating the 1920's or so, and English manufactures having produced other Spanish crockery for ship use as well, she doesn't think Pontevedra would be out of the question. But apparently she doesn't have anything on the use or the origin, though.
It's very likely blue and white are the correct colours, as they are the inset on the mug; had the flag had a different colour, then it would probably have been done in that colour. Attached is a smaller version of her photograph of the mug.
Peter Hans van den Muijzenberg, 26 August 2014
---
14-27. Unknown Argentine Shipping Line Positive ID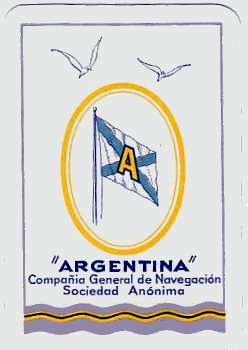 Image from Jan Walls, 22 March 2014
I have just received this playing card, which is mentioned on "The World of Playing Cards", but I can't find what shipping line it is, would you have any idea please? It has Compania General de Navegacion Sociedad Anonima written on it.
Jan Walls, 22 March 2014
At first guess, I would say that is the name of the company, although there is a possibility that "Anonima" might mean "anonymous" or "unknown"". Neither my Spanish nor Google Translate know that word.
Rob Raeside, 22 March 2014
I'd say a Sociedad Anónima is actually a legal form of company, probably one where the owners/shareholders can not be forced to pay the company´s debts (hence, from a legal standpoint being anonymous).
Since the flag strongly suggests the company name starts with an "A", I´d go for the one staring us in the face: "Argentina". Or in full: Compañia General de Navegación Argentina, Sociedad Anónima. Would the "card" be a playing card, by the way, as there's a mention here.
It says: "Argentina Compañia General de Navegación Sociedad Anónima was owned by A. M. Delfino (Buenos Aires) and was closely connected to Hamburg Sud, Hamburg. Delfino was well-known for the organization of cruises and the sale of tickets, and this circumstance later on gave rise to a new activity as travel agents."
There's a link to the Delfino website, (It's rather animation-based, which is not my thing to begin with, plus I currently don't have them running; would someone be willing to check whether there's information there?)
Peter Hans van den Muijzenberg, 22 March 2014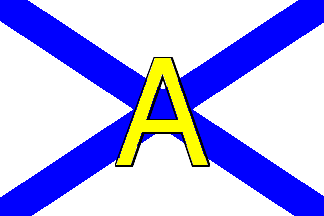 Image from Ivan Sache, 22 March 2014
The "Argentina" company appears to have been established by Antonio M. Delfino (1853-1922), with the support of General Roca, President of the Republic, to operate scheduled lines between Buenos Aires and Patagonia. The line was inaugurated in 1901 by the SS Comodoro Rivadavia. No profit was obtained until 1908. From 1901 to 1922, the 11 ships operated by the company completed 564 journeys, transporting 151,762 passengers and 1,531,421 tons of freight. After the death of Delfino in 1922, the company was transformed into the Antonio M. Delfino SA. Marítima y Comercial maritime agency.
Sources: "Argentina" Compañía General de Navegación (S. A.) and this Detailed biography of A. Delfino.
Ivan Sache, 22 March 2014
---
14-28. Unknown Red Swallowtail Flag with Lion Positive ID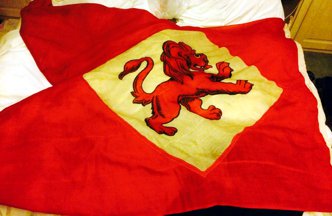 This flag is identified as one belonging to Clan Line, possibly for the rank of Commodore.
---
14-29. Unknown Chinese Flag Positive ID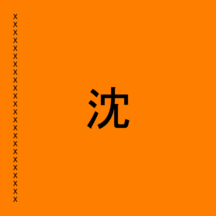 This flag has been identified as the Director of Mongolian and Tibetan Affairs Commission in Tibet.
---
14-30. Unusual German Flag, Interwar Years Positive ID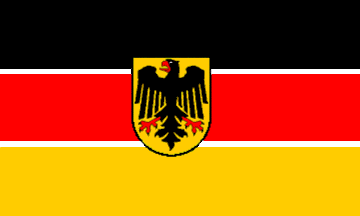 Image from John G. Wild, 4 April 2014
Back in the 1980's My brother was stationed in Germany, he knew I was obsessed with flags back then, and when a friend of his returned from West Berlin with two unusual flags which he said he bought in Berlin, my brother talked his friend into selling them to him. He immediately sent them on to me as a birthday gift and shipped them back to me.
These flags were old then, and I have looked far and wide for what they may have been. The smaller flag, (about 6x11 feet) is stamped on the white (bunting?) material used for the hoist rope, "Deutche Gierung" and another stamp on the hoist of the same flag says "Hergestellt Berlin 22-07-1921."
The larger flag which is of exactly the same design but about 9x15 feet, is also stamped on its hoist but much of the stamped image is too badly blurred (like the ink got wet and ran) for me to read everything, but what I can make out is "Deutche Gierung" then "Herges.....(Blurred too badly to read,) 1924" and finally the final part of the stamp says "Minister......(once again, badly blurred ink,) Schiff....(more blurry ink,)..." and that's all the markings I can find.
Both Flags are of the Exact same design. Both flags are sewn from individual strips of cloth even the white stripes are separate material, so it can NOT be a flaw in the manufacturing process. Black, White, Red, with the arms. What makes these flags unusual to me is the narrow white fimbriation separating the Black Stripe from the Red, and again another one separating the Red Stripe from the Gold one.
One other detail, but it may not mean anything, the Arms on the smaller flag are in the center of the flag, while on the larger flag, it is offset slightly toward the hoist. the flags are currently in storage since I am in the process of moving and I cannot get to them. I have tried to recreate how they look as accurately as possible by copying a flag from the Internet and just adding the white fimbriations. I am dying to find out what these flags are, they are in nearly brand new condition aside from the obvious effects of aging on the material, which, considering their age, is remarkable. If you can find out what they are, please let me know. I hope this image helps.
John G. Wild, 4 April 2014
This is an odd arrangement with distinct fimbriations between the colour bands. The black-red-yellow was used by the Weimar Republic, 1919-1933, so your flag probably dates from that period, as seems to be confirmed by date stamps on it. The only flag I could find with an eagle on it is the President's flag from 1919-1921, and that had a white fimbriation around the eagle.
Rob Raeside, 4 April 2014
The reconstruction drawing looks like a strange version of the Federal Service Flag (already in use in Weimar times as Reich Service Flag). However, without photographs of the flag itself and, of course, of the stamps, anything more on these flag would be pure speculation.
And by the way: no, the flags are not 6 x 11 feet or 9 x 15 feet! They are and always were in metric units.
M. Schmööger, 4 April 2014
For a possible identification of the flag, cross check with the "state flag" of Interwar Years German flag proposals. It appears to be a good match, both in time period, description, and location. Note that the UFE14-30 image is a reconstructed image.
Russ Adams, 8 February 2016
---
14-31. Cambodian UFE Positive ID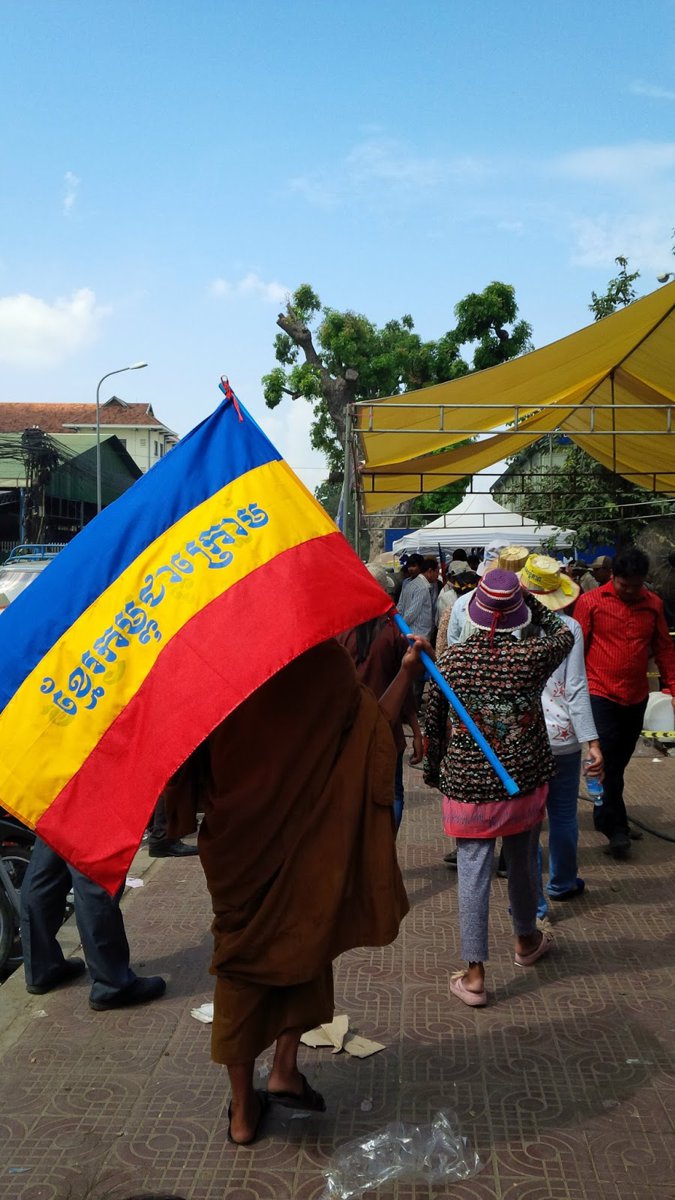 Image from Esteban Rivera, 6 April 2014
I was wondering if anybody has seen this flag before or if it´s a new UFE find. The picture was taken in October of 2013 during the Cambodian anti-government protests. The picture's caption reads: "A monk carrying a flag" which leads me to think it is a Buddhist flag
Source: ZASHNAIN.
Esteban Rivera, 6 April 2014
The photos at the above Wikipedia page show the flag (incompletely viewed) among the flags of Cambodia National Rescue Party which, together with the fact that it bears an inscription, suggests that it is actually a political flag, probably created during the protests.
Tomislav Todorovic, 6 April 2014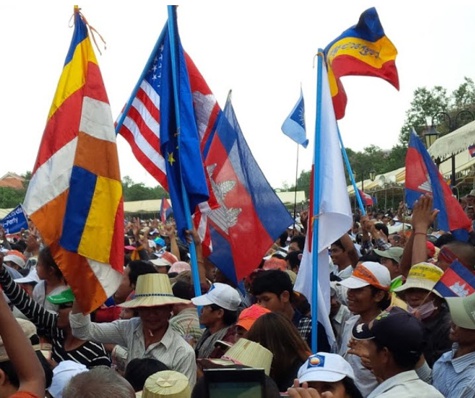 Image from Esteban Rivera, 1 March 2017
Revisiting FOTW Vietnamese and Cambodian pages, I found that we have the Khmer Kampuchea Krom Flag. Their flag is very similar to UFE14-31. Could it be that UFE14-31 is actually a variant of the Khmer Kampuchea Krom? Most likely, since UFE14-31 has an inscription in Khmer. By the way, the inscription in Khmer appears on both the obverse and the reverse.
Upon revisiting the (source), there is another picture featuring the following seven flags (from left to right). The picture caption reads "Monks participating in the rally"
Unidentified White UFE
UFE-14-31 (Variant ?)
.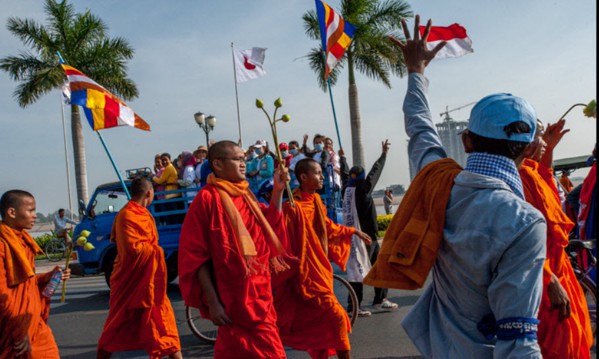 Image from Esteban Rivera, 1 March 2016

Another picture (source ) shows the following three flags (from left to right). The picture caption reads: "Monks take part in a CNRP political rally at Freedom Park in Phnom Penh."
White UFE - maybe same as shown above?
UFE-14-31 (Variant with white lettering?)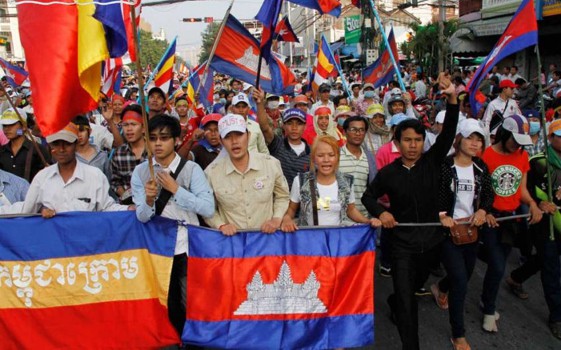 Image from Esteban Rivera, 1 March 2016

And here's one more picture (source) showing two flags being carried across the front of the marchers (from left to right): Esteban Rivera, 1 March 2017

This is the flag of the Krom Khemer peoples (Wikipedia: Khmer Krom) based on the flag of the Khmers Kampuchea-Krom Federation (KKF) (see source) with the name of the people - ជនជាតិខ្មែរក្រោម - on the yellow band. There are also versions with the name in blue (see example), white ( see example): Caption on photo ខ្មែរក្រោមសង្ឃឹមថា-ជីវភ (The Khmer Krom flag at the Freedom Park in Phnom Penh on December 15, 2013. Photo by Son Cheng Choen) and some without the name (see example).
Anonymous, 20 July 2021
---
14-32. UFE Flags at Phnom Penh International Airport One Tentative ID and Some Speculation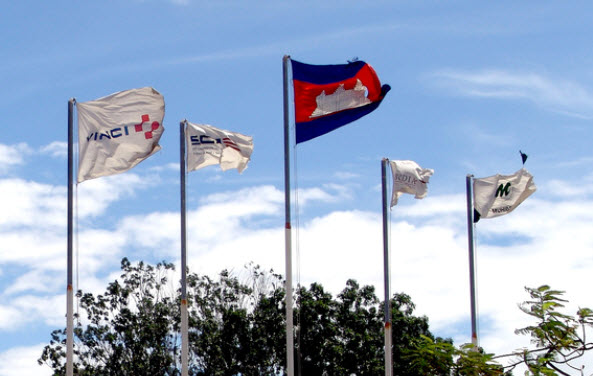 Image from Esteban Rivera, 6 April 2014
In this picture on Flicker one can see five flags (left to right): 1. Vinci, 2. SCA (Société Concessionaire d'Aéroport), 3. Cambodian flag, 4. UFE #1, and 5. UFE #2.
Vinci "is a French concessions and construction company founded in 1899 as Société Générale d'Enterprises"". Sources: Wikipedia and Vinci. Its flag is the company logo on a white horizontal flag.
Regarding the SCA, "on July 6, 1995, the Royal Government of Cambodia signed a concession agreement with the French-Malaysian joint venture company Société Concessionaire d'Aééroport (SCA), also refered to as Cambodia Airports, to operate Phnom Penh (PNH - Pochentong International Airport).
SCA is 70 percent owned by French Groupe GTM and 30 percent by Muhibbah Masterron of Malaysia. Source: The Pochentong International Airport (on Wikipedia}. Its flag is its logo on a white horizontal flag.
Can anybody help identify the other two UFE's in this picture?
Esteban Rivera, 6 April 2014
Groupe GTM is owned by Vinci, I think. The "M" in the last flag sure looks like that of Muhibbah Masterron.
Peter Hans van den Muijzenberg, 13 April 2014
Vinci Construction acquired Groupe GTM in 2001. I believe Muhibbah Masterron is a Malaysian and/or Cambodian Holding Company. The SCA (Société Concessionnaire de l'Aéroport) administers and runs the airport, but is pretty well is controlled by Vinci and Masterron. According to the Phnom Penh International Aiport Blog "SCA is 70% controlled by Vinci Group (Vinci) from France and 30% by a local holding company, Muhibbah Masterron (Cambodia) Company Limited (MMC). [The] Muhibbah Masterron (Cambodia) Company Limited (MMC) is 70% owned by Muhibbah Engineering Berhad (MEB) and 30% owned by two local Cambodian businessmen, Mr Okhna Kong Triv and Mr Okhna Hann Khieng. Contacts for Muhibbah Masterron (Cambodia) Company Limited are very unclear, it could be a shell company."
Anyway I believe all these flags are corporate flags of the various companies controlling and operating the airport. Unfortunately, I can't make out all the flags clearly enough to be sure, but from left to right I'd agree that it would go Vinci, SCI, Cambodia, "unknown", and MMC.
Pete Loeser, 13 April 2014
---
14-33. UFE seen in Crimea, Ukraine Positive ID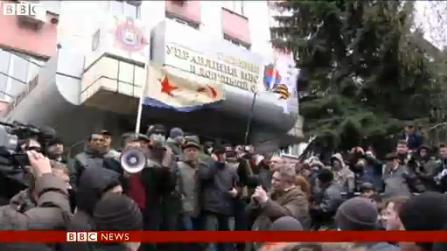 Image from Esteban Rivera, 13 April 2014
(The UFE is on the right - The screen shot from the second video is mentioned below.)
Information was moved to People's Militia of Donbass
---
14-34. Strange Greek-like Flag Near Portland.

Speculative image from Tomislav Todorovic, 15 April 2014
I got a message from a friend of mine in Portland, OR, USA. He said that he was driving around and saw a flag flying by a house at the side of the highway that was unfamiliar.
"At first I thought it was a Greek flag, because that's what it looked mostly like. But then I noticed that the canton instead of the cross had a blue/white checker pattern, like the maritime signal flag for 'N', but without so many squares, I think. I don't think there was anything further on the flag, but I couldn't tell for sure as it was hanging in pretty low wind."
It apparently had a blue and white horizontally striped field, canton of blue and white checkers (if I'm picturing it right). Any ideas?
David Kendall, 10 April 2014
Only that the November flag has 4x4 squares. So, to reduce that, you'd get 3x3, which is basically a fat cross with the centre voided. And if it wasn't all that readable, I'm not even sure about that voided centre.
I hope your friend recalls where he saw it, so he can apply identification method #1, but for now I'm going with a Greek flag with (if it really was different) the cross as it is in the Greek arms.
Peter Hans van den Muijzenberg, 20 April 2014
---
14-36. More Russian UFE's at Barneo Base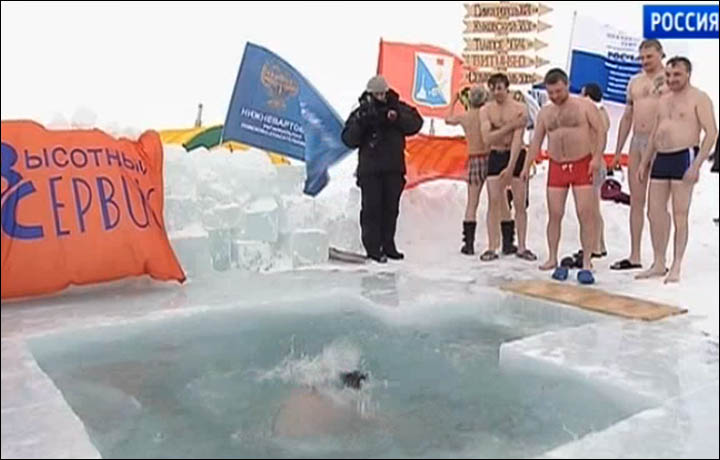 The discussion on this flag is now located on the Camp Barneo, Arctic Ocean page>
---
14-37. Ukrainian UFEs Positive ID

These have been identified as the flags of Donetsk County and Slovyans´k city and are located in the main database.
---