This page is part of © FOTW Flags Of The World website
Ust-Ord Buriatia (Russia)
Усть-Ордин Бурят
Last modified: 2021-08-26 by valentin poposki
Keywords: ust-ord | buriat | irkutsk | ust-ord buriatia | argabar | triad | obo | meandr | bezant | blood | fire | warmth | sunlight | bravery | richness | happiness | heavens | cleanness | milk | immortality | nature | renovation | fauna |
Links: FOTW homepage | search | disclaimer and copyright | write us | mirrors

---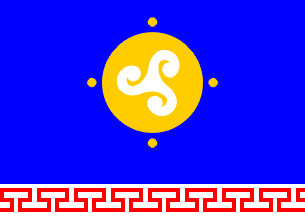 image by Mikhail Revnivtsev, 14 Feb 2003
---
See also:
---
Presentation of Ust-Ord Buriatia
(Note: You need an Unicode-aware software and font to correctely view the cyrillic text on this page. See here transliteration details).
---
Description of the flag
The flag of Ust-Ord Buryat Autonomous District is described in Article 8 of the Law No. 19 of UOBAD About COA and flag of the UOBAD from 25 June 1997.
The flag is composed of two horizontal stripes, dark blue and white (7:1). In the blue stripe there is a yellow circle with the white sun emblem "arbagar" within. The diameter of the circle equals to 1/2 of the width of the blue stripe, the circle is accompanied by four small yellow circlets. In the white stripe there is a red ornament. Flag ratio is 2:3.
Dark blue stands for the blue sky forever (from the point of view of the pan-Mongol and pan-Turkic cosmogony and mythology), white for milk (probably — this is the meaning of the silver in the arms, no data on the flag), arbagar for indefinite life cycle, happiness, unity of the space, earth and Buryat people (etc.). The red ornament stands for nomadic lifestyle of the Buryat tribes in the past and for their prosperous future.
The flag is coauthored by A. A. Bulgatov and M. R. Dambiyeva and is derived from the Geser's flag used in 1993 in the Center of the Buryat National Culture in Ulan-Ude: that flag was dark blue with the arbagar.
Jan Zrzavy, 19 Jan 2003
Meandr
"Meandr" means "meander" — zig-zag line also traditional for mongol ornaments.
Gvido Pētersons, 31 May 2000

Meander is widely used everywhere in Mongolia and have many variations. A sample of this you can see also here: www.pmis.gov.mn/tuv/. About argabar, the most common "triade" are «three furnace (fireplace) stones - father, mother and child» but graphical symbol is not presented by star or sun. In this website, you can find different elements of ornaments but only two are close to argabar description:Gvido Pētersons, 02 Jun 2000
Argabar
I see one time the argabar on TV, it looks like triple wavy swastika.
Victor Lomantsov, 01 Feb 2000
I think "argabar" is a true buryat word; in khalkh-mongolian it has'nt any meaning. According to description in complex — big disc with 4 small discs and "triade".
Gvido Pētersons, 31 May 2000
The so called "triada" in the center of flag (and coat of arms also) according the flag Law of Ust-Orda AD is blazononed as «Triada is a white triradiated sun. Three rays are three waves running clockwise, one of the rays is upright».
Yury Rocich, 01 Jun 2000
I've searched in mongol etnographic ornaments: the most common "triade" are «three furnace (fireplace) stones — father, mother and child» but graphical symbol is not presented by star or sun.
Gvido Pētersons, 02 Jun 2000
Also known as an obo, widely found from Siberia to Tibet; according to Owen Lattimore High Tartary, 1930 (reprint 1994):
Obos have been described as graves by at least one pair of travelers. They are in fact obos of the kind that Qirghiz and Qazaqs, like the Mongols, Tibetans, and all the folk of the inner lands of Asia, set up in all memorable places and on peaks, passes, the junction of boundaries, and holy ground. In this place they are raised to the guardian powers of the pass, and staves are set in them, fluttering with tassels, rags, and, by a peculiar custom of the Muzart, the tails of all norses and beasts of transport that have died on the importunate glacier.
Jarig Bakker, 02 Jun 2000

All three related flags (Mongolia's, Buryatia's and Agin Buryatia's) show soyonboes. Ust-Ord Buryatia's flag, on the other hand, features an argabar, quite similar to the US Dep. of Transportantion logo and to the labaru cantabru, which appears on some cantabrian independentist flags.
Antonio Martins, 05 Sep 2000
---
Flag of July-September 1997

image by Mikhail Revnivtsev, 14 Feb 2003
Law of July,17, 1997:
The flag is green with white horiz. stripe along bottom edge. In green is an argabar emblem in a gold ring with four small gold bezants in the corners. In the centre of the white stripe is a red meandr. Proportions 2:3. Green stripe = 7, white = 1. Meanings:

green - immortality, nature, renovation, fauna and flora (forests).
white - heavens, cleanness, milk
red - blood, fire, warmth, sun, bravery
gold - richness, happiness, light of sun

Coat of arms is «white-green shield» (per bend dexter Argent and Vert), gold ring, white argabar, four gold bezants in corners.
Victor Lomantsov, 01 Feb 2000

Coat of arms and first flag of the Buryat autonomous district of Ust-Ordynsky were adopted by the law of autonomous district #19 on July 25, 1997. On September 18, 1997 districtial law #21 was resized green colors on a flag on blue. The coat of arms has remained without variations till now.
Mikhail Revnivtsev, 14 Feb 2003

Green flag was in use in July-September 1997. Blue flag was in use in September 1997 - March 2009 and after July 2011. See for references: Current flag and former flag.
Yuri Pirogov, 30 December 2012
---
Geser's flag
The official a.ok. flag was derived from the Geser's flag used in 1993 in the Center of the Buryat National Culture in Ulan-Ude: that flag was dark blue with the arbagar.
Jan Zrzavy, 19 Jan 2003
---
Incorrect flag reported


image by Željko Heimer and James Dignan, 19 May 1999

A flag, of unknown symbolism, has been reported. It is gold with two purple stripes at the base.
Stuart Notholt, 08 Dec 1995

This flag is listed under number 125 at the chart Flags of Aspirant Peoples [eba94] as: «Ust-Ordu"n Buryatia - South Siberia».
Ivan Sache, 15 Sep 1999

This flag was adopted Aug 20 1992. One question about the flags of

Is any particular reason or reasons why those flag design pattern are that similar to each other?
Nozomi Kariyasu, 27 Jan 2000
---