This page is part of © FOTW Flags Of The World website
Chuvashia (Russia)
Ĉuvaŝiâ / Ĉăvaŝ En
Last modified: 2021-12-31 by valentin poposki
Keywords: chuvashia | sun: 8 rays | star: 8 points (fimbriated) | oak | hop | leaf: hop | beer | bukyet chuvashii | buket ĉuvaŝii |
Links: FOTW homepage | search | disclaimer and copyright | write us | mirrors

---
Чувашия / Чӑваш Ен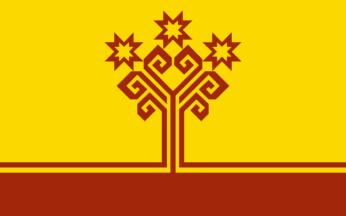 image by Tomislav Šipek, 6 December 2019
based on https://cheboksari.bezformata.com/
---
See also:
Other sites:
Official Chuvash Government website with pages about the flag, emblem and presidential standard
reported by António Martins, 23 Sep 2003
Chuvash flag made from cut and pasted yellow and red paper, mounted between a blade of Plexiglas and a sheet of plywood, and joint together with colored steel clips: General layout (photo1 and photo2), close up of the surface (photo1 and photo2), and hanging rig (photo1 and photo2).
reported by António Martins, 27 Mar 2006
---
Presentation of Chuvashia
(Note: You need an Unicode-aware software and font to correctely view the cyrillic text on this page. See here transliteration details).
Name (English): Chuvashia • (Russian, short form): Чувашия | Ĉuvaŝiâ • (Russian, long form): Чувашская Республика | Ĉuvaŝskaâ Respublika • (local, short form): Чӑваш Ен | Ĉăvaŝ En
• (local, long form): Чӑваш Республикӗ | Ĉăvaŝ Respublikĕ
Local official language: Chuvash
Capital (Russian): Чебоксары | Ĉeboksary • (English): Cheboksary• (local name): Шупашкар | Ŝupaŝkar
Area: 18 300 km2 (≅7 100 sq.mi.) • Population: 1 351 400 inhabitants in 2000
Status: Republic (Республика | Respublika) within the Russian Federation
Federal District: Volga • Economic region: Volga-Vyatka
License plate code: 21 (in the soviet era: ЧУ | ĈU) • Ham radio code: CU • ISO 3166-2 code: CU
Flag adopted on 1992.04.29 • Coat of arms adopted on 1992.04.29
Like Bashkor, Chuvash people are Turkic; strangely they are not Muslim but christian orthodox.
Giuseppe Bottasini, quoting [zig94]
Die hard nationalists would tell you how this is one of the oldest peoples on Earth, with unsuspected connections with Sumerians and Egyptians, while, more reasonably, most historians would acknowledge that the Chuvash managed to create one of the first organized societies in northeastern Europe, the (Volga) Bolgar state.
Even so, Chuvashia celebrates today (June 24th) a modest 80th anniversary, commemorating the creation of the Chuvash Autonomous Region within the RSFSR, in 1920. This was upgraded to ASSR in 1925 with confimation of Cheboksary as the capital (Kanash was briefly considered) and some territorial exchanges NE and SW (after a rejected proposal of adding to it all of the current Ulyanovsk Region, with the would-be capital in this city).
There was no separate division corresponding to Chuvashia during the time its territory was under Tatar domination (Kazan Khanate), nor during the tsarist regime — hence this celebration.
António Martins, 23 Jun 2000
---
Description of the flag
On 29 April 1992 Chuvashia adopted a very original golden-purple flag, representing a stylized "Tree of Life" (symbol of national revival) topped with three Suns, an ancient Chuvash device.
Giuseppe Bottasini, quoting [zig94]
Chuvash seem to like their flag very much, it being all over the republic. However, variations, simplifications and erroneous depictions are quite often.
António Martins, 01 Aug 1999
The colour (dark red) of Moscow flag is established by the law. Chuvash red is pupurniy (dark red). Concerning to other Russian flags I can tell that they usually use red colour.
Nicolay Khimenkov, 02 Mar 1999
The 24th of June Chuvash streets and store windows are more decorated than usual with red and yellow motives and I note that these show the distinct darker shade of red prescribed by law (contrasting with most flags in sight, incl. official ones, which use the same red as the Russian national flag). There is even one of these items showing wavy stripes of both flag patterns where this difference is clearly visible and obviously intentional. I suspect that the graphical artist that created the Chuvash flag in 1992 (who works for the city government) might be behind this strive for correctness.
António Martins, 23 Jun 2000
Four 1st level Russian subdivisions use dark red as a major color of its flags: Moscow City, Mordovia, Chuvashia and Mariy El.
António Martins, 08 Dec 2006
The flag design is taken from the coat of arms. The Tree of Life motif is often in many local ornaments — embroidery, vines and iron works, gastronomy, etc. The 8-pointed star is widely used in all ethnical republics of Central European Russia (Udmurtia, Mari-El, Chuvashia, Tataria, Bashkiria and Mordovia) and can be found in several of their flags.
António Martins, 08 Nov 1996
The Chuvash government has recently erected a very tall flag pole in Ĉeboksary's main square, in front of the "Yellow House", the government headquarters. It's no less than 25-30 m high, and it flies permanently a large Chuvash flag.
António Martins, 26 Jul 1999
Construction details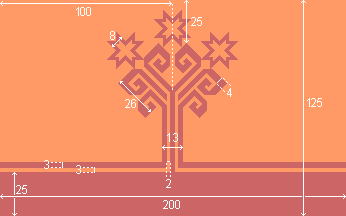 image by António Martins, 02 May 2002

This diagram uses values reduced to the least common denominator instead of the percentiles of flag width used in the official construction sheet, annexed to the law and shown in the book [pvu95].
António Martins, 06 Dec 2002
(central detail)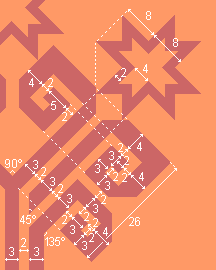 image by António Martins, 02 May 2002

Detailed view of the tree symbol, with some significant measures (more than enough to make the others out). It should be noted that the official construction sheet gives a 2,7% value for each fourth of the suns; that seems geometrically incorrect as only the slanted lines yield integer (or rational) numbers. The said value would rather be √8̅²̅⁄̅2̅, i.e., approx. 5,657 — which would be about 2,828% of the flag width.
António Martins, 02 May 2002

Note that the widest point of the tree seems to be aligned with an horizontal line distant 2/5ths (50 units) from the flag top, but this is not explicit in the law (only the top of the tree is). After some calculation, we see that it is rather approx. 44,548 — indeed √1̅1̅²̅⁄̅2̅ + √2̅6̅²̅×̅2̅.
António Martins, 06 Dec 2002
Variations
The interesting flag-related logo of the local Electoral Commission (Центральная Избирательная Комиссия Чувашской Республики), with the flag making a stylized open hand.
António Martins, 15 Nov 2005
---
Flag of the Head of the Republic (formerly the Presidential Standard)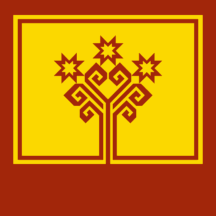 image by Tomislav Šipek, 6 December 2019

The simplest variants of standards are accepted in Republics. This imposing of the arms on a national flag. More difficultly a composition of heads standards of Chuvashia.
Sergey Filatov, 10 Oct 2005

Most of these flags are squarish (about 11:12), rigid and fringed variants of the region (Governors) or Republic (Presidents) flags with the regional emblem over all.
António Martins, 02 Oct 2005

Image above based on https://forum.na-svyazi.ru/?showtopic=2163628&st=0&p=15172245#entry15172245
Tomislav Šipek, 6 December 2019
---
The coat of arms of Chuvashia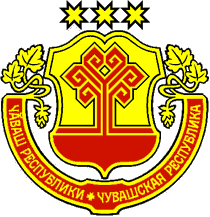 image by António Martins, 02 May 2002

The coat-of-arms shows the same devices (Tree of Life and Suns) along with golden hop branches and the name of the Republic in gold on a purple cartouche.
Giuseppe Bottasini, quoting [zig94]
---
Bukyet Chuvashii
(Buket Ĉuvaŝii | Букет Чувашии)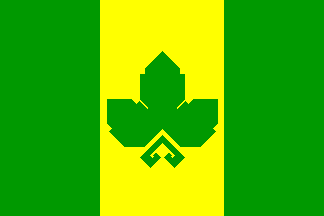 image by António Martins, 22 Dec 2000

Bukyet Chuvashii is one the main liquor manufacturers in Chuvashia, Russia, and it specialized in beer. This beverage is a national (Chuvash) ancient tradition, this republic being almost exclusively responsible for Russia's rank as the 8th major producer of hop world wide.

This company's flag is one of the most elegant and vexillologically "perfect" I have ever seen, showing the main part of its logo, a stylized hop leaf, on the central panel of a green-yellow-green vertical triband. (This logo, in both old and new variants, shows the tree suns from the Chuvash coat of arms as its "crest" and a ribbon patterned after the Chuvash flag.)

The flag comes in two variants: an older one with a pale shade of yellow (almost ivory), very dark green and identical areas; and a more recent one (since last april?) with medium shades and the central panel slightly larger, containing an also larger emblem.

This new version can be seen at the Beer Museum in Cheboksary, and also proeminently hoisted on the ship-shaped out door summer cafes in the Zaliv Park. The older version is very frequent as a table top ornament, usually crossed with Russian or Chuvash flags.

António Martins, 22 Dec 2000

Other sites:
---
image located by Thanh-Tâm Lê, 28 December 2013
On the not often updated English-language version of the chuvash.org website, one can still see a picture from 2010 with a (to me) unknown flag in the background. It definitely does not look like the Chuvash national flag in any of its variants. Would you have an idea of what it stands for?
http://en.chuvash.org/
Thanh-Tâm Lê, 28 December 2013
Is this the flag you mention?
Esteban Rivera, 28 December 2013