This page is part of © FOTW Flags Of The World website
Northern Mindanao, Region X, Philippines
Last modified: 2023-06-03 by

zachary harden
Keywords: northern mindanao | mindanao | bukidnon | camiguin | lanao del norte | iligan | misamis | oroquieta | ozamis | tangub | cagayan de oro | gingoog |
Links: FOTW homepage | search | disclaimer and copyright | write us | mirrors

---
The Philippine Republic's Region X, Northern Mindanao, comprises four provinces and five cities. It is more populous than the other four cities together. The other city in the province is Gingoong, population 102,000.
Flag images here drawn after Symbols of the State, published by the Philippines Bureau of Local Government.
---
See also:
---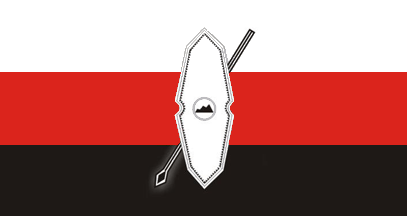 image located by Valentin Poposki, 2 January 2012
The Province of Bukidnon, Philippines, has a new flag: http://www.bukidnon.gov.ph/index.php?option=com_content&task=view&id=274&Itemid=360. The Bukidnon Flag is the provincial emblem of the province. It expresses the indomitable spirit, noble values and rich heritage of Bukidnon and resembling
their patriotic efforts for a sovereign Filipino Filipino nation under the blessings of Almighty God.
The prominent three equal horizontal stripes depicts the hospitability, heroism and nobility of Bukidnons and expressing Bukidnon sentiments for quality, freedom, justice and peace.
Color white, red, black - white stands honesty and purity; red for commerce, courage, bravery and heroism; black for authority; yellow for nobility.
Spear and Shield - traditional weapon fo the natives for self-defense.
Upper portion - the upper pointed portion of the shield represents the mountains ranges which are the main sources of forest products, wild life and flora, mineral deposits underneath and serve as natural defense of the province.
Lower portion - the lower pointed portion of the shield represents the scenic canyons like Mangima, Atugan and Kulaman Canyon which are serving also as natural defense of the province.
The parallel lines edging of the shield - stands for the traditional native settlements established along the river banks from which their name identify are derived from the names of the river along which they are located, like the Pulangions, Tigwahonons, etc.
Size of the flag - width is 34 inches and height is 64 inches.
Circular figure with a mountain inside - the prominent landmark of the province, the Mt. Kitangalad known unofficially as the highest peak in the Philippines where communications relay and transmission towers are located.
Valentin Poposki, 4 September 2010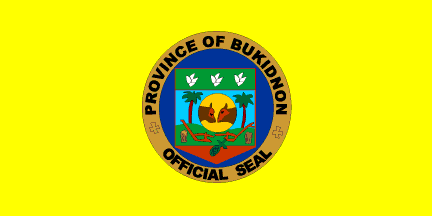 by Jaume Ollé, 12 January 2001
Bukidnon has a population of approximately 1,055,000. It is divided into twenty-two municipalities ("towns" in some websites), of which Malaybalay is the administrative seat. The name means "people of the mountains." Their ethnic origins seem to remarkably diverse, but now they all have a common language in Cebuano.
John Ayer, 12 February 2001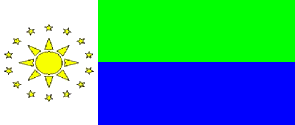 image located by Vanja Poposki, 13 June 2012
Flag of the Kalilangan Municipality, Bukidnon Province, Philippines
Vanja Poposki, 13 June 2012
---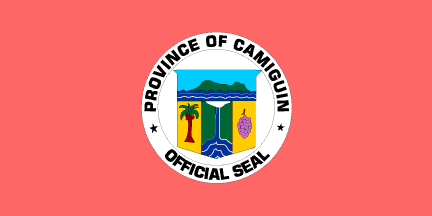 by Jaume Ollé, 12 January 2001
Camiguin, a smaller island off the northern coast, comprises five towns, of which the administrative center is Mambajao, and also contains seven volcanoes, which have featured prominently in its history. Its population is about 73,000. The name is derived from the name of a tree akin to ebony. The inhabitants make their livings chiefly by agriculture and fishing.
John Ayer, 12 February 2001
---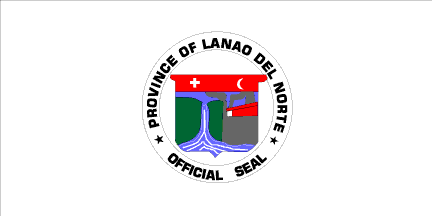 by Jaume Ollé, 12 January 2001
Settlers from the Visayas are the most numerous element in the population of northern Lanao, and in 1959 Lanao del Norte was made a separate province. In 1989 Lanao del Norte voted against membership in the Autonomous Region in Moslem Mindanao (the province is a separated part of Region XII, Central Mindanao). Lanao del Norte consists largely of coastal plain crossed by several rivers, and agriculture is the economic mainstay, producing a wide variety of crops. Ocean- fishing continues, despite problems due to over-fishing, chemical effluents, and silting. There is also fresh-water aquaculture. Iligan, the only city, is known as "the industrial heart of the south," producing steel, tinplate, paper and wood products, cement, chemicals, and plastics. All this is powered by the hydroelectric plant at Maria Cristina Falls, "the Mother of Industry, the Fountainhead of Progress," on the Agus River, 8.5 km. from the city. This is part of a line where the many rivers descend from the central plateau to the coastal plain in many waterfalls. Several resorts cater to the tourist trade. Both Lanao del Norte and Lanao del Sur claim the Maria Cristina Falls, so perhaps the river forms part of the boundary.
John Ayer, 13 June 2001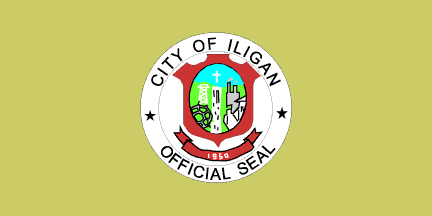 by Dirk Schönberger, 12 January 2001
Source: Symbols of the state
Iligan is an industrial city and port on the southeastern shore of Iligan Bay in Lanao del Norte. Its industry is powered by the hydroelectric plant at the Maria Cristina Falls on the nearby Agus River, which apparently powers a large part of Mindanao, and produces steel and ferrous alloys, fertilizer, plywood, and cement, chiefly.
John Ayer, 7 April 2001
---
by Jaume Ollé, 12 January 2001
Misamis Occidental, with a population of about 489,000, contains three of the five cities in the region, plus fourteen towns. Oroquieta City is the capital. The economy depends firstly on fishing, secondly on coconuts, thirdly on rice, and they are also working vigorously on tourism.
John Ayer, 12 February 2001
The province of Misamis Occidental contains three cities. Oroquieta, the capital, has a population of 60,000, Ozamis has 110,000, and Tangub has 50,000 (all rounded). My impression is that each of these cities has several natural pools in limpid mountain streams, several more artificial pools ditto, numerous inviting areas for swimming, snorkelling, and scuba-diving, huge old trees, tourist cottages, and handsome churches.
John Ayer, 12 February 2001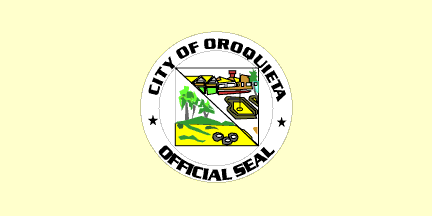 by Dirk Schönberger, 12 January 2001
Source: Symbols of the state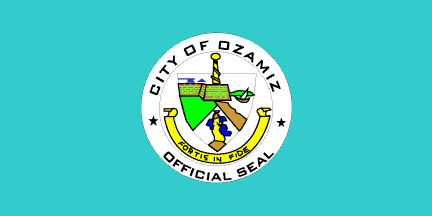 by Dirk Schönberger, 12 January 2001
Source: Symbols of the state
Ozamis is spelled this way on all the maps and websites that I have looked at; the spelling on the seal may be antique.
John Ayer, 13 February 2001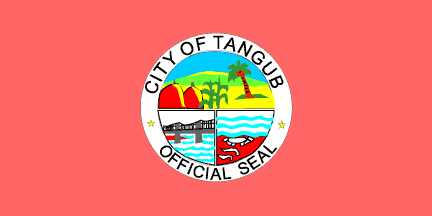 by Dirk Schönberger, 12 January 2001
Source: Symbols of the state
---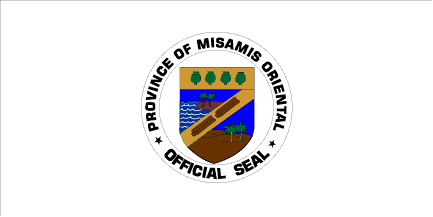 by Jaume Ollé, 12 January 2001
Misamis Oriental has a population of about 659,000 in two cities plus twenty-four towns, with Cagayan de Oro City the capital. The economy includes fishing, agriculture (corn, coconuts, coffee, bananas), mining, and tourism.
John Ayer, 12 February 2001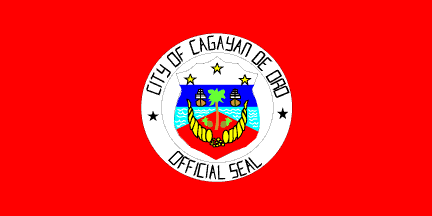 by Dirk Schönberger, 12 January 2001
Source: Symbols of the state
Cagayan de Oro, once known as Cagayan de Misamis, in Misamis Oriental, is not only the provincial capital but the regional center, with a population of 462,000.
John Ayer, 12 February 2001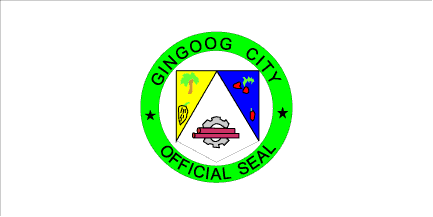 by Dirk Schönberger, 12 January 2001
Source: Symbols of the state
Gingoong, the second city in the province, has a population 102,000.
John Ayer, 12 February 2001