This page is part of © FOTW Flags Of The World website
Egmond (The Netherlands)
Bergen municipality, Noord-Holland province
Last modified: 2018-12-15 by rob raeside
Keywords: egmond | egmond | egmond-binnen en egmond-aan-den-hoef en rinnegom |
Links: FOTW homepage | search | disclaimer and copyright | write us | mirrors

---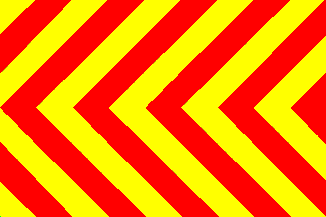 Shipmate Flagchart : http://www.flagchart.net
Flag adopted 18 Dec 1980.
See also:
---
Egmond [former] municipality
On 1 Jan 2001 Egmond, Bergen, and Schoorl merged to form the new municipality of Bergen. Egmond consisted of Egmond aan den Hoef, Egmond-Binnen. and Egmond aan Zee. The former municipalities of Egmond-Binnen and Egmond aan Zee merged in 1978 to form Egmond municipality, which had (1 Jan 2001) 11.336 inhabitants on 31,48 km².
---
Egmond Coat of Arms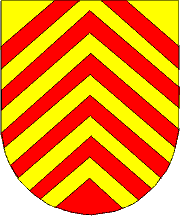 image by Jarig Bakker, 26 Apr 2005
Granted 26 Jun 1816

Arms: or, six chevrons gules.
This is supposed to be the Coat of Arms of the Counts of Egmond, about which little is known.
---
Egmond, Egmond-binnen en Egmond-aan-den-Hoef en Rinnegom?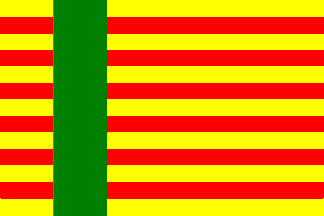 image by Jarig Bakker, 26 Apr 2005
used since 1974 (?)

In 1974 the Netherlands was blessed with a new municipality in Noord-Holland province after another merger with the beautiful name of Egmond, Egmond-binnen en Egmond-aan-den-Hoef en Rinnegom, which unfortunately was renamed just "Egmond" in 1978.
Flag: 13 stripes of yellow and red; a green stripe, parallel to the hoist, shifted towards the fly of 3/10 flagheight

In 1998 it was observed that that flag was still used in several places as a village flag.
Note from Mr. van Heijningen: never heard of that Egmond-with-the-long-name and that flag is completely unknown - despite the fact that the Stichting Banistiek en Heraldiek has a file with at least 12 letters about the subject - please put a question-mark somewhere...

That flag is based on the Egmond-arms.

Egmond originated in two villages: Hallum and Wimmenum; the Counts of Holland owned here large estates. Count Dirk I had a nunnery built in Egmond, which in c. 950 was replaced by a monastery by Dirk II. The Egmond-Abbey became a center of learning in the Middle Ages, attracting a lot of grants. The people who were taking care of those grants, took care of themselves as well and became the extremely rich Counts of Egmond: Hence the rhyme:

Brederode de edelste,
Wassenaar de oudste,
Egmond de rijkste,
Arkel de boudste

Brederode the noblest,
Wassenaar the oldest,
Egmond the richest,
Arkel the boldest

In the 16th century the rich age was ended, but Egmond is still a prosperous place, attracting a lot of guests in its stylish bathing resort, especially Belgians, who like to see the monument at the lighthouse for Jan van Speyk, who in 1831 rather than surrender to the Belgians put a burning fuse in the powder-room of his ship: "Dan liever de lucht in!" (I'd rather blow ourselves to pieces) - and, as I wrote before: we just looove glorious defeats (and so do Belgians, especially Dutch defeats - I wonder why).
Source: Vexilla Nostra 226 (2000) 60.
Noord-Holland en zijn gemeenten, 1981.
Jarig Bakker, 26 Apr 2005

The name Egmond op den Hoef should be Egmond aan den hoef.
The flags are cute; however I know only the former flag with the chevrons as the arms of Egmond aan Zee. Of old the municipalities of Egmond Binnen and Egmond aan de Hoef were separate municipalities, merged in mid-19th century, named "Binnen Egmonden". It had its own arms with 7 chevrons, instead of 6 of Egmond aan Zee.
It is a pity that the Binnen Egmonden had to cede area and the smallest village, namely Egmond aan Zee, which was a small square within the Binnen Egmonden. Egmond Binnen has more beach-area than Egmond aan Zee.
But when one says "Egmond" it is meant to be "Egmond aan Zee" - and now it is Bergen...
Peter van Egmond, 26 May 2006

---
Egmond aan Zee [former municipality]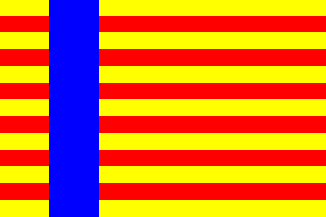 Shipmate Flagchart :http://www.flagchart.net
Flag adopted in April 1962.

---