This page is part of © FOTW Flags Of The World website
Bergen (The Netherlands)
Noord-Holland province
Last modified: 2019-07-13 by rob raeside
Keywords: bergen |
Links: FOTW homepage | search | disclaimer and copyright | write us | mirrors

---

No flag yet Other Bergen pages: See also:
---
Bergen municipality
From the 1st January 2001 the former municipalities of Bergen, Egmond and Schoorl merged to form the new municipality of Bergen. Number of inhabitants (1 Oct 2002): 31908; area: 119,85 km². Settlements: Bergen, Schoorl, Bergen aan Zee, Groet, Egmond-Binnen, Egmond aan Zee, Egmond aan den Hoef.
The new municipality has not decided on a flag yet.

---
Bergen [former municipality]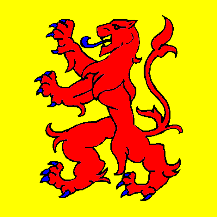 Flag previously reported by Shipmate Flagchart : http://www.flagchart.net

Bergen in Noordholland is a municipality with (1981) 14.238 inhabitants on 3355 hectares, with the villages Bergen (administrative center), Bergen aan Zee, Het Woud, and Zanegeest). It is involved in municipal reorganization, which so far produced no official flag.

Bergen is a small village near the North Sea. It was first mentioned in 960; in 1190 Bergen received a Coat of Arms from Count Floris III of Holland as a reward for the support against the Westfrisians. It was gules bend argent between six an orle merlettes. Merlets are heraldic birds without legs and beaks. Last year I saw several BoA's, probably banners or flags to attract tourists. On 19 Sep 1799 a combined Russian/English force was routed by troups of the Batavian Republic and France, memorized by the Russian monument. Bergen became an artists' center in 1915.
Jarig Bakker, 9 Jul 2001
image by Ivan Sache, 14 December 2014
A "renovated" and "improved" flag of the former municipality of Bergen has been ordered by the Bergen Historical Association (Historisch Vereniging Bergen°, HVB). The flag is red with a white bend cantonned by six white merlettes. This is a banner of the arms of Bergen, described some years ago by Frits David Zeller in Kroenik van de HVB. The arms most probably belonged to the lords of Haarlem, who were also lords of Bergen. The oldest representation of these arms dates back to the late 16th century.
http://www.dichtbij.nl/groot-alkmaar/regionaal-nieuws/artikel/3809952/vernieuwde-vlag-van-bergen-verkrijgbaar.aspx - Dichtbij, 3 December 2014 - HVB website
This flag is shown on the Shipmate flag chart as adopted in 2008. - image from the Shipmate flag chart, credited to "GPV"
Ivan Sache, 14 December 2014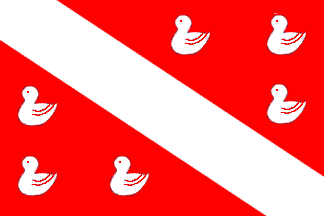 image by Ivan Sache, 14 December 2014

The "improved" version has the merlettes represented in a more compact way.
Ivan Sache, 14 December 2014

The source is actually the "Bergense Kroniek", which is the magazine of the Bergen Historical Association.
Bergense Kroniek, Historische Vereniging Bergen NH, 17e jaargang - nr 2 - november 2010
Frits David Zeiler
Zes merletten en een schuinbalk
(Six merlettes and a bend)
Traditie, waarheid en verdichtsel met betrekking tot het dorpswapen van Bergen
(Tradition, truth, and tale regarding the village arms of Bergen.)
page 2-8
http://tijdschriften.archiefalkmaar.nl/issue/BKR/2010-11-01/edition/null/page/4

The only relevant part is the blazon, from the Decree of 1922 that formalized the Bergen arms:
"In keel een schuinbalk van zilver, vergezeld van zes zoomsgewijs geplaatste merletten van hetzelfde."
(Gules, a bend argent, accompanied of six merlettes in orle of the same.)

"Merlette" is, one would say, the French word for the charge that in English would be called "Martlet". However, the charges have come to differ in their depiction, with the martlet more like the original French merlette, a female Blackbird, just with legs missing, whereas the heraldic merlette is now a small duck, though often depicted more swan-like, and is missing both beak and legs.

Viewing the flag change from this background, the swan-like merlettes from the old version have now been changed closer to a martlet: A more compact duck, but also missing the beak. Basically, a kind of ugly duckling.
Peter Hans van den Muijzenberg, 14 December 2014

---
Groet village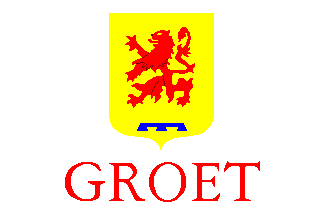 by Stefan Lambrechts, 9 Jun 2005, of Shipmate Flagchart.

Groet is a village in the municipality of Bergen (Noord-Holland province). Until 1833 it was a separate municipality; it was then merged into Schoorl, and in 2001 into Bergen.
Flag: white with in the center the village (former municipal) arms, and in the bottom in red "GROET".
Groet is a little village at the feet of the dunes. The name means: "grassland", but as "Groet" is Dutch for "greetings" or "salute" the villagers are supposed to be friendly to guests. It has attracted several artists, not quite unfamous in the Netherlands, who were known, together with those that lived in Bergen, as the "Bergensche School".

Arms: or a lion rampant gules, with in base a label of three pendants azure.
Granted 22 Oct 1817
Stefan Lambrechts, 9 Jun 2005

---