This page is part of © FOTW Flags Of The World website
Noord-Brabant Province (The Netherlands)
Last modified: 2018-12-15 by rob raeside
Keywords: noord-brabant | chequy |
Links: FOTW homepage | search | disclaimer and copyright | write us | mirrors

---

image by Mark Sensen, 4 May 1999
adopted 21 Jan 1959
See also:
---
Noord-Brabant Province
Brabant is an old Duchy. It is first mentioned in 1101. In 1106 Godfried of Leuven became count. His successors adapted the name and title Duke of Brabant and also adapted a lion as their arms. The colors of the arms are known since the middle of the 13th century. In the 14th century the nails and tongue became red. The arms haven't changed since then. The dukes from different dynasties quartered their ancestral arms with the lion. During the Dutch Republic the Staten of Brabant continued the lion as arms of Brabant. The arms are identical to the arms of Belgium, which are also derived from Brabant.
History of the province
It is not known for sure which ancient tribes lived in Brabant in the Old Ages. In the Middle Ages, it was occupied by Salic Franks, and was first a part of Austrasia, later of Lorraine, and since the 10th century, it formed the county of Leuven, which became the duchy of Brabant in the 12th century. In the 13th century, it contained the present-day provinces of Antwerp, Brabant Walloon, Northern Brabant and Vlaams-Brabant, and Brussels. The manor of Mechelen, however, was a part of the episcopal principality of Liège. In the 15th century, Philip III le Bon (the Good) united most of the other regions of the Low Countries, including Brabant, under his power, and it became the centre of the Bourgondian Empire, and later the Seventeen Provinces. During the Eighty Year War, Spain had to give up Brabant to the United Netherlands. South-Brabant remained a duchy, which, like the rest of the Southern provinces, came under Austrian and later on French authority. The Belgian heir to the throne still is called the Duke of Brabant.

f.a.vanlaenen 1997
Description of the flag
Checkered (6x4) gules and argent.
North Brabant Coat of Arms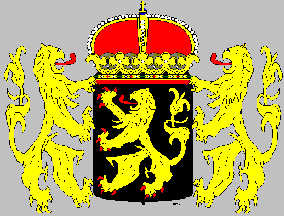 International Civic Arms :
http://www.ngw.nl/
"Sable, a lion rampant or, armed and langued gules. The shield is crested by a duke's coronet of five leaves and three diadems or, lined gules, turned up with ermine. Supporters: two lions rampant or, armed and langued gules. "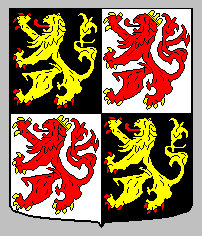 Sable, a lion rampant or, tongued and nailed gules
History of the lion of Brabant
The lion appears for the first time on a flag, depicted on a coin, minted under the reign of Godfrey III, count of Leuven and duke of Lower-Lorraine (1142-1190). His son Henry was regent from 1183 until 1190, and on a coin from that period, there appears again a flag with a lion, having as inscription "GODEFRID". He appears reversed on the other side, on a shield, with inscription "HENRIC SCU[D]I LEO". Henry, the later Henry I, duke of Lower-Lorraine and Brabant (1190-1235), thus placed the lion on a shield. On his seal of 1192, again the lion appears on a shield, held by a knight. The lion, which first was a symbol of Lower-Lorraine, became the arms of Brabant in the 13th century.

As to the colours of the arms, in 1234 in a Crusade against the Stedingen in East-Frisia, Henry I supposedly used a black flag, with on the one side the Holy Mary in an aureole, and on the other side a lion or, tongued and nailed gules. It is doubtful that the lion was already tongued and nailed gules at this time, however, but it is sure that he was golden. Henry III, duke of Brabant (1248-1261), too, used a black shield with a golden lion, as well as John I (1267-1294), who didn't change it after the battle near Woeringen. His successor John II (1294-1312) did change it, by quartering the arms of Brabant with the arms of Limburg.

f.a.vanlaenen 1997

---
1938 Parade flag
In 1938 Queen Wilhelmina had reigned the Netherlands for 40 years. On that occasion a lot of municipalities paraded in front of HM with their flags, which consisted of the provincial flag with the municipal Coat of Arms in the canton (or something...). Those municipal flags can only be considered as 'curiosities', while the status of the provincial flags is not quite clear. However North Brabant (and Friesland) used their normal flag.

Jarig Bakker, 26 January 2001

---