This page is part of © FOTW Flags Of The World website
Heerenveen (The Netherlands)
Fryslân province
Last modified: 2018-12-15 by rob raeside
Keywords: heerenveen | abe |
Links: FOTW homepage | search | disclaimer and copyright | write us | mirrors

---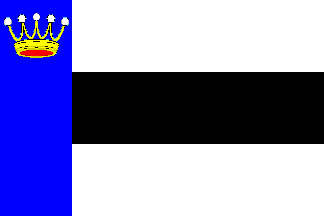 Shipmate Flagchart : http://www.flagchart.net improved by Peter Hans van den Muijzenberg, 22 Sep 2013
Other Heerenveen pages:
See also:
---
Heerenveen municipality
Number of inhabitants (1 Jan 2003): 42.190; area: 140,16 km². Settlements: Bontebok, De Knipe, Gersloot, Heerenveen (seat), Hoornsterzwaag, Jubbega, Katlijk, Luinjeberd, Mildam, Nieuwehorne, Nieuweschoot, Oranjewoud, Oudehorne, Oudeschoot, Terband, Tjalleberd.
Heerenveen/Hearrenfean is a municipality in southeast Friesland in the Netherlands. It is a rather new municipality (c. 1935), consisting of mergers of several old 'grietenijen' like Aengwirden and Schoterland, parts of Haskerland and since the reorganisation of 1984 of some other municipalities as well.
It is former moorland, which after the peat was dug out became a domain of the Dutch princes. 'Heerenveen' means: moorland of the lord. Nearby is the village of 'Oranjewoud/Oranjewâld', the summer-residence of the princes of Orange. The flag is not known as well as the shirt of the soccerteam of Heerenveen.
Jarig Bakker, 27 August 1999

---
Heerenveen Coat of Arms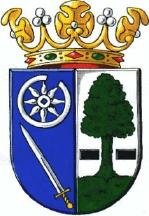 image from the Heerenveen municipal website.

Since 24 Oct 1935 the municipality of Heerenveen has its own Coat of Arms. Description: in the blue left part a broken wheel of silver and a silver sword, representing maintenance of law. In the silver right part is a green planted tree with on both sides a black block, symbolizing the presence of forests and peat-digging.
Jarig Bakker, 29 May 2003

---
Aengwirden former municipal Coat of Arms
International Civic Arms :
http://www.ngw.nl/heraldrywiki/index.php?title=Heerenveen
Aengwirden was the second "grietenij" (municipality) of the old Zevenwouden division, northeast of Heerenveen; four villages: Gersloot, Tjalleberd, Luinjeberd and Terband.
Coat of Arms: in silver three green trees on a green base and between the trees and the shieldborder four black peatblocks.
This former municipality never had a flag. The four villages all hace a Coat of Arms; a flag has been designed; should it be adopted it will be representing all villages.
In 1934 this municipality became part of Schoterland; the merger received the new name of Heerenveen.

---
Jubbega [village]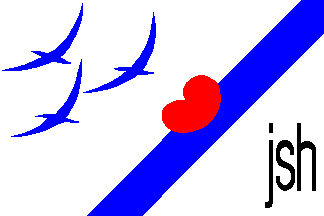 Shipmate Flagchart : http://www.flagchart.net

Jubbega is a long village in Heerenveen municipality, Fryslân, and its flag can be bought at this webpage. It appears that there was some fuss about it, but I'm no subscriber to the Heerenveenster Courier, so I'm unable to tell the gruelling story.
The letters JSH stand for Jubbega - Schurega - Hoornsterzwaag; Jubbega-Schurega is the official name of the village, and Hoornsterzwaag is a few kilometers away (I suppose they form in practice one village). To Jubbega belongs Jubbegaastercompagnie, and to Hoornsterzwaag Hoornsterzwaagcompagnie, as well as Jubbega Derde Sluis - names
reminding of the old peat-digging days.
The flag was designed in 1997.
Jarig Bakker, 8 Jun 2003

---
Nieuweschoot village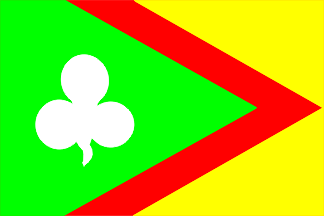 Shipmate Flagchart : http://www.flagchart.net
adopted 2006; design: Mr. Rudolf J. Broersma

Nieuweschoot (Frisian: Nijskoat) is a village in the municipality of Heerenveen (SE Fryslân). Flag and arms were recently adopted; the flag-image was kindly forwarded by Mr. Rudolf J. Broersma.

(My flag description): a green extended hoist-triangle charged with a white cloverleaf; a red chevron reaching the fly, and a yellow fly.
The flag is a simple representation of the arms. The green pointed field refers to "schoot" - a shoot, protruding territory. White clover is for the agricultural activities, meadows and dairy-farming.
The red chevron refers to the ribbon-like village-form and yellow stands on sand.
The village has c. 150 inhabitants, not blessed with a nickname - but Iep Kramer, a famous long distance ice-skater, was born here.
Jarig Bakker, 21 Oct 2006

---