This page is part of © FOTW Flags Of The World website
Mexico 1863-1867
Mexican Empire [Imperio Mexicano] / Second Mexican Empire
Last modified: 2016-05-07 by juan manuel gabino villascán
Keywords: mexico | empire (second) | maximilian | charlotte | carlota | empress | juárez (benito) | díaz (porfirio) | crown | eagle |
Links: FOTW homepage | search | disclaimer and copyright | write us | mirrors

---
See also:
---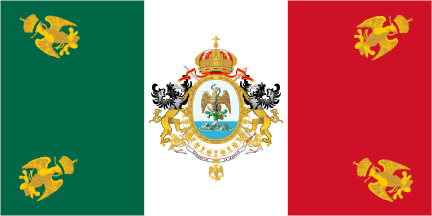 1:2 (since 1 November 1865) |

|


by Juan Manuel Gabino Villascán, 1 December 2002
Based on [sdn79]
Flag and coat of arms adopted: By decree of June 18, 1864
Flag and coat of arms confirmed: By decree of 1 November 1865
Flag and coat of arms abolished: July 15, 1867
Use on land: State flag
Use at sea: State ensign
Note:The Republican resistance headed by Benito Juárez García remained using the flag adopted in flag, with a wide variety on the coat of arms design.

On April 10th, 1865 Emperor Maximilian decided that the eagle be set affronty and imperially crowned again.
Santiago Dotor, 29 Dec 1998, summarizing from http://dyred.sureste.com/club/6febrero/24feb.htm (website no longer in use)
---
During the period of the French-supported Mexican Empire of Maximilian there were two national flags in use. The Mexican Republic of President Juárez used the 1823 flag. Emperor Maximilian government used a similar flag, but with a crown over the eagle's head. An illustration (or two?) can be seen in Whitney Smith's wonderful book, Flags Through the Ages and Across the World [smi75c].
Jamie Woods, 26 Dec 1998
---
The Imperial standard of Archduke Maximilian of Austria, emperor of Mexico from 1863 to 1867. The grand arms in the middle are like those of imperial France. Which is no coincidence. Emperor Napoleon III introduced Mexicans who looked for a European prince tot Maximillian and sponsored the Mexican Empire. Maximillian and his wife the Belgian princess Charlotte, were able and modern administrators. Unfortunately the Mexicans didn't recognise this. Maximillian was overthrown and murdered in 1867. Mexico fell back in lethargy, banditism and corruption. (Source: The arms: Siebmachers Wappenbuch; flag: painting of Maximillians departure from Miramar at the Adriatic).
The Imperial Warflag shows only the small arms.
Theo van der Zalm, July 21, 2000.
---
The eagle is not Napoleonic, but is the eagle with snake on the cactus which has always been the emblem of Mexico, differing from other forms by having a blue field and being crowned. Maximillian, though militarily dependent on Napoleon III, was anxious to establish his independence from France and the Catholic church and wanted to symbolize his Mexican character.
Norman Martin, July 24, 2000.
---

by Juan Manuel Gabino Villascán, 1 December 2002.
---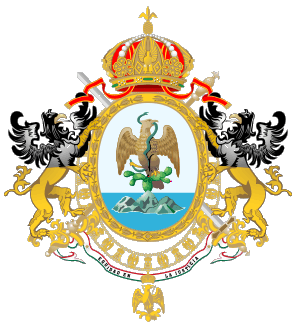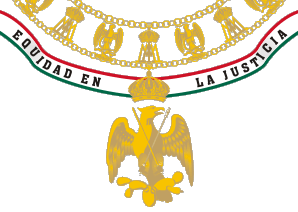 Both images by Juan Manuel Gabino Villascán, 1 December 2002.
Based on [csm60]

The decree issued on November 1, 1865 describes the Imperial Arms as follows:
"(...) The Coat of Arms of the Empire is oval in shape in blue; in the center is depicted the eagle of Anahuac, in profile and passant, supported by a cactus, suported, in turn, by a rock sunk on water, and ripping a snake. The border is gold charged by a garland of encina and laurel. The crest it the Imperial Crown. As supporters, two griffin from our olders' arms, their upper hald in black and the lower in gold; behind the scepter and sword in saltire. The shield is surrounded by the collar of the Order of the "águila Mexicana", and the motto: "Equidad en la Justicia" (Equity on Justice) (...) [see detail]."
Juan Manuel Gabino Villascán, December 1, 2002.
---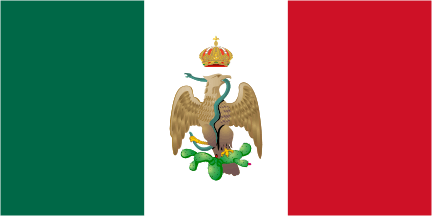 1:2 (since 1 November 1865). |
|

|

|


by Juan Manuel Gabino Villascán, 1 Dec. 2002.
Based on [sdn79]

It is also illustrated in Banderas y Escudos del Mundo [alv86]. The illustrations are on page 149 of [smi75c] and on page 22 of [alv86]. The apparent differences between the present flag and the flag of Maxmilian's regime were that an imperial crown (gold with red lining) appears above te image of an eagle grasping a rattlesnake, while perched on a cactus; the eagle was shown as viewed head on, with wings extended, rather than in profile; and there was no garland around the image. To make the image appear centered with the addition of the crown above, the eagle/snake/cactus was placed lower on the imperial flag than it appears on today's flag.
Ned Smith, 26 Dec 1998
---

1:2


by Juan Manuel Gabino Villascán, July 10, 2002
Based on [sdn79]
Maximilian was made Emperor in 1864 but flag wasn't changed quickly. As far as I know only regulation for flags were issued in 1 November 1865: National flag and merchant ensign: green, white, red vertical flag without any device.
Nozomi Kariyasu, December 12, 1999.
---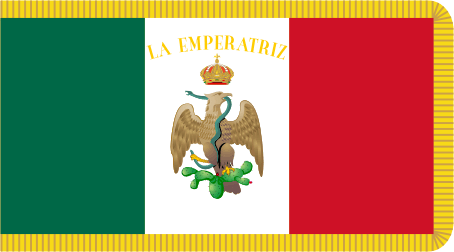 by Juan Manuel Gabino Villascán, December 1, 2002.

---
Anything below this line was not added by the editor of this page.