This page is part of © FOTW Flags Of The World website
Historical Flags 1901-1979 (Cook Islands)
Rarotonga
Last modified: 2016-06-14 by ian macdonald
Keywords: cook islands | historical | canton: union flag | stars: 15 (yellow) | ensign: green | south pacific trading company | proposal |
Links: FOTW homepage | search | disclaimer and copyright | write us | mirrors

---
---
See also:
---
Flag 1901-1902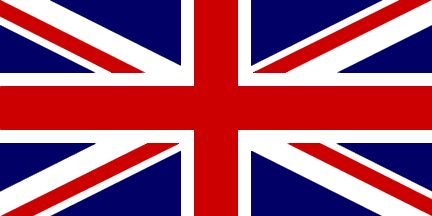 1:2 image by António Martins
---
Flag 1902-1973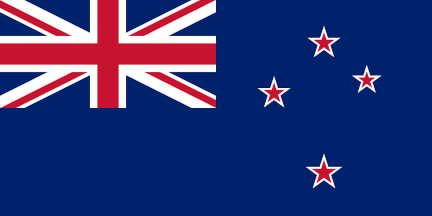 1:2 image by Sam Lockton, 31 August 2002
After 1901 the Cook Islands were administered by New Zealand. No flag was used until the 1970s. This would be the Green Ensign adopted in 1973, and later the Blue Ensign in 1985. Source: Hesmer 1992 [hes92].
Harald Müller, 21 February 1996
---
Flag 1973-1979 (Green Ensign)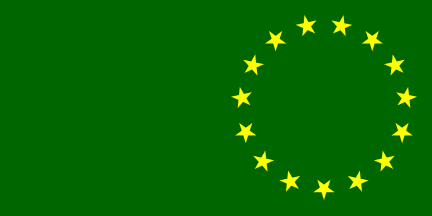 1:2

image by Jaume Ollé
Flag adopted 11th January or 23rd July 1973
On 4 August 1965 the Cook Islands (located in the Pacific Ocean) acquired autonomy, in an address by Premier Sir Albert Henry. In 1973 a national flag was announced, being green in colour (as the colour of life and everlasting growth) with fifteen stars (in the culture of the Cook Islands the stars represent faith in God) in yellow (yellow represents the people, their friendliness, their hope, faith, dedication, love, and happiness) in a circle symbolizing the unity of the fifteen islands and the union between the land and the people. The design was considered equally powerful in either a horizontal or vertical orientation. In 1975 Premier Sir Albert Henry generously sent me various details on the flag, including some photos with the national flag flying in the background and some stickers of the flag made in New Zealand. The proportion is 1:2.
Jaume Ollé, 17 July 1996
I understand that this design was not quite official. Or was it? Smith 1975 [smi75c] shows it, dating it 1973, and claiming that Cook Islands used several other flags as an independent country and protectorate before, but does not describe them. In Smith 1975 all the stars are pointing up (as on the European Union flag), and not outwards (as on current Cook Islands flag). By the way, Smith 1975 lists this flag as

i.e. used for all purposes on land. Does that mean that Cook Islands had/has an army?
Željko Heimer, 20 July 1996
In Inglefield 1979 [ing79] the stars are pointing up too. However, in the photos and flag stickers sent [to] me by Sir Albert Henry the stars are pointing outwards.
Jaume Ollé, 17 July 1996
According to Barraclough and Crampton 1981 [bcr81], p. 212:
The Cook Islands achieved internal self-government on 4 August 1965 and adopted a distinctive flag on 23 July 1973. This is one by two with a green field bearing a ring of fifteen gold stars on the fly. It was designed by an inhabitant of Titikaveka and was the winning entry in a competition. The stars represent the islands of the group.
But according to Crampton 1989 [], p. 126:
The previous flag had been adopted on 11 January 1973, following the achievement of internal self-government.
Santiago Dotor, 4 January 2000
The site at http://www.paclii.org/ck/indices/legis/Chronological_Table_of_Acts.htm shows the legislation enacted by the Cook Islands Parliament since the independence; there's an Act of 1973, no. 19, establishing a green Ensign, having on the fly thereof a circle of 15 golden stars; this was repealed by the Act no. 26 of 1978/79, establishing the actual flag; by the Act no. 24 of 1980/81, the provisions for the flag became part of the Constitution (Art. 76C, Third Schedule).
Sorin Cosoveanu, 13 April 2013
---
image by Juan Manuel Villascan, 23 May 2016
This flag was seen in a video about the 1971 Pacific Games in Tahiti, French Polynesia: https://www.youtube.com/watch?v=B_XbvvAA5V4. It has a blue field with the text " COOK ISLANDS " in white and block capital letters. An emblem appears in the center of the flag [a sprouting coconut]. I assume this is a former sports emblem of the Cook Islands.
Juan Manuel Villascan, 23 May 2016
---
Len Staples' 1973 Proposal
According to Barraclough and Crampton 1981 [bcr81], p. 252, "The present flag is not unlike that originally submitted by Len Staples in the 1973 competition. His design had a smaller Union Jack, a light blue field and yellow stars".
Santiago Dotor, 4 January 2000