This page is part of © FOTW Flags Of The World website
Historical Flags 1850-1901 (Cook Islands)
Rarotonga
Last modified: 2013-06-15 by ian macdonald
Keywords: cook islands | penrhyn island | rarotonga | historical | stars: 3 (blue) | stars: 4 (red) | canton: union flag | disc (white) | palm tree | crown | br |
Links: FOTW homepage | search | disclaimer and copyright | write us | mirrors

---
---
See also:
---
Flag 1850-1888 (Rarotonga Ensign)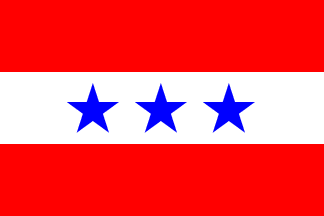 1:2 image by Ivan Sache, 12 January 2012
Based on 1907 Admiralty Flag Book
Horizontal triband in red-white-red; in the white stripe three 5-pointed stars in dark blue (positions at 1/3, 1/2, 2/3 of the width). At this time the islands presumably were independent under the name of Rarotonga. I am not quite sure of the size of the stars, but one can argue if such things were fully standardized in the mid-19th century. Source: Hesmer 1992 [hes92].
Harald Müller, 21 February 1996
"The ensign of Rarotonga, which flies over sundry islands in the Pacific, has a field consisting of three stripes, the upper and the lower red and the middle one white. Upon the white stripe are three five-pointed stars." The flag sounds authentic to me, as isn't the red-white-red flag of French Polynesia supposed to be based on an indigenous flag tradition?
Roy Stilling, 20 February 1996
I have found a reference to the flag of the South Pacific Trading Company (a New Zealand based company formed in the 1870s) which is the same as Josh [Fruhlinger?]'s GIF [?], with the addition of "S P" on the top red band and "T Co" on the lower one. My source (New Zealand Encyclopedia 1966) says the company's flag "...placed the initial letters of the company's name on the red panels of Queen Makea's (of Rarotonga) personal standard".
Stuart Park, 21 February 1996
Today I received a copy of the collection Fachinger. If I don't remember wrongly there are about 7000 territorial flags from XIX and XX century (until 1970). The original collection is in the Bremerhaven Museum. There's some surprises with several flags. One of the first I see is a flag of Cook Islands, Red-White-Red with stars numbering 6 instead 3, attested by a high naval authority.
Jaume Ollé, 4 February 2003
The ensign was in use, or was available for use, until Queen Makea died, which seems to have been 1911.
Entry in an Admiralty minute of 1922: "Rarotonga (Cook Islands ) Ensign no longer in use. Was the flag of Queen Makea and retained for sentimental reasons during her lifetime."
[National Archives ADM 1/8625/80]
David Prothero, 12 January 2012
---
Flag 1888-1893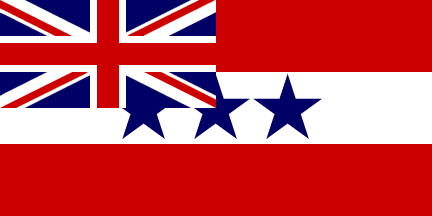 1:2 image by Željko Heimer
In 1888 a British protectorate had been established, the name presumably was still Rarotonga (no sources on that!). The Union Jack in the upper hoist corner is added to the 1850 flag. Note that, assuming the usual dimensions of the UJ (i.e. covering one fourth of the flag), two of the stars are partly hidden. Source: Hesmer 1992 [hes92].
Harald Müller, 21 February 1996
---
Penrhyn Island
Although it does not seem to be recorded in any of the usual histories, Penrhyn Island, which in 1900 was annexed to New Zealand as one of the Cook Islands, was previously a separate British colony. This came to light in 1890's correspondence about the flag to be flown by ships from the island.
13 February 1892. HMB Consul, Tahiti, to Permanent Secretary of State at the Foreign Office.
Natives belonging to Hervey Group [earlier name for Cook Islands] purchased from the French a trading schooner, applied for certificate and ship's papers, and for permission to fly British Protectorate flag whilst on passage to Raratonga. In the absence of instructions was unable to grant request, and difficulties arose about their being able to leave Papute. French flag would have necessitated on board a French captain, in which case transfer to British flag could not be effected at Raratonga, for which purpose vessel would have had to return to Papute. French allowed vessel to clear without papers, and letting her fly whatever flag owners stated was the native flag of their island.
Understand that British Protectorate has been established over Hervey Group, and British Resident is in Raratonga. As trade between Hervey and Society Islands is being developed it is desirable that HM Consul here is furnished with instructions. A large community of natives belonging to Hervey now resident in Papute, who claim British protected persons and should be registered at Consulate. A.G.Hawes.
9 April 1892. Colonial Office to Foreign Office.
Right course is to use Native Flag as owners are not eligible British flag; and for Mercantile Marine there is no such thing as a British Protectorate flag. Consul should issue a notice reciting establishment of Queen's Protectorate over Cook Islands, and invite natives to register, but they are not properly required to do so.
12 January 1893. HMB Consul Tahiti to Foreign Secretary.
Natives of Penrhyn Island came in schooner 'Omoka' purchased in Raratonga and asked what flag they should hoist. They had a Provisional Certificate of Registration at Raratonga, and the European Master hoisted the Cook Islands Federation Flag. Natives expressed dissatisfaction as this appeared to be the equivalent of placing their island under the Federation of the Cook Island Group, and asked to be allowed to fly the Union Jack, or their own flag with Union Jack in upper corner. As it was not in my power to grant the request, advised, as Port of Registry was Raratonga, to fly Cook Flag as long as registry remained in force, when HM Government would agree a special flag for their island.
There is no authority at Penrhyn Island to see the Merchant Shipping Act properly carried out, and have informed Naval C-in-C Pacific Station that it might be desirable to exercise some supervision to prevent acts that might be illegal on high seas.
9 March 1893. Colonial Office to Board of Trade. Penrhyn and Cook not analogous; the former being part of British dominions, and latter, with exception of one island, under HM Protection. What does Board want done ?
The Board of Trade replied that since the natives of Penrhyn were British subjects they were entitled to hoist the Red Ensign undefaced.
[Source: National Archives (PRO) MT 9/470]
David Prothero, 20 June 2004
Flag 1893-1901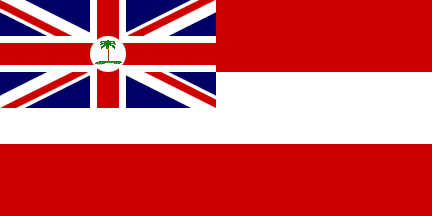 1:2 image by Željko Heimer
The three stars were removed from the 1888 flag. The flag is red-white-red plus the Union Jack. In the center of the Union Jack a white disk bearing a palm tree is added (dimensions like the blue disk on the Union Jack in Niue's flag). The palm tree probably stands on a piece of soil (according to a picture in a bank note catalogue). I have found no details, so natural colors (green leaves and soil, brown trunk) can be assumed. The name was by now most likely "Cook Islands" (at least the above-mentioned bank note was issued in the name of a "Government of the C.I."). Source: Hesmer 1992 [hes92].
Harald Müller, 21 February 1996
To further confuse the issue, Farrow 199x [frr9X] has, "Between 1888 and 1901 Raratonga had four versions of a red/white/red horizontal triband with a Union Flag in the canton (one version having the Union defaced with a badge)". A Gale and Polden flag chart of about 1900 shows the version with a palm tree in a circular badge defacing the Union and labels it, "Federal Flag of Cook Island Group (Samoa)".
David Prothero, 4 October 1997
---
British Resident's flag
image by Clay Moss, 10 August 2004
Flag used on the Cook Islands from 1895 to 1901.
David Prothero, 10 August 2004
In 1895 a Blue Ensign defaced with a royal crown flanked by the initials B R on a white disc became the flag of the Resident Commissioners in the Cook Islands, Gilbert Islands and British Solomon Islands. Cook Islands were annexed to New Zealand in 1901, Solomon Islands had their own badge in 1910, but Gilbert Islands, which were combined with Ellice Islands in (probably) 1916, when the Protectorate became a Colony, still, in 1930, had the unspecific BR badge.
David Prothero, 28 August 2004
On this website in New Zealand, the role of a British Resident is described: "The principle [sic] task of the British Resident, outlined in instructions from Governor Richard Bourke in New South Wales, was to protect settlers and traders, prevent outrages by Europeans against Maori, and to apprehend escaped convicts. In short, he was to provide a British presence. However, the Resident had no legal powers, and was not entitled to troops. His role, in effect, was that of mediator only." This is, of course, in New Zealand. The details are different elsewhere.
Ole Andersen, 11 August 2004