This page is part of © FOTW Flags Of The World website
National Socialist Movement (U.S.)
Last modified: 2021-07-17 by rick wyatt
Keywords: national socialist movement | neo-nazi | united states |
Links: FOTW homepage | search | disclaimer and copyright | write us | mirrors

---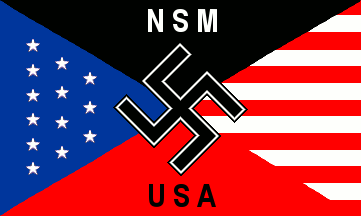 image by Tomislav Todorovic, 8 November 2013
based on this image located by Rick Prohaska, 31 January 2010
---
---
See also:
---
Introduction: National Socialist Movement
This the flag of the NSM (National Socialist Movement). These guys' demonstrations are now reaching into the several hundreds of Stormtroopers instead of the usually seen handfuls.
Rick Prohaska, 31 January 2010
A 3:5 flag divided diagonally in four parts: the upper black with white letters "NSM", the bottom dark red with black letters "USA", the hoist very very dark blue with 13 five-pointed white stars in three columns (6+4+3) and the fly horizontally stripped dark red and white with 13 stripes.
It looks like a compound version of the flag of Commanding Generals of the German Air Force in 1933-1945, here standing for a generic Nazi flag and any US 13-star flag, with obvious symbolism.
António Martins-Tuválkin, 16 August 2006
The National Socialist Movement (NSM) is currently the largest neo-Nazi group in the United States. The NSM promotes its anti-Semitic and racist ideology at rallies throughout the country, particularly in the Midwest, and through the group's website, internet-based radio programs, white power music companies and video games. Members wear Nazi uniforms and openly display swastikas to a degree unusual even among white supremacist. Prior to the introduction of this new &quotAmericanized" flag the old American Nazi Party commonly used the traditional National Socialist German Workers Party (NSDAP) flag with a small blue earth globe defacing the swastika at the center.
Source: Historical Flags of Our Ancestors website
Pete Loeser, 3 May 2011
---
National Socialist Movement Flag
Variant Without Text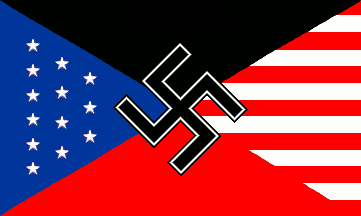 image by Tomislav Todorovic, 8 November 2013
Image is based on this photo.
A flag version without the inscriptions "NSM" and "USA" also exists. It was seen in Leith, North Dakota, where the NSM was trying to establish a "white homeland". A photo of this flag was shown in the report about the demonstrations against these activities, which took place on on 2013-09-22.
Here it also appears in this video.
Tomislav Todorovic, 8 November 2011
---
National Socialist Movement "Odal Rune" Flags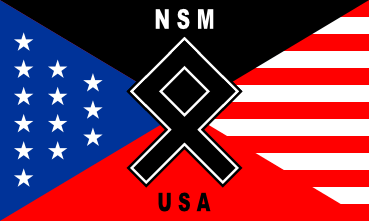 With Text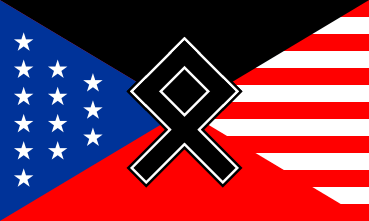 Without Text
images by Tomislav Todorovic, 27 August 2017
Another new variant flag displayed at Charlottesville was that of the National Socialist Movement (NSM) who were there to promote their anti-Semitic and racist ideology with a new twist on their organizational flag. They seemed to have replaced the swastika with a Odal Rune, sometimes referred to as "Odin's Rune." Its a symbol of a Pagan Religion called Odinism and a favorite of many modern extremist hate groups.
Pete Loeser, 26 August 2017
The rune has a double fimbriation, inner in white and outer in black, as did the swastika in original flag. The inscriptions NSM in white on black field and USA in black on red field are also kept, although may sometimes be omitted, as they were in the original design.
The flag seems to have appeared in late 2016 and was not much used so far - most of the photos currently available online still display the old flags.
Tomislav Todorovic, 27 August 2017
---
National Socialist Movement Banner
Ceremonial Vexillum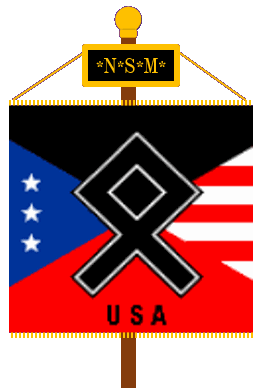 image by Pete Loeser, 12 July 2021
The National Socialist Movement banner in the form of a vexillum mirrors the traditions of the German SA (Sturmabteilung) Standards of the late 1920s and early 1930s, and those of the modern American Nazi Party. It first seems to have appeared in late 2016, but was not much in used in public until displayed at the Charlottesville Riots in 2017.
In design the National Socialist Movement ceremonial vexillum uses their stylized U.S. flag as its field, but with only three white stars instead of the usual 13 which is most likely a result of converting their normal rectangle flag into a square shape with the Odal rune symbol in the middle. Reports of the finial on top varies from an eagle to a standard ball. Additional yellow-gold tassels and fringes surround the ceremonial vexillum.
The original SA was a early paramilitary militia of the National Socialist German Workers Party (NSDAP) that was created to protect Nazi meetings and disrupt those of other parties. Their standards usually hung from a wooden cross bar slipped through a cloth tunnel formed at the top of the standard which in turn was hung from the top of the flag staff (pole) and carried by Hitler's elite Stormtroopers or Brown Shirts.
Apparently the American NSM sees themselves in the same roll.
Pete Loeser, 12 July 2021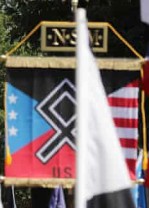 image located by William Garrison, 10 July 2021
Photo caption: "Similar to the U.S. 'National Socialist Movement', in the middle there is a vexillum with a stylized U.S. flag, but with only 3 white stars (probably representing the U.S. &quot3% Movement"), with the "Odal rune" symbol in the middle. The finial on top is an eagle, with "N.S.M" and "U.S.A." at the bottom. Yellow-gold tassels and fringe surround the vexillum. Neo-Nazis and alt-right members gathered at the 'Unite the Right' rally in August 2017 in Charlottesville, Virginia. Photograph: Chip Somodevilla/Getty Images".
William Garrison, 10 July 2021
---