This page is part of © FOTW Flags Of The World website
Belarus in the Soviet Union
Belorusskaâ SSR / Belaruskaâ SSR
Last modified: 2021-01-09 by rob raeside
Keywords: byelorussian ssr | belarus | error | hammer and sickle (yellow) | hammer and sickle (black) | star: 5 points (fimbriated) | sun: rising | national ornament | guseŭ (m. i.) | markeviĉ (matrona) |
Links: FOTW homepage | search | disclaimer and copyright | write us | mirrors

---
Белорусская ССР / Беларуская ССР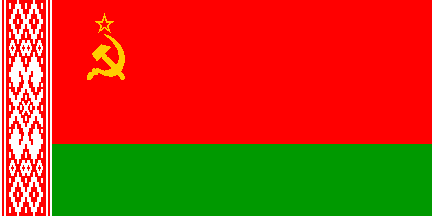 image by Željko Heimer and Zach Harden, 17 July 2001 |

---
See also:
External links:
---
Description of the flag
In all sources I saw the ornament has two thin white stripes at the fly part (Soviet Encyclopedia 1962; Basov and Kurkov's Flags of Belarus yesterday and today [bku94]). Unfortunately, I have no official Regulations. The Decree of 25, December, 1951 says:
The flag consists of two horizontal stripes. Upper stripe is red (2/3 of flag-height), lower stripe is green (1/3 of flag-height). The gold hammer and sickle and red star with gold border in left upper corner of the red stripe. The Byelorussian national ornament is at the hoist part (white on red background). Width of the ornament is equal to 1/9 of flag-length.
Victor Lomantsov, 25 January 2001

RSFSR had the only SSR flag with only non-horizontal stripes, while Byelorussia had the only one with both.
Steve Stringfellow and António Martins, 12 and 13 Mar 2000
---
The Ornament

image by Zach Harden, 31 January 2004

In the end of the 1940s, the political need had arisen to have somewhat visually different designs of the flags of the USSR republics, especially for those being the UN members. For the BSSR flag, the image of the Belarusian folk design had been finally chosen as a distinctive feature of the flag. Then the picture of the embroidery on the ручник (handtowel) had been found in the pre-WW2 archives of the Belpramsavyet. The embroidery had been made in 1917 by peasant Ms. Матрона Маркевич (Matrona Markeviĉ) of the village Касцилища (Kascilixa) of the Sennin region, and had been named «The Rising Sun». Artist М. И. Гусеў (M. I. Guseŭ) had prepared the project of the BSSR flag, basing it on the embroidery, with several symbolic elements added.

Symbolically, the design on the BSSR flag is decoded as follows:
the central rhombic figure symbolises the rising Sun;
the horn-like figures to the left and right of it symbolise wealth and welfare;
the figure inside of the rhombus is the «key to happiness»;
the rectangular figure with the smaller rectangles adjoining from the left and right is the «votive sign», expressing the desire for fulfilling of the hopes;
the pattern figure symbolises bread (that was absent from the original embroidery, added after some discussion);
Yury Tarasievich, 08 June 2006
---
Reverse of the flag
| | |
| --- | --- |
| image by Željko Heimer and Zach Harden, 17 July 2001 | | |
No hammer, sickle and star on the reverse side.
Mark Sensen, 25 May 1997
Officially reverse looked like obverse without star and hammer-sickle. But in fact I never saw these flags without star, hammer-sickle. Real flags (all 15) usually were either with reverse analogous to obverse (but with star and hammer-and-sickle near the hoist) or with reverse = mirrored obverse.
Victor Lomantsov, 30 November 2002
---
Coat of arms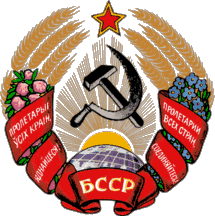 image by Marcus Schmöger, 02 September 2001 (source: [hzg80])

The emblem of the SSR was used until 10 December 1991, when the coat of arms with the horseman was introduced; Hesmer [hes92] does not mention the introduction date of the SSR coat of arms. The current emblem (introduced 1995) is basically the same as the old SSR one, with only two changes.
Marcus Schmöger, 16 September 2001
---
Mistaken Byelorussian flag
In the book A Day in the life of the Soviet Union which was made in 1987, there is a photo of Byelorussian schoolchildren exercising under «The flag of the Soviet republic of Byelorussia». However, this is not the red and green flag that was adopted as the Soviet republic's flag in 1951, nor is it the current flag of Belarus: Instead, this flag has a light green bar at the base that goes up about 1/4 the hoist.
C. C. C. P. Robert, 03 August 1998
It looks like a Lithuanian SSR flag. I bet that the photo was taken near the border line and the writer mixed up in which side of it he was…
António Martins, 15 December 1999