This page is part of © FOTW Flags Of The World website
New Zealand - House flags of shipping companies (N)
Last modified: 2013-06-22 by ian macdonald
Keywords: houseflag |
Links: FOTW homepage | search | disclaimer and copyright | write us | mirrors

---
See also:
---

image by Neale Rosanoski, 3 November 2010
National Institute of Water Atmospheric Research. A Crown research company set up in 1992 as a stand alone company. In 1996 it took over the vessels of the Ministry of Agriculture & Fisheries operating them through NIWA Vessel Management Ltd. The logo is best explained by visual methods with a rainbow format and dark blue lettering including the Maori version of the name and which is placed on the white superstructure but with the small lettering being in black and slightly slanted but not as much as the larger dark blue "NIWA".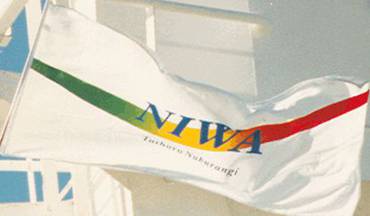 image by Neale Rosanoski, 3 November 2010
There is also a flag which I photographed in 1997 being flown by the "Tangaroa" in which the "rainbow" effect is simplified colourwise. I am not absolutely sure of the colour of the smaller lettering, which seems to be black in several shots, but in one photo I got a dark blue look.
Neale Rosanoski, 3 November 2010
The lettering is dark blue, if their logo is anything to go by (see http://www.niwa.co.nz) - which tallies from what I've seen of NIWA logos and the like before (though I've never seen their flag before).
James Dignan, 7 November 2010
---

image by Neale Rosanoski, 3 November 2010
Neptune Trident Line. Operated by Neptune Shipping Agency Ltd. which was formed in 1997 and then taken over by the Australian based Neptune Pacific Line Pte. in 2007. By their website they had a blue flag with a white trident in the fly placed at an angle but there is no evidence of an actual flag.
Neale Rosanoski, 3 November 2010
---
image by Neale Rosanoski, 3 November 2010
New Zealand Apple & Pear Marketing Board. Formed in 1948 it was a Government marketing board which in 1999 became the New Zealand Apple & Pear Board and was then privatized in 2000 as Enza Ltd. and finally merged with another company in 2003. Although not a shipping company it was involved as a charterer and as such its logo was shown on the various ships funnels. Whilst I cannot say that the flag was ever flown by a vessel, it is possible, and it did exist as I took photos of it being flown at the Wellington Head Office in 1997 with its design of a white field incorporating a green pear and red apple emblem together with the black "enza" trade mark.
Neale Rosanoski, 3 November 2010
---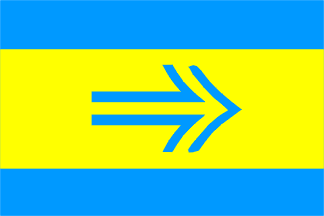 image by Jarig Bakker, 27 Jan 2006
New Zealand Container Services Ltd., Lyttelton - bright blue - yellow - bright blue horizontal triband; in center bright blue outlined arrow pointing towards the fly.
Source: Brown's Flags and Funnels of Shipping Companies of the World [lgr95]
Jarig Bakker, 27 January 2006
New Zealand Coaster Service Ltd. The company, which operated 1991-1998, was New Zealand Coaster Service Ltd. with "Service" in the singular and not New Zealand Coaster Services Ltd. as shown in Brown 1995. The correct flag had the arrow head closed off and the whole design was taken from the logo of N.Z. Express Transport Ltd. who were one of the originally proposed shareholders, pulling out before the service started but with their arrow symbol retained. If one focuses on the yellow portion in the hoist it can be seen to form an "E" though obviously it was not retained for this reason. On the funnel the arrow pointed forward on both sides and in 1992 one of the partners commented that the flag would probably be amended so that the arrow pointed to hoist but they apparently never got around to that, The blue of the flag was a sky blue shade unlike the funnel which was royal blue [including its arrow].
Neale Rosanoski, 16 October 2010
---

image by Neale Rosanoski, 3 November 2010
New Zealand Government. Government Departments and then Government Ministries from the 1970s have been involved with shipping and although following the normal procedure of sailing under Government Ensigns other flags have been noted at times. How official they are I do not know but would imagine that they are not covered by Acts of Parliament though Department/Ministry sanctioned.

In 1986 the Ministry of Agriculture & Fisheries had a vessel on charter and flew a blue over green biband with overall towards fly a yellow circle bearing a blue "a" in which the central horizontal arm did not touch the vertical arm and there was a small nick in the vertical. Possibly the green represented agriculture and blue fisheries but whilst "a" could also stand for "agriculture" there was no way an "f' for "fisheries" could be made out [this is as it was described to me by reputable sources but unfortunately a promised slide copy was never received so I only have the verbal description to work on].

image by Neale Rosanoski, 3 November 2010

In 1988 I saw at Lyttelton being flown by the "Rapuhia", at that point under the Marine & Fresh Water Science Oceanographic Institute being a division of the Department of Scientific & Industrial Research division, a dark blue flag with a white emblem of a simple 3 masted vessel with two double arcs top and bottom. From correspondence it turned out that a close resemblance to the emblem had been sighted several years before in Australia on the "Tangaroa" with a crew member stating that it belonged to the DSIR.

image by Neale Rosanoski, 3 November 2010

In 1992 the new "Tangaroa", which at that point was under the Ministry of Agriculture & Fisheries, was sighted with a royal blue flag with three narrow white curving lines of descending thickness with in lower fly the white slightly angled letters "MAF". Proportions appeared to be 2x1. This was apparently the "Fisheries" flag with "Agriculture" using a green version according to a pamphlet sent to an Australian source in 1994 though this would not have been flown by a vessel.

It might not be thought that these flags qualify as house flags, but as many our Government sections are now cost centres that are expected to make profits perhaps there is a case.
Neale Rosanoski, 3 November 2010
---

image by Neale Rosanoski, 3 November 2010
New Zealand Line Ltd. Formed in 1974 as the state owned shipping line The Log 11/1990 gives a light blue flag with a Southern Cross constellation of 4 red stars edged white in the hoist and the white letters "NZL" in the fly which were slightly slanted. My memory is that the shade of blue was light. Loughran 1979 shows a slightly different version as regards positioning of the charges and shows 6 pointed stars in error and also ascribes it to the Shipping Corporation Of New Zealand Ltd. which is incorrect. The livery was for its first two vessels, "NZ Waitangi" and "NZ Aorangi" which were replaced in 1978.
Neale Rosanoski, 3 November 2010
---

image by Neale Rosanoski, 3 November 2010
New Zealand Refrigerating Co. Ltd. Dating from1889 it was known on the coast from 1890 with its last vessel sold 1954. From The Log 11/1985 the flag was white with the red letters "NZCL" in the corners and a blue "R" in the centre.
Neale Rosanoski, 3 November 2010
---

image by Neale Rosanoski, 3 November 2010
New Zealand Sea Transport Ltd. Sir Robert Owens of the Owens Group Ltd., involved mainly in trucking and shipping agency and stevedoring, also wished to be a ship operator and so this company was set up to bareboat charter a vessel in 1969. The venture was not a success and the ship was withdrawn in 1972. The Log of 5/1990 shows a blue flag with a white "S" resting on small design having a white base and black under-carriage style design though it is not known exactly what it represented.
Neale Rosanoski, 3 November 2010
---

image by Neale Rosanoski, 3 November 2010
New Zealand Steam Navigation Co. Conflicting dates given but operated approximately 1850s to beginning of the 1870s in the coastal trade. The Log 5/1988 shows a diagonally quartered flag of white and red with the letters "NZSNCo." but unfortunately does not give the colour of the letters in its B&W image. Shown here as black they could well be the same as its replacement, the New Zealand Steam Shipping Co. with blue letters on white and white letters on red.
Neale Rosanoski, 3 November 2010
---

image by Neale Rosanoski, 3 November 2010
New Zealand Steam Shipping Co. Formed about 1870 it bought out the New Zealand Steam Navigation Co. and lasted about ten years before liquidators were appointed. It basically retained the livery of the previous company merely altering the letters, and possibly their colours, as on its diagonally quartered flag of white and red the letters "NZCSC" they show as blue on the white and white on the red being given by The Log 11/1994 and also shown on a painting of their vessel "Wellington" displayed at the Wellington Maritime Museum in 1993.
Neale Rosanoski, 3 November 2010
---

image by Neale Rosanoski, 3 November 2010
New Zealand Steel Mining Ltd. According to Sea Breezes 6/1979 a company of this name operated an ex-trawler servicing vessels loading iron sand off the Taranaki coast. Probably the reference should have been New Zealand Steel Ltd. [who were a forerunner] with these operations presumably taking place from around the early 1970s. The flag as given by this source was white with a blue circle enclosing a series of black dots.
Neale Rosanoski, 3 November 2010
---

image by Neale Rosanoski, 3 November 2010
New Zealand Stevedoring & Wharfingering Co. Ltd. Not a shipping company as such but in the industry and if agents and brokers can figure in these pages why not a stevedore especially as it started as a division of Union Shipping Group in 1986 as New Zealand Stevedoring Co. Ltd. changing name in 1987. In 1989 it was sold to American interests being renamed back to New Zealand Stevedoring Ltd. and going into liquidation in 1998. They had a table flag of 1x2 proportions of white with a logo of a large squat "S" surmounted by the smaller "nz" edged by the field and below these the small lettering "n.z. stevedoring" all in dark blue and all lettering apart from the large "S" being slightly angled. I never saw a proper flag flying though there may have been examples at the H.O in Auckland in the Union Shipping building.
Neale Rosanoski, 3 November 2010
---

image by Neale Rosanoski, 3 November 2010
Northern Steam Ship Co. Ltd. Formed in 1881 with the last vessel sold in 1976, its flag was blue with white saltire between the red letters "NSSCo" with the "o" enhanced to be seen in Lloyds 1904, Stewart 1953, 1957 & 1963 and Sea Breezes 6/1979.
Neale Rosanoski, 3 November 2010
---

image by Neale Rosanoski, 3 November 2010
Northern Union Steamboat Co. Ltd. Operated on the Kaipara River from approximately 1899-1907 with a white flag with a red cross and black letters "NUSCo." from The Log 8/1986.
Neale Rosanoski, 3 November 2010
---

image by Neale Rosanoski, 3 November 2010
Northern Wairoa Co-operative Dairy Co. Ltd. Formed in 1902 it appears to have been involved in shipping between 1910 and 1932 with the company itself merging in the late 1980s. Sea Breezes 6/1979 and The Log 8/1997 give the flag as white with a blue cross between the red letters "NWDCo".
Neale Rosanoski, 3 November 2010
---

image by Neale Rosanoski, 3 November 2010
North Westland Shipping Co. Ltd. Formed 1950 and operated coastal until 1955. From The Log 5/1986 a red pennant with the white letters "NWSC".
Neale Rosanoski, 3 November 2010
---
Series continues: New Zealand shipping lines (O-R)