This page is part of © FOTW Flags Of The World website
Italy - Regions and Provinces
Last modified: 2023-01-07 by rob raeside
Keywords: italy | aissc | gonfalone |
Links: FOTW homepage | search | disclaimer and copyright | write us | mirrors

---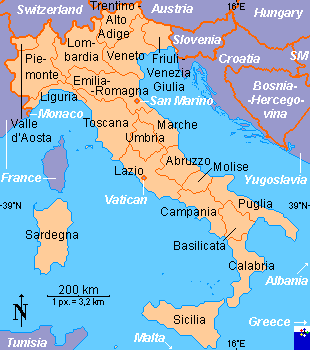 ---
---
See also:
---
List of Provinces is taken from <italgen.com/surnames/prov_reg.htm> , located by Jarig Bakker, 23 December 1999
---
As far as I know, several flags of Italian regions,provinces and towns are vertically hanged flags. In fact, they are not flags as we know them, but gonfanons, that is to say that they are hanged vertically, falling from a metal horizontal bar, and often being swallow-tailed. Those "flags" have the proportions 1:2.
pascal vagnat, 7 March 1996
All the Italian towns have one gonfalon, that is there is one gonfalon which is the official emblem of the town. Its usage is ruled by law. For instance in the town I live the town's Statute says the gonfalon can be used only if the Mayor is present. Usually gonfalons show the coat-of-arms of the town, so they are not true flags.
giuseppe bottasini, 7 March 1996
I believe all provinces have gonfanon, adopted since the end of the last century. The legislation authorize the provinces and communes to have coats of arms and gonfanons. All these emblems shall be granted by the King (now the president of the Republic). For the region it is quite the same, though the coats of arms or logos and the gonfanons are adopted by the regional councils themselves.Very few provinces have a flag, to my knowledge, but this is changing
Pascal Vagnat, 28 July 1999
About those provinces, they have only gonfanon with arms in center and name:
Rimini: White
Crotone: divised V-R
Jaume Olle, 1 August 1999
The symbol of provinces and municipalities share a common pattern, which includes special crowns. A province may have either a provincial crown, which is a gold and is decorated with some natural leaves, or an old provincial crown (corona di provinzia antica), which is a a mural crown with eight towers, five visible. I have also seen mentioned an even older pattern of 12 towers, 7 visible, but I think this is no longer valid.
Municipalities seem to be either "citta", i.e towns, or communi. There seem to be no distinction in the coat of arms based on city status. Municipalties typically have one of the following patterns:
- municipal crown, a mural crown with "sedici" (16, I think), towers resp. portals, of which are nine visible
- nobility crowns ("corone nobiliari") and other head dresses, mostly because of ancient privileges. E.g. the citta di Venezia (city of Venice) uses the head-dress of a doge, the old city ruler.
- a special crown ("corone speciale"), which are granted by the heraldic office via (or on behalf of?) the president of the council of ministers (Presidenza del Consiglio dei Ministri)
Italian subnational entities are entitled to flags, in the form of "gonfalone", i.e. "battle standards", and banners. It seems that these symbols have to be registered as part of the heraldic grant. I don't think these are granted automatically.
The gonfalone has a distinctive shap and is hosted vertically. It is typically embroidered heavily (and seems to be unique).
Banners ("bandiere", sg. bandiera) are simpler, I think mostly the coat of arms on a plain (or striped etc) cloth. The article shows a couple of banner images, where a provincial banner is a plain rectangular cloth, while the communal banner uses a more complicated pattern, basically a gonfalone hoisted horizontally. This may or may be not a general pattern.
This flags are mostly used on flags. Several entities, like e.g. the city of Venice, which is described more in depth in the article, have more flags, e.g an Italian flags (vertically divided in green, white and red), with the city symbol, the golden lion of St Marc, on a red canton. This flag seems to be for nautic use.
While there exist good coverage about Italian civic arms (stemmi), e.g. at <www.araldicacivica.it> or at Ralf Hartemink's "International Civic Arms", at gonfaloni and bandiere seems to be less information about than comprehensive. I have no printed sources available. At my site colours as used on the gonfalone of provinces and municipalities, there exist basic information about the as collected by Falko Schmidt. Internet source shows some gonfalone of differing quality, some of these are used on Fotw already.
Source: <www.iagi.info>.
Dirk Schönberger, 10 December 2007
---
Despite a great middle age flag tradition, italian towns show a kind of aversion towards flags. Not many of them have a flag adopted by law and usually people don't know about their existence. Many of the flags adopted are simple plain field with the arms in the center (and usually the field is blue), so they all seem the same. Flag exposition is usually limited to municipal building during the reunions of the civic government.
Concerning Italian regional flags, they are known because recently the President Scalfaro asked to all the Regions and autonomous Province to send their flags to be exposed during a conference. Because only about half of the Region had their own flag, the occasion forced many Regions to adopt a flag. Most of them created the flag taking the design from their gonfannon, while Piemonte created a brand new one (but of old and known pattern; while the gonfannon carries the republican colours red-blue-orange, and is little known and even less appreciated). In two cases, Sicily and Puglie, the exposed flags don't correspond to the official ones adopted some years ago: in the first case the shield of the arms have been placed in the middle, substituting the "triquetra"; while in the second the blue and white border has been removed placing two narrow band (green toward the hoist, and red toward the fly) on the white field. Corresponding this to the gonfannon it seems that who sent the flag maybe was unaware that the Region already has adopted one (precisely on 8/9/1988).
If Lega Nord leader Bossi has some merit, one is to have resumed the use of local flags in Italy. I think that without the great efforce toward federalism raised by Lega Nord we will never have regional flags (apart for particular cases as Friuli-Venezia Giulia and Valle d'Aosta).
All the Italian regional and autonomous province flags appear on Vexilla Italica number 1, volume XXIII (1996); information on how to get it can be find through CISV.
Mario Fabretto, 20 September 1996
All Italian regions have an official flag (see Pascal Vagnat remark below- ed.). These are not gonfalons, are actual flags. In Piedmont, for example, the law says the regional flag has to fly together with the national flag and the EU flag in a number of occasion (e.g. when a town council or the regional parliament is meeting).
Each region provides its flag to the Quirinale (the official residency of the Italian President) that displays them in the "Hall of the Flags of the Regions and the Autonomous Provinces".
Silvio Sandrone, 20 October 1999
If many regions have a flag, not all have an officially approved flag. On the other hand, all the regions have a gonfanon and all, except Molise, have an official one. The regions with an official flag are: Abruzzo, Basilicata, Friuli-Venezia-Giulia, Liguria, Piemonte, Puglia, Sardegna, Sicilia, Veneto. The regions, that have an unofficial flag: Campania, Marche, Toscana, Valle d'Aosta. For the other regions, I don't know if they use a flag or not: Calabria, Lazio, Molise, Trentino-Alto Adige, Umbria.
About the the law of Piedmont about displaying the flags as mentioned above, is also true with Liguria and Veneto, which adopted laws in that sense. Indeed, since 1995 each region provides its flag to the Quirinale.
Pascal Vagnat , 20 October 1999 and 2 May 2003
---
In the specific case of Italian provinces, let us call the crown under review "Italian provincial crown" meaning the particular coronet appearing above this kind of arms. In any case it is typical or even unique given the presence of the two branches.
Moreover some official description may exist determining the number of jewels, etc.
A "lictor's crown" seems to have been in use between 1922 (earliest possible) and 1943 (latest possible). Possibly its physical aspect was different (the presence of fasces - otherwise why bother to introduce the name?). This implies that Bari province ought to have had its blazon (1938) amended as this type of crown is obsolete, abolished even.
Theoretically all the pre-1943 provincial gonfanon's showed the lictor's crown and - again, theoretically - all would have been modified since then. Interestingly, and supposing a physical difference between the two crowns exists, Bari might actually show the Italian provincial crown... but it is not so named.
Jan Mertens, 9 September 2009
Art 95, Regio Decreto del 7 giugno 1943, n. 652 at <www.governo.it> says: "La corona della Provincia (a meno di concessione speciale) è formata da un cerchio d'oro gemmato con le cordonature lisce ai margini, racchiudente due rami, uno di alloro ed uno di quercia, al naturale, uscenti dalla corona, decussati e ricadenti all'infuori."
The term "corona littoria" ("lictor's crown") is only used on the descriptions of arms of the province of Bari (Regio Decreto del 27 agosto 1938).
Dirk Schoenberger, 9 September 2009
---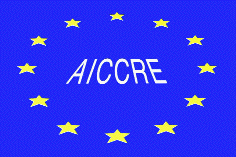 imege from <www.agipress.it>
I located the flag of Associazione Italiana per il Consiglio dei Comuni e delle Regioni d'Europa (Italian Association of the Councils of Municipalities and of the Region of Europe)
Jarig Bakker, 7 May 1999
I suppose it's rather "Italian Association *for* the Council of European Communes and *Regions*". Naturally an exact translation of "Communi" is not possible, "Comunes" and "Municipalities" would be equally acceptable -- but I dont know if in Italy there is such thing as "municipalita'" (as a different administrative unit than "Communa");
As for the flag itself,It's a "graphical design".This "prespective" idea however can be given in "vexillologicaly correct" flags.
Antonio Martins, 7 May 1999
---