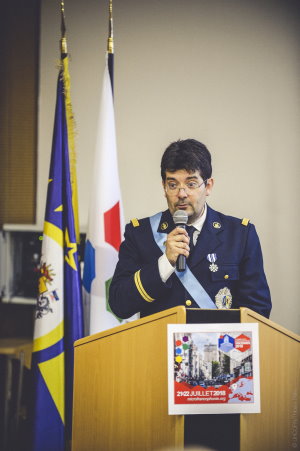 © Thibaut Plaire
At the French-speaking micronations
summit in Vincennes, July 2018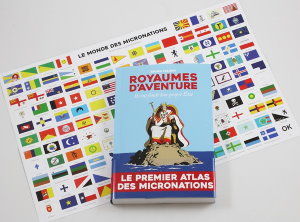 Flag plate in
Royaumes d'aventure
book
Olivier Touzeau - Fontenay-sous-Bois - France
His Personal Flag

FOTW
Editors Flag

FOTW
Giffers Flag
I was born in 1973 and grew up in Epernon, France. I have always been interested in geography, maps and flags, and I remember having spent time when I was a kid reading flag plates in encyclopaedias and copying and redrawing the flags that I saw. My first contact with vexillology as a science happened when I discovered in a library the French edition of Whitney Smith's Flags Through the Ages and Across the World, and I began in the 1990s to collect flags and flag images. I am especially interested in historical flags and subnational flags throughout the world and particularly in France.
Fond of geopolitical oddities, short-lived states and micronations, I have created a micronational artistic project in 2000; the Empire of Angyalistan is a quantum micronation whose territory is the horizon, and my personal flag is the imperial standard of this entity.
I am, since 2017, the Secretary-General of the Organization of French-speaking Micronations. In 2018, I organized the second summit of French-speaking micronations in Vincennes and a very careful attention was, of course, given to the flags flown during this event.
Olivier Touzeau, 29 May 2020