This page is part of © FOTW Flags Of The World website
City of Bad Bramstedt (Germany)
Stadt Bad Bramstedt, Kreis Segeberg, Schleswig-Holstein
Last modified: 2017-11-11 by klaus-michael schneider
Keywords: bad bramstedt | warrior | roland statue | shield | nettle leaf |
Links: FOTW homepage | search | disclaimer and copyright | write us | mirrors

---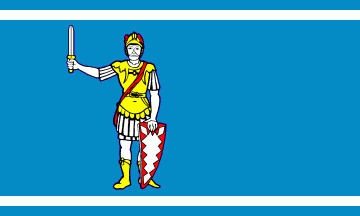 3:5

image by Jörg Majewski, 1 Jul 2007
approved on 25 March 1957 See also:
---
City of Bad Bramstedt
Bad Bramstedt City Flag
The ratio is 3:5. It is a light blue flag divided by two narrow, white, horizontal stripes. Between the stripes and shifted to the hoist is the coat of arms without shield.
Bad Bramstedt City Banner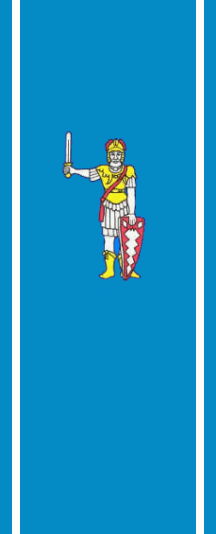 5:2

image by Klaus-Michael Schneider, 11 Mar 2007

Description of banner: I don't know, whether there exists a flag, because I only know the banner. Its ratio is approx. 5:2. It is a blue cloth (FIAV-Code B-) with a vertical white stripe at each side. The estimated ratio of the stripes is 1: 1:16:1:1. (b-w-b-w-b) Shifted to the top is the image of the warrior from the coat of arms, but not the coat of arms itself.
Source: I spotted this flag in July 2004 in Bad Bramstedt on the "Bleeck", which means "Minderstadt", a city with minor rights, i.e. a market town, and today it is more or less a market square.
Klaus-Michael Schneider, 11 Mar 2007
Bad Bramstedt Coat of Arms image located by Klaus-Michael Schneider, 11 Mar 2007
Description of coat of arms: In a blue field is a Saxon warrior in golden (= yellow) and silver (=white) armour. He is wearing golden boots. His right arm is upright, holding a short sword, a "sahs" which gave the Saxons their name. With his left hand he holds a shield which is standing on the ground. The shield shows the coat of arms of the counts of Holstein, a silver (= white) nettle leaf in a red field. The warrior is bearded and wears a golden (= yellow) helmet and a red scabbard for his sword.
Klaus-Michael Schneider, 11 Mar 2007
Meaning:
Bad Bramstedt was in old history a market place, where oxen were traded, sold and bought. This activity was made legally binding by handshaking of the trading partners within the circumference of the Roland statue. The original Roland was a wooden statue which consequently got burnt down and then was replaced by the present one.
Hans-Werner Knop, 20 Mar 2010
According to source, it is not a Saxon Warrior, but indeed a Roman legionnaire, and the sahs is indeed a Roman gladius. Only the shield doesn't match the Roman outfit. But why a Roman instead of a Saxon? Well, let's start in the year 1448. Bramstedt then had been a market town (Flecken: Lower German: Bleeck). The first seal showed the nettle leaf of the counts of Holstein, superimposed by an empty inescutcheon. In 1878 the building of the district government in Schleswig was erected. A coat of arms for Bad Bramstedt was needed for a frieze displaying all existing coat of arms carved in stone on the building's cladding. The heraldrist then chose the symbol of a Roland, leaning on Holstein's shield with the nettle leaf. His image was based upon a monument made of stone, which had replaced the previous statue, made of wood, in 1693. Bramstedt was one of the locations, where, the Goding, some kind of people's law court, took place cyclically. A Roland statue was not only a symbol of the court but was also marking its location. The Roland of Bramstedt was a well known landmark. (Other examples of Rolands in different outfits we have e.g. in Bremen of course, however not on flag, and Wedel in Pinneberg County). The nettle leaf is alluding to a battle, which took place in Bramstedt in 1317. Count Gerhard III of Holstein defeated his cousin Count Adolf VII of Pinneberg and thus avoided the fragmentation of Holstein. In 1910 Bramstedt gained the titles of a city and a spa and since then was called Bad Bramstedt.
Editorial note: The Municipal Roll of Arms Schleswig-Holstein Online displays the warrior in the middle of the broad stripe. But as I am sure, that he is shifted to the top on the banner, I consider the image of Jörg Majewski, who displays the warrior off-centred, being more trustworthy./
Sources: Reißmann 1997, p.101 and Stadler 1970, p.95
The flag was approved on 25 March 1957. The coat of arms was approved on 25 March 1956. The artists are Heinrich H. Schulz and Hans Baron of Weißenbach.
Klaus-Michael Schneider, 27 Jan 2013
---
back to Segeberg cities and municipalities click here.