This page is part of © FOTW Flags Of The World website
Wolfsburg City (Germany)
Stadt Wolfsburg, Lower Saxony
Last modified: 2019-04-02 by german editorial team
Keywords: wolfsburg | ehmen | fallersleben | neuhaus(wolfsburg) | nordsteimke | sandkamp | vorsfelde | wolf | castle |
Links: FOTW homepage | search | disclaimer and copyright | write us | mirrors

---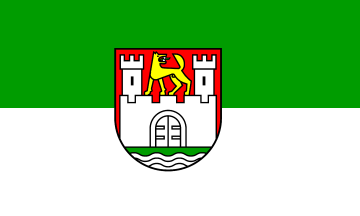 3:5 image by Jörg Majewski, 29 Sep 2007 See also:
---
Wolfsburg City
Wolfsburg Flag

adopted 19 Nov 1955

It is a green-white fhorizontal bicolour. I would not be surprised if the flag is in fact used with the arms on it.
Stefan Schwoon, 21 Feb 2001
Source: Stadler 1970, p.85
Editor's note: read the explanation about Stadler 1964-1971 in introduction to German civic flags.
---
Wolfsburg Banner

8:3 image by Jörg Majewski, 29 Sep 2007

It is a green-white vertical bicolour. The coat of arms is shifted to the top.
Jörg Majewski, 29 Sep 2007
---
Wolfsburg Banner Variant

8:3 image by Jörg Majewski, 29 Sep 2007

It is a green-white vertical bicolour. The coat of arms is in awhite bannerhead. The banner is in use since 1977
Jörg Majewski, 29 Sep 2007
---
Wolfsburg Coat of Arms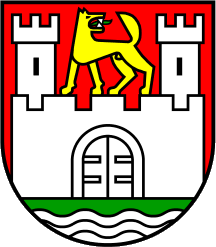 3:5 image by Jörg Majewski, 29 Sep 2007

Shield Gules with base Vert charged with three barrulets wavy Argent, a castle Argent with two embattled towers and a closed port, on the embattlements a wolf passant reguardant Or tongued Azure.
Meaning:
The city was founded on 1 July 1938 as the "Stadt des KdF-Wagens bei Fallersleben" (English: "City of the KdF-Car near Fallersleben") for only one purpose, the construction of cheap cars for everybody. But during WW2 there were produced military cars and other equipment. A few pieces of the KdF-Car came to being. They were the predecessors of post war VW Beetle (Volkswagen Käfer), officially "Volkswagen Type 1" or simply Volswagen (= the people's car). Worldwide more then 21,000,000 beetles had been built, more than 15,000,000 in Germany alone. The city was renamed to Wolfsburg on 25 May 1945. Name giver of the renamed city had been nearby Wolfsburg Castle, which was mentioned since 1135, being the home of the Bartensleben kin, since 1742 having the title of Counts of Schulenburg. Today the city is famous as the location of Volkswagen AG's headquarters and the world's biggest car plant.
The arms are canting, displaying a wolf and a castle (German: Burg). The barrulets wavy are symbolising the Aller River, the castle is furthermore alluding to Wolfsburg Castle. The red colour is referring to the former rural municipality Rothehof-Rothenfelde.
Sources: German WIKIPEDIA and German WIKIPEDIA and Stadler 1970, p.85
Klaus-Michael Schneider, 2 Apr 2019

The arms were introduced by the local Hauptsatzung, version 1947, afterwards simplified and confirmed by the local council on 23 March 1950 and by Minister of Interior of Lower Saxony on 23 May 1950. Slightly redesigned, an open port with portcullis was replaced by the current pattern, the arms were again confirmed on 7 May 1961 by district governor (Regierungspräsident) of Lüneburg. Flag and banner were approved on 19 November 1955.
Source: German WIKIPEDIA
Jörg Majewski, 29 Sep 2007 and Klaus-Michael Schneider, 2 Apr 2019
---
Flag until 1955
Keyser 1939-1974 (Lower Saxony volume published 1952) still listed a red and blue flag.
Stefan Schwoon, 5 Apr 2001

On 1 July 1972 the following cities and municipalities had been incorporated:
from Gifhorn County: Fallersleben City and the municipalities of Almke, Barnstorf, Ehmen, Hattorf, Hehlingen, Heiligendorf, Mörse, Neindorf, Sandkamp and Sülfeld
from Helmstedt County: Vorsfelde City and the municipalities of Brackstedt, Kästorf, Neuhaus, Nordsteimke, Reislingen, Velstove, Warmenau and Wendschott
Six of them had proper symbols
Source: German WIKIPEDIA
Klaus-Michael Schneider, 2 Apr 2019
---
Ehmen Borough
Ehmen Flag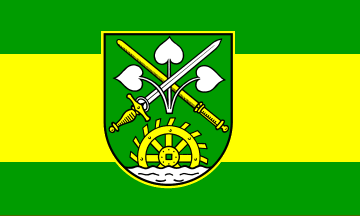 3:5 image by Jörg Majewski, 30 Sep 2007

It is a green-yellow-green horizontal triband. The coat of arms is slightly shifted to the hoist.
Source: this online catalogue
Jörg Majewski, 30 Sep 2007
Ehmen Banner
8:3 image by Jörg Majewski, 30 Sep 2007

It is a green-yellow-green vertical triband. The coat of arms is shifted to the top within the yellow stripe.
Source: this online catalogue
Jörg Majewski, 30 Sep 2007
Ehmen Coat of Arms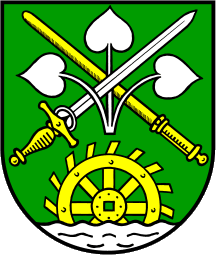 image by Jörg Majewski, 30 Sep 2007

Shield Vert with base wavy Argent, issuant from base a watermill's wheel Or, in chief a linden twig Argent with three leaves, plunged by a sword Argent hilted Or in bend sinister over a judge's staff of office Or in bend.
Meaning:
Linden, sword and staff are alluding to the fact that Ehmen had been seat of a local court district with a special count (German: Gograf) as judge. After the accused had been sentenced, the staff was broken upon him. The sword was the instrument of execution. The linden was a tree, were usualyy court sessions were held. Millwheel and base wavy are symbolising Mühlenriede, a local creek.
Source: German WIKIPEDIA
Klaus-Michael Schneider, 2 Apr 2019

Flag, banner were approved on 3 May 1965, the arms were approved on 3 May 1960 by district governor (Regierungspräsident) of Lüneburg.
Sources: Arnold Rabbow: "Neues Braunschweigisches Wappenbuch", Braunschweiger Zeitungsverlag, 2003 and Hannover State Archive
Jörg Majewski, 30 Sep 2007
---
Fallersleben Borough
Fallersleben Flag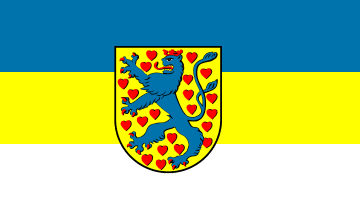 3:5 image by Jörg Majewski, 1 Oct 2007

It is a blue-yellow-white horizontal tricolour. The coat of arms is slightly shifted to the hoist.
Source: this online catalogue
Jörg Majewski, 1 Oct 2007
Fallersleben Banner

8:3 image by Jörg Majewski, 1 Oct 2007

It is a blue-yellow vertical bicolour. The coat of arms is in a white bannerhead.
Source: this online catalogue
Jörg Majewski, 1 Oct 2007
Coat of Arms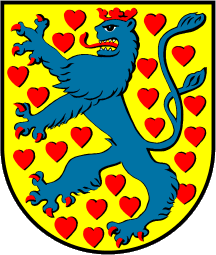 image by Jörg Majewski, 1 Oct 2007

Shield Or semy of hearts Gules; a lion rampant Azure, crowned, armed and tongued Gules.
Meaning:
Fallersleben had been a market town. In 1428 it was acquired by the Lüneburg branch of the dukes of the Welfen kin. The oldest seal probably was introduced in 1488, together with the first mention of mayor and council. It had the unusual form of an Iberian shield and displayed the lion of the Welfen kin alone. Later seals and arms kept the pattern. The tinctures remained always the same, and thus it was unambiguous that it had been the Welfen lion. Hearts (27) and crown were added surely not before 1925, as Otto Hupp displayed the lion alone in the same year. Hearts and crown only were distinguishing marks in comparison with similar municipal arms.
Sources: Arnold Rabbow: "Neues Braunschweigisches Wappenbuch", Braunschweiger Zeitungsverlag, 2003 and Stadler 1970, p.38
Klaus-Michael Schneider, 2 Apr 2019

Flag (and banner) were approved in 1927, the coat of arms is much older.
Klaus-Michael Schneider, 2 Apr 2019
---
Neuhaus Borough
Neuhaus Flag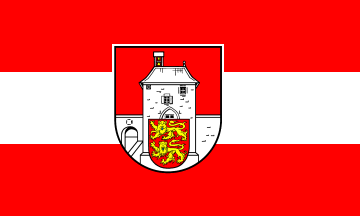 3:5 image by Jörg Majewski, 2 Oct 2007

It is a red-white-red horizontal triband. The coat of arms is slightly shifted to the hoist.
Source: this online catalogue
Jörg Majewski, 2 Oct 2007
Neuhaus Banner

8:3 image by Jörg Majewski, 2 Oct 2007

It is a red-white-red vertical triband. The coat of arms is shifted to the top within the white stripe.
Source: this online catalogue
Jörg Majewski, 2 Oct 2007
Neuhaus Coat of Arms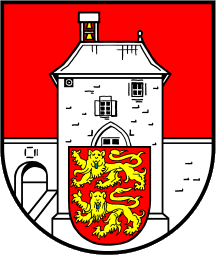 image by Jörg Majewski, 2 Oct 2007

Shield Gules, a castle Argent, superimposed by an inescutcheon Gules charged with two lions passant guardant Or (leopards) in pale.
Meaning:
The castle is a naturalistic representation of the local Neuhaus Castle. The inescutcheon displays the arms of the Dukes of Braunschweig, as Duke Magnus II of Braunschweig founded the city in 1372. The inescutcheon has the same pattern as the arms of the Duchy of Normandy. But both are not related to one another. Their identity is coincidental.
Source: German WIKIPEDIA
James Dignan,Jörg Majewski, 3 Oct 2007 and Klaus-Michael Schneider, 2 Apr 2019

Flag and banner were approved on 9 January 1957, the arms were approved on 11 July 1955.
Sources: Arnold Rabbow: "Neues Braunschweigisches Wappenbuch", Braunschweiger Zeitungsverlag, 2003 and Hannover State Archive
Jörg Majewski, 2 Oct 2007
---
Nordsteimke Borough
Nordsteimke Flag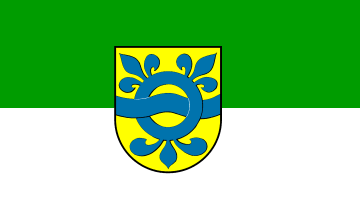 3:5 image by Jörg Majewski, 3 Oct 2007

It is a green-white horizontal bicolour. The coat of arms is slightly shifted to the hoist.
Source: this online catalogue
Jörg Majewski, 3 Oct 2007
Nordsteimke Banner

8:3 image by Jörg Majewski, 3 Oct 2007

It is a green-white vertical bicolour. The coat of arms is shifted to the top.
Source: this online catalogue
Jörg Majewski, 3 Oct 2007
Nordsteimke Coat of Arms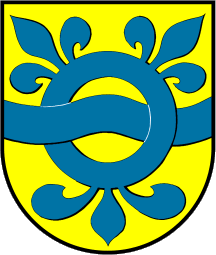 image by Jörg Majewski, 3 Oct 2007

Shield Or, a fess wavy Azure, crossing an annulet fleury of the same.
Source: German WIKIPEDIA
Klaus-Michael Schneider, 2 Apr 2019

Flag and banner were approved in 1987, the arms were approved on 19 April 1978.
Sources: Arnold Rabbow: "Neues Braunschweigisches Wappenbuch", Braunschweiger Zeitungsverlag, 2003 and Hannover State Archive
Jörg Majewski, 3 Oct 2007
---
Sandkamp Borough
Sandkamp Flag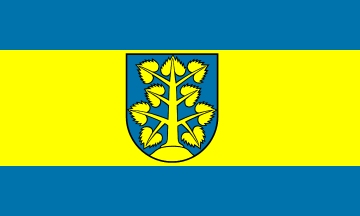 3:5 image by Jörg Majewski, 4 Oct 2007

It is a blue-yellow-blue horizontal triband with arms in the middle of the yellow stripe.
Source: this online catalogue
Jörg Majewski, 4 Oct 2007
Sandkamp Banner

8:3 image by Jörg Majewski, 4 Oct 2007

It is a blue-yellow-blue vertical triband with arms in the yellow stripe shifted to the top.
Source: this online catalogue
Jörg Majewski, 4 Oct 2007
Sandkamp Coat of Arms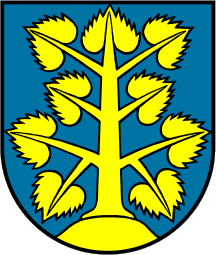 image by Jörg Majewski, 4 Oct 2007

Shield Azure, issuant from base a linden Or on a mount of the same.
Meaning:
The arms are a representation of the local Lindenberg (= mountain of the lindens).
Source: German WIKIPEDIA
Klaus-Michael Schneider, 2 Apr 2019

Flag, banner and arms were approved on 16 September 1970 by dstrict governor (Regierungspräsident) of Lüneburg.
Sources: Arnold Rabbow: "Neues Braunschweigisches Wappenbuch", Braunschweiger Zeitungsverlag, 2003 and Hannover State Archive
Jörg Majewski, 4 Oct 2007
---
Vorsfelde Borough
Vorsfelde Flag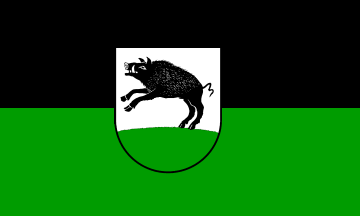 3:5 image by Jörg Majewski, 5 Oct 2007

It is a black-green horizontal bicolour with centred arms.
Source: this online catalogue
Jörg Majewski, 5 Oct 2007
Vorsfelde Banner

8:3 image by Jörg Majewski, 5 Oct 2007

It is a black-green vertical bicolour with arms in white bannerhead.
Source: this online catalogue
Jörg Majewski, 5 Oct 2007
Vorsfelde Coat of Arms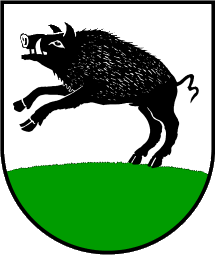 image by Jörg Majewski, 5 Oct 2007

Shield Argent, a boar salient Sable on a mount Vert, issuant from base.
Meaning:
The arms are canting, with the boar symbolising the syllable Vor (the Lower German word for boar). The pattern appeared first on a local seal from 1483. In the current form the existence of the arms is proven since 1740. Wild boars are frequently existing in the surrounding woods until today.
Source: German WIKIPEDIA
Klaus-Michael Schneider, 2 Apr 2019

Flag and banner were approved in 1964. The coat of arms is much older.
Jörg Majewski, 5 Oct 2007
---