This page is part of © FOTW Flags Of The World website
Justicialist Party (Argentina)
Partido Justicialista
Last modified: 2021-12-24 by rob raeside
Keywords: guzmán (ángel r.) | partido peronista | partido justicialista | pj | partido laborista | peronismo | justicialismo | hands: 2 | phrygian cap | sun (stylized) | laurel | perón (juan domingo) | perón (eva) | evita |
Links: FOTW homepage | search | disclaimer and copyright | write us | mirrors

---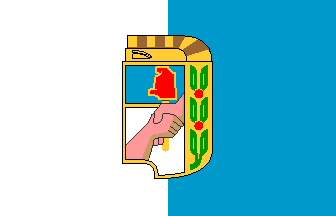 image by Francisco Gregoric, 01 Mar 2003
---
See also:Other sites:
---
Presentation
Partido Justicialista has its roots in Juan Domingo Perón, back in 1940s.
Nicolas Rucks, 16 May 2000
Partido Justicialista is the main group of the Peronism (center right). Montoneros and others are [members of the leftist part of the] Peronism. There was [also] a group of right wing [people] that led by El Brujo [José López Rega] created the organization AAA [during the 1970s].
Jaume Ollé, 03 Dec 2002
The Partido Justicialista (also called "Justicialismo" or "Peronismo") was founded in the 1940s by Juan Domingo Perón. However the official name of the party has changed across the time. For the 1946 election, General Perón was the candidate of the Partido Laborista (Labour Party). However, soon after he won the election and became president, the Labour Party was dissolved and during his first two presidencies (until 1955), the official name of Perón's party was "Partido Peronista" (Peronist Party).

In September of 1955 a coup of state deposed General Perón. After that, the party was banned for several years. The symbols of the party (flag, emblem and song) were forbidden too. These symbols appeared again officially some years later when Peronism was granted the right to participate in elections and Argentine Politics again.

However a law promulgated during that time, prohibited the use of person's surnames as the name of a political party or part of that name. So the party officially became the "Partido Justicialista" (Justicialist Party), although it continues to be popularly called as "Peronism". The word "Justicialismo" was a neologism created by General Perón, and it is related to the Spanish word "Justicia" (Justice). So according to Perón's definition "Justicialismo" would be a movement that promotes justice.
Francisco Gregoric, 01 Mar 2003 and 24 Aug 2006
---
About the flag
The Justicialist Flag is a two vertical stripes flag, white in the hoist and sky blue in the fly (same colors of the Argentine National Flag), with the Peronist emblem in the center.
Francisco Gregoric, 01 Mar 2003
About the emblem
The seal was designed by Ángel R. Guzmán, a businessman from Buenos Aires, during the late 1930s but only for his personal use. This seal was seen accidentally by Juan Domingo Perón in 1943 and then he adopted it as his party emblem (called Labour Party, Partido Laborista). It was registered on February 17, 1945 as Guzmán property under the name "emblem of the peace" and it was manufactured by thousands between February 1945 and 1946. The design was based on the national coat of arms, but there were variations in the party emblem.
Jaume Ollé, 30 Nov 2002

The Justicialist or Peronist emblem was designed by Mr. Ángel R. Guzmán based in the design of the Argentine Coat of Arms. The model of the Peronist Coat of Arms was presented in the 1940s to General Juan Domingo Perón, who accepted it as political emblem.

In the Peronist Coat of Arms the parts have different meaning than in the Argentine National Coat of Arms. For example the hands of the Peronist emblem (one up and the other down) represent National Union between los de arriba y los de abajo (upper and lower social classes), and that people from upper social classes help people in the lower ones.

The emblem has one branch of laurel, with fruits (different from Argentine National Emblem with a wreath of laurel and without fruits). Those fruits in the Peronist emblem represent Glory and Federalism. Another interpretation is that they represent Federalism and the first Radicalism (the U.C.R. in its first times).

Argentine historian Eduardo S. Rosenkrantz [rkz97] supposes that maybe the Justicialist Flag was inspired by the flag used by General José de San Martín in the Ejército de Los Andes (Andes' Army) in 1817-1820. Nowadays that flag is used as Provincial Flag of Mendoza. A point in favor to this theory is that Perón in his writings and speeches always praised the figure of San Martín. For example, the year of 1950 (centenary of General San Martín's death), was denominated officially as «Ańo del Libertador General San Martín» (Year of the Liberator General San Martin). This phrase was used in all official letters and documentation that year.

Following Rosenkrantz's theory [rkz97], the Justicialist Flag was designed with two vertical stripes flag because in the 1940s (when the Peronist Flag was created), the general idea was that San Martin's Andes' Army's Flags had been that way, with an horizontal positioned coat of arms. Nowadays after more research, some scholars think that the Andes' Army's Flag was a two horizontal stripes flag with the coat of arms in a normal position. According to this new theory only a part of the original Andes' Army's flag is preserved.
Francisco Gregoric, 01 Mar 2003

Sources:

Francisco Gregoric, 01 Mar 2003

After 1951 [and up to 1955] this emblem was used frequently in official buildings at side of the national one. A law project dated 21 December 1951 tried to establish this emblem as obligatory in schools, cancelling the national arms for this use. But this was never adopted.
Jaume Ollé, 30 Nov 2002

During Perón's second government (1952-1955), variants of this emblem were adopted also for


Francisco Gregoric, 16 Apr 2005
---
Incorrect variants of the flag
Wrong eye-less design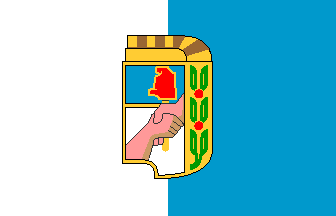 image by Francisco Gregoric, 01 Mar 2003

Nowadays, sometimes the eye of the sun in the Peronist Coat of Arms is omitted. Argentine historian Fermín Chávez says that this eye should not be omitted, because it represents el Ojo Vigilante del Pueblo, que es Vox Dei, la voz de Dios, y Oculus Dei, ojo de Dios (the vigilant eye of the people, that is Vox Dei, God's voice, and Oculus Dei, God's eye).
Francisco Gregoric, 01 Mar 2003
Wrong flipped design
Sometimes flipped flags [blue at hoist, white at fly] could appear. But these are incorrect made flags. The Justicialist (Peronist) flag should be white next at hoist and blue at fly.
Francisco Gregoric, 16 Apr 2005
---
Historical variants of the flag (1946-1955)
Smaller emblem version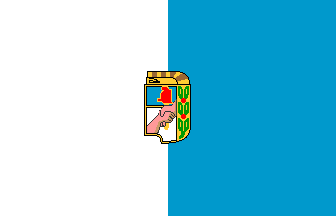 image by Francisco Gregoric, 01 Mar 2003

There are two versions of the Justicialist Flag with different dimensions of the coat of arms. Apparently in the first and original Peronist period (1946-1955) the Justicialist Flags used a smaller Peronist Coat of Arms than nowadays. In an old picture of the funeral of Eva Perón (Evita) in 1952, her coffin appeared covered with two flags: an Argentine National Flag and a Justicialist Flag. In the picture we can see clearly that the coat of arms used in that time in the Justicialist Flag was small, (approximately one third of the flag's height). Nowadays Justicialist Flags use a bigger emblem. We can see this during political meetings or press conferences of members of the Justicialist Party.
Francisco Gregoric, 01 Mar 2003
Vertical design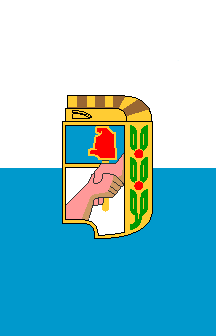 image by Francisco Gregoric, 24 Aug 2006

I have seen a documentary about the first Peronist period in Argentina (1946-1955). There it could be seen a vertical variant (or banner) of the Peronist flag: it was similar to a vertical hung flag. The design appeared in a vertical way, white on top, sky blue at bottom. However, the Peronist emblem appeared rotated 90 degrees.

Apparently this variant was not widely used as the common flag of that period.
Francisco Gregoric, 24 Aug 2006
---
Non official PJ-lettering alternate flag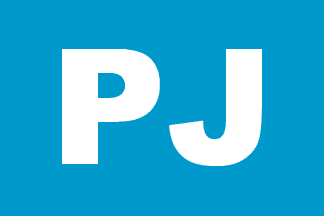 image by Francisco Gregoric, 01 Mar 2003

In a meeting in Buenos Aires around 1998 a light blue flag with white letters PJ was hoisted, but probably it was a hand made variation.
Jaume Ollé, 30 Nov 2002

Surely it is difficult to handmade a flag with the Peronist emblem at center, but easier to combine celeste and white letters. "PJ" means Partido Justicialista.
Jaume Ollé, 03 Dec 2002

This flag is not officially used by the party. However sometimes members of the party could use unofficial variants of different kinds, like lettering flags.
Francisco Gregoric, 16 Apr 2005
---
From source: https://elcomercio-pe.translate.goog/ and https://www.alamy.com are examples of popularly used Peronist flags.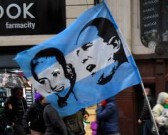 image located by Bill Garrison, 24 October 2021
One flag resembles the Argentine national flag, with a pro-Peronist ["Justicialist" or "Frente de Todos" party] image depicting former Pres. Juan Peron & Eva Peron, during the Oct. 2019 elections.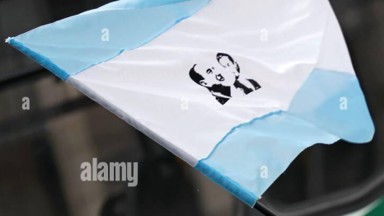 image located by Bill Garrison, 24 October 2021
An Argentine flag depicting Argentina's late President Juan Peron and his late wife and first lady Eva Peron, during a demonstration in support of Pres. Alberto Fernandez's ("Justicialist Party") administration on "Loyalty Day", in commemoration of the 75th anniversary of the birth of "Peronism" politics, in Buenos Aires, Argentina, on 17 October 2020. REUTERS/Agustin Marcarian.
Bill Garrison, 24 October 2021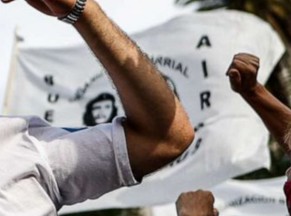 image located by Bill Garrison, 24 October 2021
A white-field flag bearing the likeness of communist Che Guevara is carried In Buenos Aires, Argentina, during a pro-government march in support of Pres. Alberto Fernandez ("Justicalist Party") through the Plaza de Mayo on Peronist "Loyalty Day" [Día de la lealtad] on 17 Oct 2021. This day commemorates the 1945 demonstration that led to the release of Juan Peron from prison.
Source: https://s.abcnews.com/images/International/twip-02-epa-jef-211021_1634854914886_sl_3x2_1600.jpg
Bill Garrison,, 24 October 2021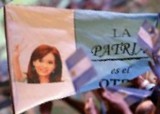 image located by Bill Garrison, 24 October 2021
A white/light-blue flag carried by supporters of Argentina's president-elect Alberto Fernandez celebrate at the headquarters of the party in Buenos Aires on Oct. 27, 2019. I presume the female face on this flag is that of Vice-President Cristina E. Fernandez de Kirchne. - (Photo by ALEJANDRO PAGNI / AFP)
Bill Garrison, 24 October 2021