This page is part of © FOTW Flags Of The World website
South African sports flags
Last modified: 2019-08-04 by bruce berry
Keywords: south africa | soccer | bafanabafana |
Links: FOTW homepage | search | disclaimer and copyright | write us | mirrors

---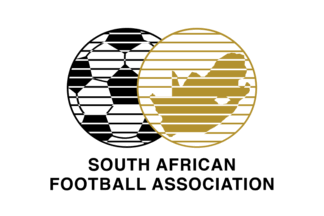 image by Tomislav Sipek, 08 July 2019
The South African Football Association or SAFA is the governing body of football (soccer) in South Africa. The South African national football team is known as Bafana Bafana which means "The Boys". The flag used by SAFA is white with its logo in the centre.
Tomislav Sipek, 08 July 2019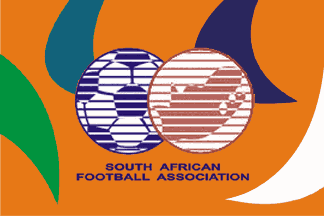 image by Jens Pattke, 13 Sept 2009
South Africa hosted the 2010 FIFA World Cup. During this period a distinctive flag was used by SAFA which had two stylised footballs in the centre, the one on the right showing a map of South Africa, against a multi-coloured background.
Jens Pattke, 13 Sept 2009
---
Soccer fans flag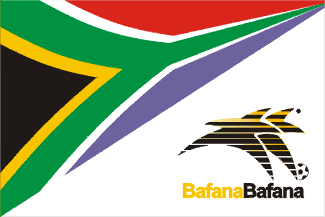 image by Manuel Gabino, 10 Jun 2002
This is the flag of the South African fans seen during the two last World Cup matches between the South African national football team when playing against Paraguay and Slovenia. The flag is white, with a South African flag in the fly upper corner, and the "Bafana Bafana" ("The Boys") official logo in the lower fly.
Manuel Gabino, 10 Jun 2002

---
FIFA 2010 Football World CupTM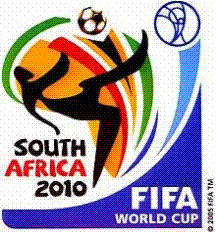 image sent by Bruce Berry, 17 July 2006
The 2010 Fifa Football World Cup is to take place in South Africa. The logo for the event was unveiled at a ceremony at the Tempodrom in Berlin (Germany) on Friday 07 July 2006. The emblem depicts the energy and vigour of the African continent. The inspiration for the footballing figure over the shape of Africa is drawn from Khoi-San rock paintings, and is also representative of its deep and long history. Upon unveiling the emblem South African President Mbeki declared: "We are showcasing a new forward-looking and dynamic South Africa."
Bruce Berry, 17 July 2006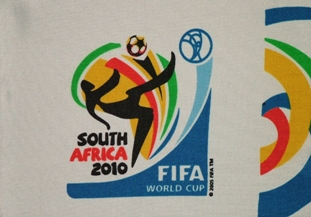 image by Bruce Berry, 16 June 2010
The FIFA 2010 World Cup has finally kicked off. Good news is there are flags everywhere in the host cities, with one of the most unusual being a version of the Nigerian flag with the Arms in the centre. These are not made locally but have been imported from China. These are the cheap polyester type and comes as part of a special 'World Cup' set which includes all the flags of the participating countries.
Teams from the following countries are participating in the tournament:
Algeria, Argentina, Australia, Brazil, Cameroon, Chile, Cote d'Ivoire, Denmark, England, France, Germany, Ghana, Greece, Honduras, Italy, Japan, Korea (Democratic Peoples Republic), Korea (Republic), Mexico, Netherlands, New Zealand, Nigeria, Paraguay, Portugal, Serbia, Slovenia, Slovakia, South Africa (host country), Spain, Switzerland, Uruguay and the United States.
The locally made Nigerian flags do not include the Arms. The imported flags in the set are all 100 x 150cm, including Switzerland! Many are being sold by informal traders and hawkers on the side of the road, along with smaller hand waving flags and car flags.
A special flag for the tournament comprises the FIFA 2010 World Cup logo on a white background, with a series of curved stripes in blue, yellow, red and green in a narrow band in the fly as illustrated above
Below are the words to "Waving Flag", the 2010 Football World Cup Flag Anthem by K'Naan, a Somali born Canadian now living in Toronto:
When I get older, they'll call me freedom
Just like a Waving Flag.

[Chorus]
When I get older, when I get older
I will be stronger, just like a Waving Flag,
Just like a Waving Flag, just like a Waving flag Flag, flag,
Just like a Waving Flag
When I get older, I will be stronger,
They'll call me freedom, just like a Waving Flag,
And then it goes back, and then it goes back,
And then it goes back.
Born to a throne, stronger than Rome
but Violent prone, poor people zone,
But it's my home, all I have known,
Where I got grown, streets we would roam.
But out of the darkness, I came the farthest,
Among the hardest survival.
Learn from these streets, it can be bleak,
Except no defeat, surrender retreat,
So we struggling, fighting to eat and
We wondering when we'll be free,
So we patiently wait, for that fateful day,
It's not far away, so for now we say.

[Chorus]
So many wars, settling scores,
Bringing us promises, leaving us poor,
I heard them say, love is the way,
Love is the answer, that's what they say,
But look how they treat us,
Make us believers,
We fight their battles, then they deceive us,
Try to control us, they couldn't hold us,
Cause we just move forward like Buffalo Soldiers.
But we struggling, fighting to eat,
And we wondering, when we'll be free
So we patiently wait, for that faithful day,
It's not far away, but for now we say,

[Chorus] 2x

(Ohhhh Ohhhh Ohhhhh Ohhhh)
And everybody will be singing it
(Ohhhh Ohhhh Ohhhhh Ohhhh)
And you and I will be singing it
(Ohhhh Ohhhh Ohhhhh Ohhhh)
And we all will be singing it
(Ohhh Ohh Ohh Ohh)

[Chorus] 2x
Bruce Berry, 16 June 2010
---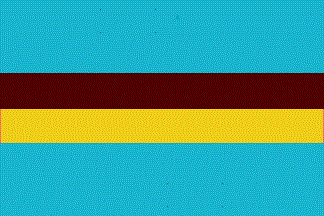 image by Arthur Radburn, 03 Mar 2018
The Western Province Sports Club, popularly known as the 'Kelvin Grove', is an exclusive sports club in Bureau of Heraldry on 30 May 1984 (Certificate 1463 dated 12 October 1984) with the following description : "A rectangular flag, proportions three by two, consisting of four horizontal strips, from top to bottom peacock blue, maroon, gold and peacock blue, respectively 1/3, 1/6, 1/6 and 1/3 the width of the flag."
Arthur Radburn, 03 Mar 2018

---