This page is part of © FOTW Flags Of The World website
Miami of Indiana - Indiana (U.S.)
Native American
Last modified: 2019-11-25 by rick wyatt
Keywords: native american | miami | indiana | united states | wea |
Links: FOTW homepage | search | disclaimer and copyright | write us | mirrors

---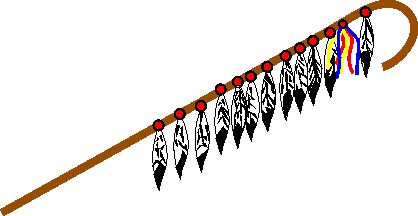 image by Donald Healy, 1 February 2008
---
---
See also:
---
The Band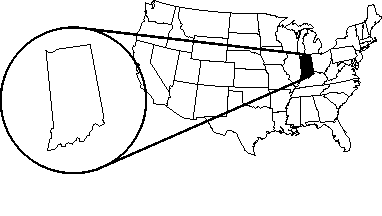 map image by Peter Orenski based on input from Don Healy
Miami of Indiana - Indiana

Unlike their cousins in Oklahoma, the Miami Nation of Indiana has not received the cherished federal recognition that increasingly brings prosperity and status to many American Tribes. The federal government claims that the Miami of Indiana have so integrated into the society of Indiana that their culture has been totally obliterated. The Miami of Indiana disagree ("How the West Was Lost", The Discovery Channel, Feb. 5, 1995).

They continue to pursue designation and recognition of the federal government. Such battles, often long and tedious as any that the federal bureaucracy can devise are being fought by many tribes. The majority of these Nations are to be found in the eastern United States. There, for Native Americans to have survived, they had to blend into society or be shipped west. Now, the government punishes them for that which it forced them to do in the last century.

The Miami of Indiana continue to build a tribal entity that brings them closer to their historic past. They clutch to themselves the traditions of the Miami Nation and practice the rituals and ceremonies distinct to their culture. Possibly because of the ongoing fight with Washington D.C., the Miami of ndiana have eschewed a more modern common flag that so many federally recognized Tribes have adopted.
© Donald Healy 2008

---
The Flag
The flag of the Miami emphasizes their heritage by being a true Native American type flag. On a spear are attached either twelve eagle feathers or twelve turkey feathers, depending upon the situation, celebration or ceremony. This is the sole flag like object of the Miami and they do refer to it as their flag. This usage may be similar to the old traditions of the Kiowa and those still employed by certain bands of California Miwok. As a flag in the late twentieth century, the flag of the Miami of Indiana seems truly unique, but many tribes use both the modern interpretation of the flag - a rectangular piece of cloth and a device similar to the flag of the Miami of Indiana. If one attends almost any powwow, one can see at the "Grand March", the opening parade, not only the flags of the United States, but also several others. Most frequently these will include the flag of the host tribe and the "POW-MIA" flag as a way of honoring the tribal veterans from United States military service. Included in this parade will also be a tribal "traditional flag"; this is a device similar to that of the Miami. Some, such as the Comanche, utilize a "coup stick", others, like the Miami, a spear. Only one other Tribe, the Coeur d'Alene of Idaho are known to use only the traditional "flag". For the Miami, it flies in the face of the bureaucrats is Washington that insist the Miami of Indiana have lost their heritage and tradition like no other flag could.

While the Miami of Indiana have not adopted a modern flag, they have a tribal seal. The seal is circular and red. It is edged by a cord of red and white and bears the bust of a Miami chief in the center in white outline. It is possible that the chief represents Little Turtle, the greatest of the Miami chiefs. This bust is ringed by the Tribe's name "Miami Nation of Indians of Indiana" and the date Sept. 30, 1827 (the year the federal government aided the Miami of Indiana in a dispute with the Delaware).

© Donald Healy 2008
information provided by Peter Orenski, 15 January 2008
---
Anthony Wayne Treaty Flag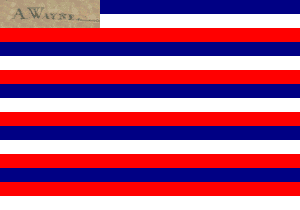 This flag was presented to the Miami chief She-Moc-E-Nish by General Anthony Wayne at the Treaty of Greenville in Ohio in 1795. The flag was handed down through two granddaughters of the chief. It is composed of fifteen stripes, red, white, and blue, made of domestic bunting, probably originally 3 feet 6 inches by 6 feet. The white linen field contains, in place of stars, the inscription, "A. Wayne, Commander in Chief."

The following primary source documents are the basis of what the Indiana Historical Bureau has learned about the flag. They consist of:
Affidavit, Dr. Perry G. Moore, August 30, 1923
Greenville Treaty Flag Article, January 1937
Greenville Treaty Flag Article, July 1937

Jarig Bakker, 25 May 1999
---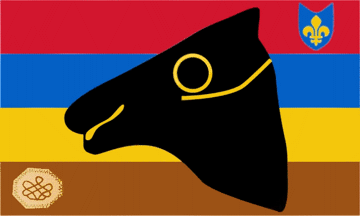 image located by Valentin Poposki, 2 June 2019
Wea Tribe, shown with a map indicating settlements in Indiana, Illinois, Wisconsin and Ohio and a note indicating the tribe is an unrecognized tribe (meaning their sovereignty in internal affairs is not recognized). Gerald Abella wrote "also known as Miami tribe". Donald Healy wrote that the tribe did not have a flag (in 2008), instead using a spear with eagle feathers attached.
Is this a new flag for the Miami Tribe of Indiana?
Rob Raeside, 2 June 2019
---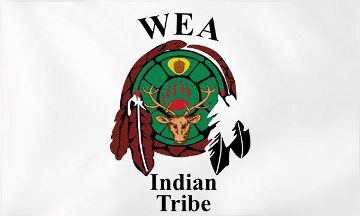 image located by Valentin Poposki, 19 November 2019
Wea Indian Tribe of Indiana is another unrecognized tribe in Indiana. Here is its flag from TMEALF website.
Valentin Poposki, 19 November 2019