This page is part of © FOTW Flags Of The World website
Vietnamese Religious and Festival Flags
Last modified: 2016-09-01 by randy young
Keywords: vietnam | buddhist flag | festival flag | viet nam |
Links: FOTW homepage | search | disclaimer and copyright | write us | mirrors

---
See also:
---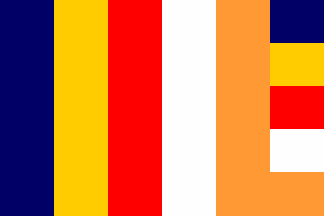 image by Eugene Ipavec, 22 August 2006

The Vietnamese Buddhist flag has five vertical stripes of blue, yellow, red, white and orange with same colour panel in fly.
Nozomi Kariyasu, 17 August 2006

---






images by Jaume Ollé, 18 August 2006
Source: Traditional Festival of Vietnam

I'm doing some catching up on editions of "The World" on BBC4 tv which I had recorded. On 4 May 2005, there was a report about Vietnam's economic progress.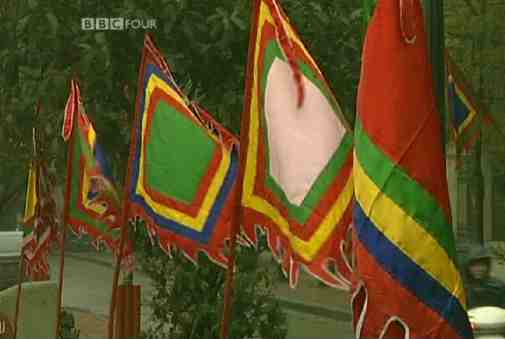 Source: BBC

The first image shows some flags in a public park. They were simply part of the background "colour" to the reporter's voice-over, so there was no indication of what they might be.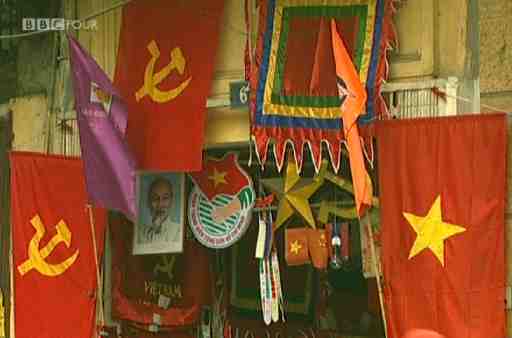 Source: BBC

These flags appeared during a comment that the "old guard" still held on to communist symbolism (it was preceded by a shot of a statue of Lenin), though to me this looks more like a shop catering for the tourist trade. There is another of the banners with concentric squares, and a generic hammer and sickle flag (strictly speaking these could be said not to be flags, since they are hung from horizontal poles, but they are clearly flag-like, and the Vietnamese national flag is one of them).

Inside the shop, there are smaller versions of (from left to right) the Russian, Vietnamese and Chinese flags, followed by a Red-Blue-Red triband with a white device which I don't recognise. Nor do I have any idea what the purple and orange flags on bamboo poles on each side of the shop entrance might be.
André Coutanche, 18 June 2005

Those flags are called "Co Ngu Hanh" (Cờ Ngũ Hành), which mean "Five Elements Flag." The colors of the flag symbolize the Five Elements, the basis of the universe according to ancient Chinese philosophy. Since Vietnamese taste doesn't like the black color (representing Water), the black is usually replaced by the dark blue.

See Wikipedia
Tri Nguyen, 16 August 2006

When I visited Vietnam in 2003, I bought a book titled Traditional Festival of Vietnam which shows lots of similar flags used in their festivals together with Vietnamese Buddhist flag. The book was published in November 2001 by TRAM MY, 240 pages.
Nozomi Kariyasu, 17 August 2006

---


image by Tomislav Todorović, 22 November 2015

Roman Catholic Church in Vietnam uses yellow-white horizontal bicolor, the same design as used in Poland, but also in other countries.

As shown on this photo from Nam Dinh city, which dates from 2007 (https://commons.wikimedia.org/wiki/File:Nha_tho_lon_Nam_Dinh.jpg), the flag is often used together with the national flag, from which it seems to have borrowed the ratio as well.
Tomislav Todorović, 22 November 2015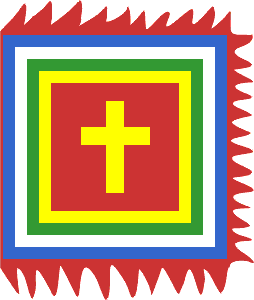 image by Tomislav Todorović, 22 November 2015

Along with the yellow-white flags, Catholics in Vietnam also make use of the traditional festival flags, adapted by addition of the cross in flag center. An example is shown on this photo from Nam Dinh city, which dates from 2007: https://commons.wikimedia.org/wiki/File:Nha_tho_lon_Nam_Dinh.jpg.

The flag hoisted in front of the church has red field, charged with a yellow/gold cross and surrounded with concentric frames in blue (outermost), white, green and yellow (innermost) colors, with a serrated outermost red border all around. The addition of cross is certainly inspired by numerous examples of placing the inscriptions in Chinese script in center of festival flags, some of which can be found here: https://commons.wikimedia.org/wiki/Category:Photographs_of_cultural_flags_of_Vietnam and http://vexil.prov.free.fr/vietnam/vietnam.html.
Tomislav Todorović, 22 November 2015

---