This page is part of © FOTW Flags Of The World website
Coyote Point Yacht Club (U.S.)
California
Last modified: 2022-09-23 by rick wyatt
Keywords: coyote point yacht club | united states yacht club | california |
Links: FOTW homepage | search | disclaimer and copyright | write us | mirrors

---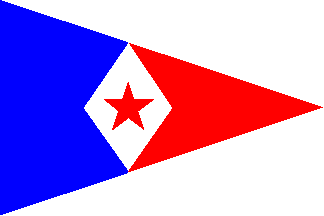 image by Peter Hans van den Muijzenberg, 2 August 2022
---
---
See also:
---
The page at www.well.com/user/pk/yachtclubs.html gives a list of links towards the homepages of the Yacht Clubs of the Bay of San Francisco, and most of them show their flag on their respective homepage.
Ivan Sache, 24 May 2000
---
Coyote Point Yacht Club
Coyote Point Yacht Club - www.cpyc.com:
Coyote Point Yacht Club is located at Coyote Point in San Mateo. It's a merger, from the nineties, of the older Coyote Point and Palo Alto Yacht Clubs.
2009 constitution:
"Section 3 Burgee
The Burgee of the Club shall be a pointed flag in red, white, and blue with the white vertical diamond containing a red five-pointed star in its center, bounded by blue at the hoist and red at the fly. Any boat duly enrolled in the Club fleet may take part in any of the Club's regattas and fly the Club Burgee. The original Coyote Point burgee remained in effect until January 1, 2000."
This suggests that the pre-merger club had a different burgee, and also that the diamond should not be a tile, but should be higher than wide. The burgee is shown as a graphic on their website.
Peter Hans van den Muijzenberg, 2 March 2010
Below is a bit more information on the pre- and post-merger clubs of that name.

The burgee of the original CPYC is mentioned in the constitution of the CPYC (2012 http://coyotepointyc.files.wordpress.com/2012/07/2012-constitution.pdf):
"The original Coyote Point Yacht Club burgee was described in the Constitution and Bylaws first adopted 24 August 1941 as "a regulation triangular flag with the upper horizontal half in red and the lower horizontal half in blue, the letter C in the upper left half and the P in the lower left half, the letters are white capitals."
The Dumpy Pocket Book of Sailing Dinghies and Yachts [ele60] shows the burgee at its fixed ratio, which doesn't tell us much about that regulation, but a burgee sold on eBay showed the ratio to be 2:3. Both show that the P is shifted flyward to be just free from the C.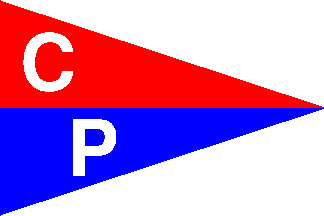 image by Peter Hans van den Muijzenberg, 9 October 2013

The club's "The Traditions scroll" at http://coyotepointyc.files.wordpress.com/2012/07/traditions1-0.pdf tells us the original Coyote Point burgee was designed and made from scraps by Mary Ann and Janet Corbett. Not mentioned is whether the red and blue stripes had any significance.
After the merger with the Palo Alto Yacht Club, 17 June 1997, the new Coyote Point Yacht Club took the burgee of the PAYC.
The constitution, Article I, section 3, mentions that the original Coyote Point burgee remained in effect until 1 January 2000, probably because re-branding the entire CPYC took time.

The same 2012 constitution of the CPYC has this to say about officers flags of the new CPYC:
Article II .... Officers and Board
Section 1 Flag Officers
The Officers of the Club shall be the Commodore; Staff Commodore; Vice Commodore; Rear Commodore; Secretary; Treasurer; and Port Captain. As Flag Officers they shall display the regulation flag of their office on their vessel.

There's no general regulation on this matter, as far as I know, but the Traditions scroll at http://coyotepointyc.files.wordpress.com/2012/07/traditions1-0.pdf shows these "officer ensigns", as it calls them, to be the yacht club officers flags commonly used in the USA, with two exceptions: The Staff Commodore flies a generic Past Commodore flag, not a more direct one, and the Secretary does not fly a quilt or crossed quilts, nor even the rarer oak leaf, but instead has a leaf flag I don't recall ever seeing before.

Additionally, the traditional scroll mentions "table ensigns", miniature versions of the "officer ensigns" that are used during meals. It also mentions "officer burgees", to be hoisted on the flag mast for officers on duty, but I don't know whether these are indeed different from the "officer ensigns".

I don't know whether the old club had the same officers flags.

The original Coyote Point Yacht Club (CPYC) was formed on 20 July 1941. It was a yacht club at Coyote Point in San Mateo, in the south west of the San Francisco Bay, not far north of the San Mateo Bridge. On 17 June 1997, it merged with the Palo Alto Yacht Club to form the new Coyote Point Yacht Club.
Peter Hans van den Muijzenberg, 9 October 2013

---
Former Palo Alto Yacht Club
The Palo Alto Yacht Club (PAYC) was organised in the autumn of 1928, in Palo Alto in the extreme south-west of the San Francisco Bay. It was harboured in Palo Alto Yacht Harbour, in the mouth of the San Francisquito Creek, the border between Santa Clara County and and San Mateo County. When this creek in the 1950-s was diverted to make way for an airport and a golf course, its water flow no longer kept the harbour open, creating the sort of challenge that will either bring people together or draw them apart, in this case the latter. The city took to dredging the harbour, but didn't factor this as perpetual cost of the golf course and airport. The city also didn't ensure the dredged-up mud was flushed back into deep water, causing the mud to be dumped on nearby marshland. Costs, environment, and a bad case of politics made the city decide by 1980 to let the harbour go back to its natural state, and stick to that even though they did not reconstruct the original creek for this. By 1986 this lost the city the harbour.

I have not seen proof of the PAYC remaining active as a yacht club after the loss of the harbour. On 17 June 1997, however, the club merged with the Coyote Point Yacht Club, giving that club a burgee without lettering, and an artificially longer history.

Peter Hans van den Muijzenberg, 9 October 2013