This page is part of © FOTW Flags Of The World website
Louisiana Creole flag (U.S.)
Last modified: 2020-08-29 by rick wyatt
Keywords: united states | louisiana | creole | heritage |
Links: FOTW homepage | search | disclaimer and copyright | write us | mirrors

---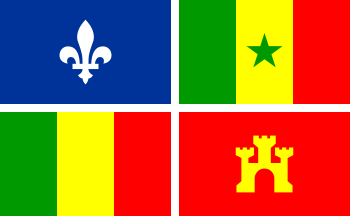 image by Tomislav Todorovic, 16 May 2018
---
See also:
---
from www.cajunhot.com/cultural/genuine_aca/creole_flag.cfm
Designed by Pete Bergeron in 1987 and adopted by C.R.E.O.L.E., Inc., a Lafayette based African-American heritage preservation group, the Flag of Louisiana Creoles represents the cultural melting pot that is the Louisiana Creoles. The first flag was hand stitched by Bergeron's sister, Delores Kay Conque of Carencro, La.

By adopting the Creole flag, C.R.E.O.L.E., Inc. upholds its mission statement, "to identify, preserve and promote the numerous aspects of the Creole culture of southwest Louisiana."

Today there are Creole populations in New Orleans, St. James Parish, Isle Brevelle, Cane River, Opelousas, Lafayette and other Louisiana towns. The Creole flag celebrates the mixed lineage, culture and religion of these Louisiana Creoles.

The upper left section, a white fleur de lis on a blue field, represents Louisiana's French heritage. On the lower left and upper right sections, West African heritage is represented by the Mali Republic National tri-color flag (green, yellow and red) and the Senegal Republic National flag (green, yellow and red). Spanish Colonial heritage is depicted by the Tower of Castille (gold tower on a red field) on the lower right section. A white cross dividing the four symbols represents the Christian faith accepted by the Muslim and Islamic from Senegal and Mali in Louisiana.
submitted by Philippe Bondurand, 22 June 2001

The image shown at the source above seems to be incorrect in a number of details, most notably the orientation of star. The photo which reveals this can be found at https://www.gettyimages.ca/detail/photo/presenting-creole-flag-high-res-stock-photography/521790896. The star is obviously upright, as in the flag of Senegal, its horizontal edges being in parallel with the fly arm of the cross. The fact that might mislead at first gaze is that the flag is not spread flat, but looks like the wind is blowing into it from behind; not taking that curvature into account might mislead the observer about the star orientation.

The photographed flag also displays the towers as if having no battlements; as this seems to be the only photo of this flag currently available online, it is impossible to say whether this is just a variant, or the correct design. The castle otherwise resembles the one from the source site image, but is completely symmetrical; the lack of its symmetry at the source site could be the result of poorly done resizing.

The photo also looks rather dark, so it is difficult to tell whether the displayed color shades are true; the same applies to the flag image from the source site, which might have been derived from a photo with similar lighting conditions.

Regarding the fleur-de-lys, its shape is very similar to those from the flag of Quebec which also employs the same colors as this field.

Due to all that, the best way to reconstruct the flag design seems to be as follows:
- make the star upright, as in the flag of Senegal,
- make the castle symmetrical, but keep the battlements,
- derive the fleur-de-lys from those on the flag of Quebec, but make it a bit wider,
- use the same color shades as in the images of flags of Senegal, Mali, Quebec and Castile (or Spain).

Tomislav Todorovic, 16 May 2018

In essence "Louisiana Creole people (French: Créoles de Louisiane, Spanish: Gente de Louisiana Creole) are persons descended from the inhabitants of colonial Louisiana during the period of both French and Spanish rule. The term Creole was originally used by French settlers to distinguish persons born in Louisiana from those born in the mother country or elsewhere. As in many other colonial societies around the world, Creole was a term used to mean those who were "native-born", especially native-born Europeans such as the French and Spanish. It also came to be applied to African-descended slaves and Native Americans who were born in Louisiana. Louisiana Creoles share cultural ties such as the traditional use of the French and Louisiana Creole languages and predominant practice of Catholicism."
Sources: http://www.louisianacreoleinc.org/history.html and
https://en.wikipedia.org/wiki/Louisiana_Creole_people

"It is a fact that the word Creole had its origin in Africa, citing the countries of Senegal and Mali. In these areas it is believed that in the 11th century Creolism began. In search of new lands, ideas, riches knowledge and to dispute the philosophers and historians, men became daring explorers. It is through their discoveries that these varying cultures co-existed in harmony to form the cradle of Creolism. It is documented in the annals of history, that the creoles of Senegal, whether as freemen or as slaves, traveled directly from Senegal and Mali to Louisiana."
Source: http://www.louisianacreoleinc.org/about-us.html

Now, the C.R.E.O.L.E., Inc. is located in Lafayette as mentioned by Philippe Bondurand on June 22, 2001, and defines itself as "...a non-profit organization that was formed in 1987. Run completely by volunteers, this organization seeks to identify, preserve and promote the numerous aspects of the Creole culture of Southwest Louisiana such as music, art dance, food architecture and literature. Exchanges between Creole communities regionally, nationally and internationally are encouraged in order to increase communication and offer opportunities for cross-cultural study and trade."
Source: http://www.louisianacreoleinc.org/

One last fact: "The original Louisiana Creole flag was designed in 1987 by Pete Bergeron and hand-stitched by his sister, Delores Kay Conque, and was the first-ever material symbol to represent the multicultural heritage of the "moun kréyòl la lwizyàn" (English: Louisiana creole people)."
Source: http://www.mocreole.com/

Since there are (at least) two other organizations that are named "Creole, Inc" (or incorporate such name in their full name and/or brand), the flag in question was adopted by the older C.R.E.O.L.E., Inc., and it has become representative of both, the organization and the Creole people.

For additional information go to C.R.E.O.L.E., Inc. (official website): http://www.louisianacreoleinc.org/
CREOLE, Inc. (official website) https://creoleinc.org/
LA (Louisiana) Creole http://lacreole.org/

Esteban Rivera, 17 May 2018

Concerning the original Louisiana Creole flag, that particular flag can be better viewed here: https://mocreole.blogspot.com/2010/02/blog-post_09.html (image: https://3.bp.blogspot.com/)

It differs from the original design in wider cross, smaller fleur-de-lys and castle - both also differently shaped - and most notably, white vertical stripe at the hoist, charged with the inscriptions LOUISIANA CREOLE in red and MOUN KRÉYÒL LA LWIZYÀN in blue.
Tomislav Todorovic, 17 May 2018

A flag photo from 2013, which can be found here: http://jerryandannalee.blogspot.com/2013/04/cajun-immersion.html (image), displays it together with the Cajun flag (styled "French flag" in the text) and the USA national flag. Although the first two flags are not completely visible, two top cantons of the Creole flag are completely shown, proving that the green star is indeed upright; the fleur-de-lys looks much wider than in the flag of Quebec.

An even earlier photo, taken in 2008, can be viewed here: https://www.alamy.com/stock-photo-acadian-flag-lafayette-louisiana-18635492.html. This variant has an additional wide border in white, of uneven width (narrower at the top and bottom than at the hoist and fly). There, the star is also upright, and the fleur-de-lys, beside being very wide, also departs from the Quebecker one in its shape even further.

Still the flags with an incorrectly oriented star are sometimes used.
An example, photographed in 2017: https://www.darkejournal.com/2017/11/dcca-recognizes-maid-rite-sandwich.html adds the white border as in the 2008 example to the design as shown in the original FOTW source: http://www.cajunhot.com/culture/history/creole_flag.cfm

Flags with such design were also photographed in 2016: https://www.facebook.com/lacreoleinc/photos/a.383528245104282/383528048437635/?type=3
and 2019: https://www.facebook.com/lacreoleinc/photos/a.383528245104282/1152628208194278/?type=3

As the online image search can prove, the flags with an incorrectly oriented star are being sold perhaps even more than the ones with correct orientation. They must be based either on the original FOTW image of the flag, which had displayed such design, or on the Wikimedia Commons image, which also reproduces it and is still displayed as such at Wikipedia. Even the flags with the upside-down star are sometimes being sold; these must be based on the following presentation of the flag: http://www.louisianacreoleinc.org/flag.html which displays such an image, although describes the canton as representing the flag of Senegal, not mentioning any modifications that may have been done to it. The fleur-de-lys is also depicted there in a unique shape, completely different from the Quebecker one.

The flags with the star oriented correctly and red and blue inscriptions on a white stripe at the hoist are also being used. A photo from 2013 can be found here: https://lacreole.org/2013-conference/ (image).
Tomislav Todorovic, 19 July 2020