This page is part of © FOTW Flags Of The World website
Knoxville, Tennessee
Knox County
Last modified: 2023-10-07 by rick wyatt
Keywords: knoxville | tennessee | knox county | police department |
Links: FOTW homepage | search | disclaimer and copyright | write us | mirrors

---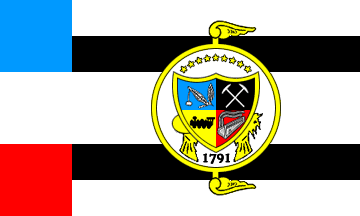 image by António Martins-Tuválkin, 19 March 2018
---
---
See also:
---
Description of the flag
Knoxville does indeed have a city flag. In 2016, the Knoxville flag turned 120 years old. There is now a Wikipedia page dedicated to this flag and it describes the history of the flag, its symbolism and even has a photo taken of the flag flying outside police headquarters that was taken last week. The city uses it flag during City Council meetings, award ceremonies, parades, etc.

Knoxville is now celebrating the 225 year anniversary of its founding. Its flag has been a part of the city's history for 120 years and I hope that through your website more people will know about it.

Dr. David G. Kitts, 13 June 2016
Program Manager, Special Crimes Unit
Knoxville Police Department
---
Original Sketch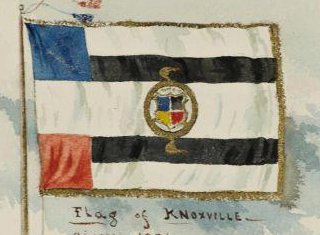 image located by Vanja Poposki, 16 January 2013
Source: Official Frank H. McClung Museum in Knoxville Facebook page

The original sketch of the City of Knoxville, Tennessee [1896], was white with two horizontal black bands, ratio 1-1-2-1-1, and along the hoist three squares blue-white-red. In the center, an image of the seal.
---
History of the Knoxville flag
Knoxville's citizens and elected officials in 1896 were eager to demonstrate their community pride. Horace van Deventer, a Knoxville citizen and attorney, thought that a flag would serve the purpose as the perfect symbol. The Chamber of Commerce agreed and sponsored a nationwide contest for the flag's design. Lloyd Branson, a Knoxville painter professionally trained at the National Academy of Design in New York City who studied further in Paris, won the prize - and a $100 award.

On Oct. 16, 1896, City Council passed City Ordinance 958, "establishing a flag, colors, and coat of arms for the City of Knoxville and regulating the use and display thereof." Six days later, a sewn flag was presented to Mayor S.G. Heiskell.

What's on the flag?
Since the flag was created to reflect pride in the community, the designers used many symbols and colors on the flag to depict elements of Knoxville. For example, the azure blue was chosen to represent loyalty, and the gules red was chosen to represent bravery. The black and white stripes on the flag were chosen to represent coal and marble - major industries in the 19th century. The wide stripe in the center represents faith, and at the center of the flag is a "golden wheel of progress," which houses the Knoxville seal. Within this winged wheel is the quartered shield, or the coat of arms. Atop the shield are nine gold stars, representing the City's nine wards in 1896. Also included are a sheaf of wheat and a shock of corn, representing agriculture; a white derrick, representing marble; gold colored picks representing various types of mining; a black railroad engine representing transportation or commerce; and a factory, representing manufacturing.

How has the flag changed?
Over the past 120 years, the Knoxville flag has undergone at least three minor changes. Most of the changes updated the seal on the flag. However, one change replaced Tennessee's statehood year of 1796 at the bottom of the seal to the date of Knoxville's founding in 1791. Although the seal has a more modern feel now, the flag's colors and stripes have never changed.

Celebrations of milestones
This fall [2016], Knoxville will celebrate both the 225th anniversary of the city's founding and the 120th anniversary of the city's flag. Dr. David Kitts, Program Manager with the Knoxville Police Department's Special Crimes Unit, appreciates that the flag is a unique part of Knoxville's history. But he couldn't understand why hardly anyone seemed to know that Knoxville had a flag. So Kitts did his part to share that historical story. He created a Wikipedia page devoted to the Knoxville flag.

From knoxvilletn.gov
David Kitts, 6 September 2016
---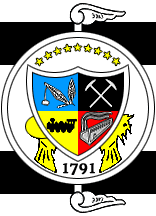 image by António Martins-Tuválkin, 19 March 2018
image located by Paul Bassinson, 13 December 2019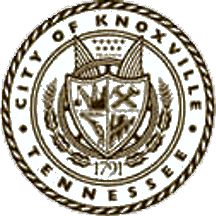 Source: http://www.knoxvilletn.gov/
Paul Bassinson, 13 December 2019
---
World's Fair 1982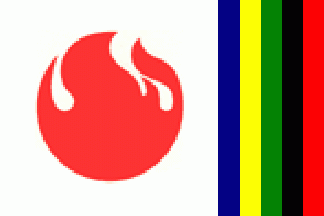 image by Devereaux Cannon
Some months (or perhaps years) ago, an inquiry was made about flags of the various World's Fairs. I had a flag from the 1982 World's Fair in Knoxville, Tennessee; but was unable to find it. Today, while cleaning out a closet long in need of attention, I found the flag. Attached is a gif image. I hope someone with more talent that I have can improve the flame-sphere logo.
Devereaux Cannon, 21 September 2003
See also: World Fairs
---
Police Department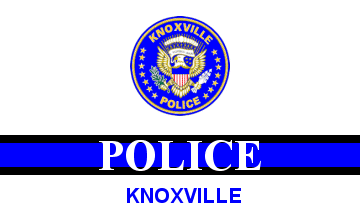 image by Randy Young, 13 February 2016
The Knoxville Police Department is the primary law enforcement agency responsible for the city of Knoxville, Tennessee. You can find out more about the KPD at the Department's website.

The flag of the Knoxville Police Department can be seen in a photograph on the Department's Facebook page. The flag is white with the Department's seal centered in the top half of the field. The bottom half of the field includes stripes of black, blue, and black, with the word "POLICE" in white capital letters. In the white field below the stripes is the city name, "KNOXVILLE," in blue capital letters.

Randy Young, 13 February 2016
---
Timbercrest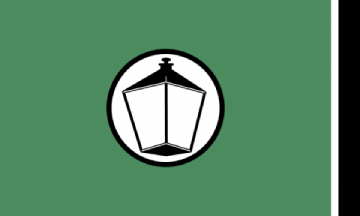 image located by David Sigley, 6 August 2023

The Flag of Timbercrest consists of an emblem on a field of green, with a strip of black bordered by white on the fly. The emblem in the middle consists of a lamp on a white circle with a black border. The design and proportions of the flag are based on the flag of Tennessee.

The lamp emblem is based on an original design element of the neighborhood itself. Each house came with a beautiful lamppost with the house number painted on the glass. The lamppost that inspired the flag's design can be seen on the original neighborhood brochure on the Timbercrest History page. The colors of the flag also come from the original brochure.

The Timbercrest flag was designed in 2019 by Timbercrest resident Daine Wright.
Source: https://timbercrestneighborhood.org/flag
David Sigley, 6 August 2023