This page is part of © FOTW Flags Of The World website
United States Minor Outlying Islands
Overview
Last modified: 2017-11-11 by ian macdonald
Keywords: united states minor outlying islands |
Links: FOTW homepage | search | disclaimer and copyright | write us | mirrors

---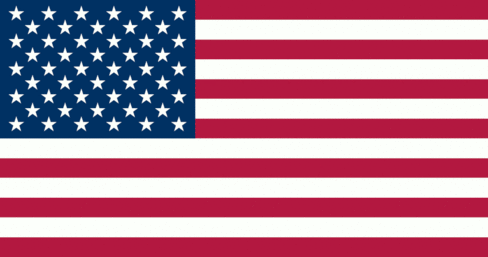 image by Joseph McMillan
Proportions: 1:1.9

ISO Code: UM UMI 581
FIPS 10-4 Code: FIPS assigns separate codes for each island
MARC Code: MARC Codes are "up" for the Pacific Islands and "uc" for the Carribbean
IOC Code: Not Applicable
Status: unincorporated territory of the United States

---
Pacific Ocean
Caribbean Sea
Other Topics
See also:
---
There is no official territory (or whatever) of U.S. Minor Outlying Islands. The CIA World Factbook lists them all separately and other books list them as they deem fit. In the Fischer Weltalmanach 2000, the islands to which links are provided above are listed as 'sonstige' (remaining).
Jarig Bakker, 29 January 2000
---
By process of elimination from the list of US territories that have their own ISO codes, the U.S. Minor Outlying Islands consist of Baker Island, Howland Island, Jarvis Island, Johnston Atoll, Kingman Reef, Midway Island, Navassa Island, Palmyra Atoll, and Wake Atoll. Of these, Baker, Howland, Kingman, and Palmyra are uninhabited. US military, government, and government contractor personnel live on a temporary basis on Johnston, Midway, and Wake. Their citizenship is whatever it was when they arrived--mainly US. There are no indigenous people on any of them to have nationalities of their own.
Joe McMillan, 29 January 2000
---
Political Status of U.S. Overseas Territories
I cannot recognize the difference between the following terms:
1. unincorporated territory of the US (status of Wake Islands)
2. organized, unincorporated territory of the US (status of Guam)
3. unincorporated and unorganized territory of the US (status of American Samoa)
Please tell me the meanings (or definitions) of these phrases.
Miru Takano,
11 November 2000
---
A "territory" in U.S. constitutional law is a geographic jurisdiction that has limited self-government. During the westward expansion of the United States, the territorial form of government was typically a stepping stone to full statehood and full representation in Congress. This system provided for a locally elected legislature, but a governor appointed by the US President, and no voting delegates to the US Congress.
An "unincorporated territory" has not been fully incorporated into the United States, and not all provisions of the US Constitution apply in that territory.
An "unorganized territory" has not been granted an organic law or constitution by the U.S. Congress. Typically these are administered by the U.S. Department of the Interior, which has plenary authority. The Department may in turn allow the local people to draft their own constitution. So, they have an organic law, but it did not come from the United States, and they do not have representation in the US government.
For a Territory to become a State the people must petition for it, the U.S. Congress must provide an Enabling Act to allow the people to draw up their own constitution, and that constitution must be approved by the U.S. Congress and President.
T.F. Mills, 30 November 2000