This page is part of © FOTW Flags Of The World website
Ukraine – Air Force flags and markings
Last modified: 2023-03-04 by martin karner
Keywords: ukraine | airforce | roundel | aircraft marking |
Links: FOTW homepage | search | disclaimer and copyright | write us | mirrors

---
See also:
---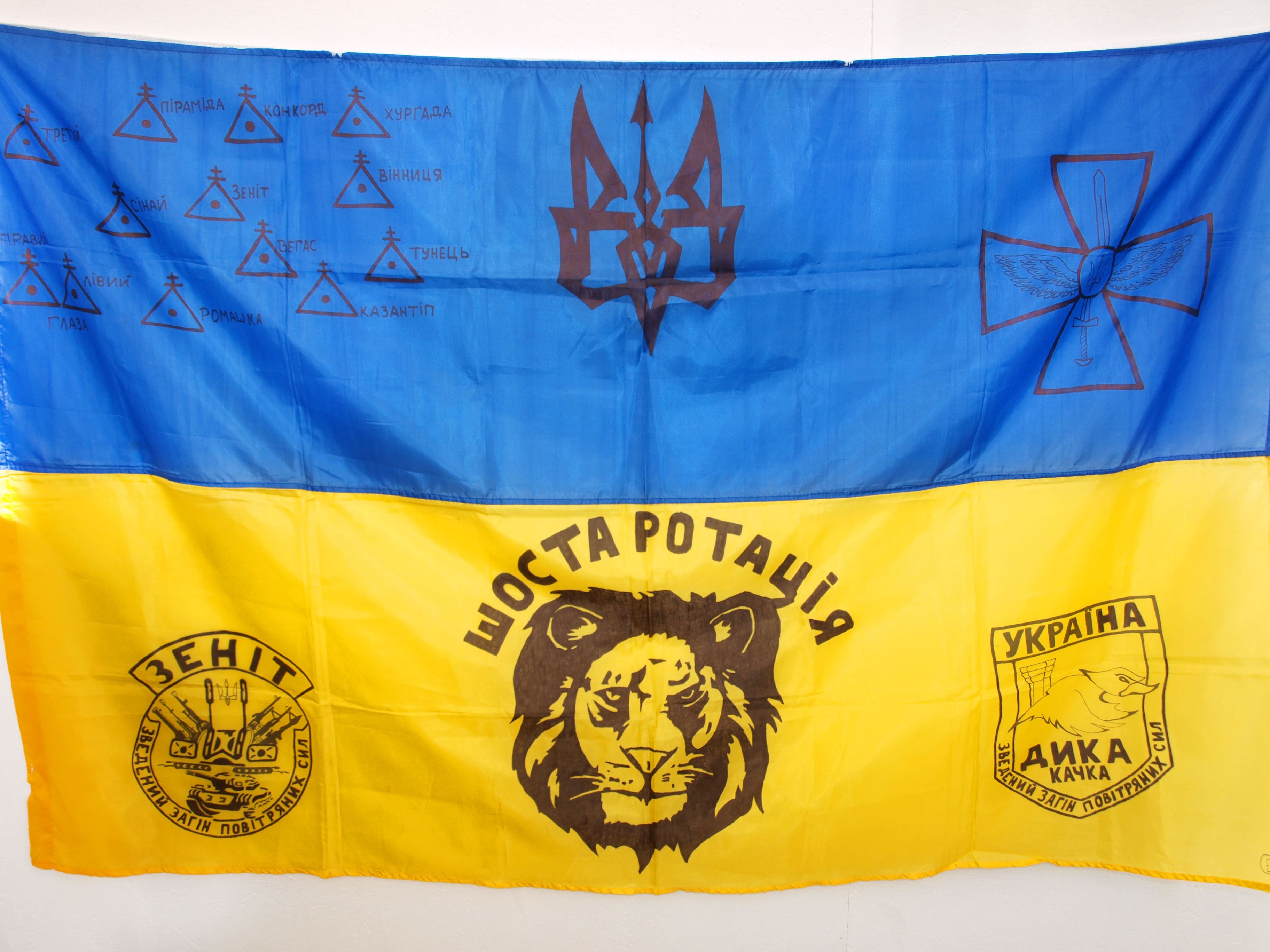 image located by Bill Garrison, 16 August 2022
source: https://commons.wikimedia.org/wiki/File:Flag_of_Ukrainian_Air_Forces.jpg

caption:
English: Ukrainian flag of the "consolidated detachment" of Ukrainian Air Forces
In September 2014, the process of filling a new detachment of Ukraine's Air Forces with volunteer fighters has started. These servicemen were soon engaged in the Anti-Terrorist Operation (ATO). Servicemen are stationed near the city of Avdiivka Donetsk region. Despite heavy shelling and extreme hardships, they continue to defend an important foothold close to the Donetsk airport.
Exhibition Ukrainian flags-relics at St. Sophia Square in Kyiv (23–25 August 2015)
Bill Garrison, 16 August 2022
---
Getting independent from Russia in 1917 brought Ukraine almost to chaos, No less then four local air corps were formed, and if you add foreign corps that joined the "celebration", it is quite understood that no one found the time to put thing in order concerning marking. [cos98] reported various markings but I suspect that each report is made upon a single photo and there were much more variations.
There was "Povitrovvi Fl'ot" (Ukrainian People's Republic Air Fleet) and there was the Aviation Regiment of the Ukrainian Galician Army of the Western Ukrainian People's Republic and there was the Army of the Don Republic and there was the Red Ukrainian Air Fleet.
[cos98] reported that the Povitrovvi Fl'ot used: white disc with yellow blue rings, yellow outlined trident, yellow (fully colored) trident, chequered 2x2 blue yellow square, blue trident on yellow square bordered blue. Ukrainian Galician Army is reported to have a yellow-blue roundel and yellow skull and bones on white disc bordered blue. Don Republic used blue triangle on white disc. Red Ukrainian Air Fleet used the Red Army marking. Website (gr.fipu.krasnoyarsk.edu) show a yellow-blue roundel and national flag as fin flash.
In 1991 Ukraine Air Force (www.mil.gov.ua) adopted new markings consist of blue yellow roundel (www.airliners.net/210034) and yellow trident on red shield as fin flash (www.airliners.net/452812). Those markings are used until today.
However, incorrectly [cos98] shown those markings are in 1991–1992, reports show that from 1992 onward markings are a yellow shield on a blue disc, both as roundel and fin flash. I thing that the base for this mistake is that in 1992, the Ukraine air force sent a MiG-29C for series of displays and air-shows in USA and Canada. As needed by this occasion, the plane was re-painted in blue-yellow finish and trident-on-shield-on-disc markings (www.airliners.net/311644). As far as sources show, this was the only plane that had such markings. As expected, the media was overwhelmed by the sight of the former enemy best fighter come to a such visit, and spread the photos everywhere (I found 12 websites show photos of this plane). This was probably enough to come to conclusion that those are the new Ukrainian marking. However, there were 6 years between this visit and [cos98] in which other photos were published, including another well painted MiG-29UB that visit the UK in 1996 with proper marking (www.airliners.net/301495) so this could be fixed ...
Dov Gutterman, 27 June 2004
---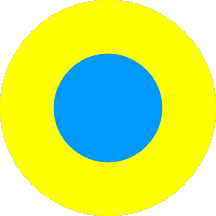 image by Željko Heimer, 13 May 2003
According to L'Album 2000 [pay00] – Airforce Aircraft Marking – Yellow and blue roundel.
Željko Heimer, 13 May 2003
---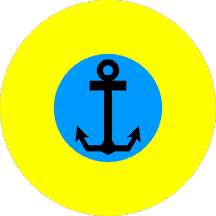 image by Željko Heimer, 13 May 2003
According to L'Album 2000 [pay00] – Naval Aircraft Marking – Yellow and blue roundel with a black anchor in the blue disk.
Željko Heimer, 13 May 2003
---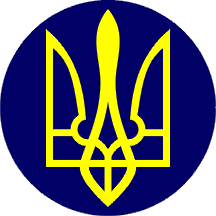 image by Željko Heimer, 13 May 2003
According to L'Album 2000 [pay00] – Dark blue roundel with yellow trident symbol.
Željko Heimer, 13 May 2003