This page is part of © FOTW Flags Of The World website
Småland, unofficial flags and flag proposals (Sweden)
Last modified: 2021-08-25 by

christopher oehler
Keywords: smaland | cross: scandinavian (red) | cross: scandinavian (pink) | juniper |
Links: FOTW homepage | search | disclaimer and copyright | write us | mirrors

---
See also:
---
First proposal
Jan Oskar Engene
The main flag seems to be a green field and a red cross.
Green is for the gardens (orchards) and forests, while red is for the colour people used to paint their houses in. Red could also be for a berry commonly found in the region, the red Ligonberry.
Jan Oskar Engene, 1996-Mar-08
---
Second proposal

by Jan Oskar Engene
A second flag is white separating the green and red from the first proposal. White is then the colour details on the house, such as windows and doors, painted a light colour.
The green-white-red flag was proposed in 1992 (Andersson does nor mention who put it forward). Proportions are 16 : 25,6 (6-1-2-1-6 : 7,6-1-2-1-14).
Jan Oskar Engene, 1996-Mar-08
---
Third proposal
by Jan Oskar Engene
An alternate colour scheme substitutes the red with pink, to represent the provincial flower called Linnea in Swedish (and Norwegian). The Latin name is Linnaea borealis. Twinflower is probably the English name for it.
This and the next proposal were put forward in 1991.
Jan Oskar Engene, 1996-Mar-08
---
Fourth proposal

by Jan Oskar Engene
Again, there are is a second version, one without white borders.
Jan Oskar Engene, 1996-Mar-08
---
Actual use of Småland cross flag
The flag that is really used is proposal #4. I've seen it in on flagpoles in Åseda (Uppvidinge), together with the Uppvidinge flag from about 1996.
Karl-Olof Wiman 1999-Sep-16
---
Fifth proposal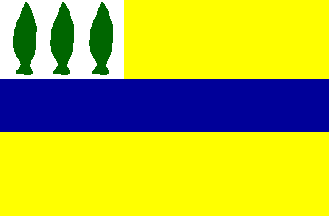 by Olivier Touzeau
Here's a flag, that is actually used: fifth flag above]. It's the flag of the region of Småland in Sweden. You already have four flags for that region [1-4]. I think they originate from the town of Norrhult in south Småland. In this case, in north Småland, there's a town called Vetlanda. I went to the Vetlanda tourist information and asked about the Småland flag and I got a telephone number. I called the number and later visited an elderly lady and bought several sizes of the flag above. It's a flag for all of Småland. It is used mainly by a society that is called "Pälle Näver-sällskapet" (Pälle Näver Society). Pälle Näver was a popular folkpoet in the Vetlanda region. Each year, there's a feast to his honour where the flag is used. At least one person, except for the elderly lady, uses the flag publicly. It's the local priest or something. The flag was first used in 1990 (by the Pälle Näver Society).
The three green shapes are junipers, a characteristic tree in the "landskap". I suppose, the blue and yellow are also the Swedish colors, but according to the lady, they also represent water and sun (if I remember correctly). She might even have said something about the white as the snow. I don't really understand that. Snow is not so special for Småland and neither is water and sun. Ok, there are many lakes (but little sea). And Småland is located so high so there is more snow there in the winter than in the surrounding provinces. Still...
Malte Lewan Neelsen, 2000-Jan-13 and 2000-Jan-15
Notes: Pälle Näver was a pen name for Josef Högstedt (1897-1986). He often wrote his poems in the local dialect of Stenberga in Småland. - This fifth flag is also used by others in Småland (though their borders seem to coincide more with the borders of the three counties of Clamar, Jönköping and Kronoberg than with Småland as such):
---
The region (self proclaimed republic) of Smaland (Founded for the development of the regional economy of Jonkoping, Calmar and Kronoberg) has flag own adopted 30 April 1996 that is yellow, blue, yellow horizontal. In the upper stripe a white rectangular canton with three green trees.
Jaume Ollé, 1999-Dec-1
---
Geography
Smaland is a historical province in southern Sweden.
Jan Oskar Engene, 1996-Mar-08
---