This page is part of © FOTW Flags Of The World website
Seychelles
Republik Sesel / Republic of Seychelles
Last modified: 2019-01-01 by bruce berry
Keywords: seychelles | rays |
Links: FOTW homepage | search | disclaimer and copyright | write us | mirrors

---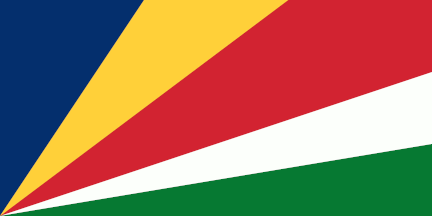 1:2 |

image by Željko Heimer, 28 July 1996
Flag adopted 18 June 1996, coat of arms adopted 18 June 1996.

See also:
---
National Flag and Coast Guard Ensign
I have confirmed a dispatch I received from the South African Embassy in Victoria with the Seychelles Consul in Johannesburg concerning new national symbols for that country. It reads:
"The Seychelles parliament recently approved new national symbols for the Seychelles which will be launched on their National Day, June 18 [1996]. The new symbols include a national flag, a new national anthem, Armorial Bearings and a President's Standard.

The new flag is made up of five oblique bands of blue, yellow, red, white and green (from left to right) representing a dynamic young country moving into a new future.

The colour blue depicts the sky and the sea that surrounds the Seychelles. Yellow is for the sun which gives light and life, red symbolises the people and their determination to work for the future in unity and love, whilst the white band represents social justice and harmony. The green depicts the land and natural environment.

The President's standard is the proposed new national flag with the armorial bearings positioned equidistant from the top and the bottom edges of the red portion of the flag.

The new national anthem gives thanks to God for the harmony, love and peace reigning in the Seychelles. It is entitled "Koste Seselwa" meaning "come together all Seychellois".
I got a diagram of the proposed flag - think of the old Mozambique flag (rays coming from the top left hand corner) and turn it upside down - this flag has the bands originating in the bottom left fanning out to fill up the fly in the colours as mentioned.
Bruce Berry, 27 March 1996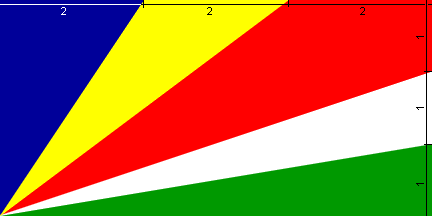 image by Željko Heimer, 28 July 1996
At http://www.francophonie.org/actualit, the colour specifications for the Seychelles flag are given as:
blue = cyan 100%, magenta 70%, pantone 294;
yellow = magenta 20%, yellow 100%, pantone 122;
red = magenta 100%, yellow 100% ; pantone 1795;
green = cyan 100%,yellow 100%, pantone 356.
Ivan Sache, 09 Sept 1996
The proportions are 1:2, and the width of the fields on the top and the fly end are equal. i.e., 1/3 of the width and height, respectively.
Željko Heimer, 28 July 1996
The new flag of the Seychelles was adopted for the new era of the multiparty system. The old (second) flag was based on the flag of the Progressive Party (or something like that) led by Albert Rene (President), which was the same but with blue in the top (and not red). The new flag includes the colours of all (or principal) parties of the country.
Jaume Ollé, 12 Sept 1996
This is the Seychelles third flag. The first was adopted on independence in 1976 and was a white saltire dividing a blue (left and right) and red (top and bottom) field. This flag was replaced by the green/white/red wavy flag after only a year when a coup deposed the President from independence, James Mancham and brought his former deputy F. Albert Renee to power. Renee tried to institute a Marxist-style one-party state, but with the collapse of communism eventually allowed free elections, which he won against Mancham. The new flag dates from this period - 1994, and is supposed to be a non-partisan flag representing all sides.
Roy Stilling, 26 April 1997
Blazon might be possibly: five piles in lower hoist, blue, yellow, red, white and green.
Željko Heimer, 13 January 2003
The present design was established by the "National Symbols Bill, 1996 (Bill No. 2 of 1996)" published in a Supplement to the Official Gazette of 8 January 1996, and effective 18 June 1996. (Section 3). The Schedule, Part I - referred to in Article Three - illustrates the National Flag, and this illustration confirms the construction details we give in that the blue and yellow rays each occupy one-third the length of the flag, the red ray occupies one-third the length and one-third the width, and the white and green rays one-third the width each.

The Schedule, Part 1 (Section 3) also gives "Colour Indications", and these are this same as those we quote. The same Colour Indications are also given for the President's Standard (Section 6, Part IV) which was established by the same Bill, however, Part II (Section 4) on the Armorial Bearings gives no indication of colour (and the copy I have is, unfortunately, black and white).
Christopher Southworth, 11 March 2004
The protocol manual for the London 2012 Olympics (Flags and Anthems Manual, London, 2012 [bib-lna.html]) provides recommendations for national flag designs. Each National Olympic Committee was sent an image of their flag, including the PMS shades, by the London Organising Committee of the Olympic Games (LOCOG) for their approval. Once this was obtained, the LOCOG produced a 60 x 90 cm version of the flag for further approval. So, while these specifications may not be the official, government, version of each flag, they are certainly what the National Olympic Committee believed their flag to be.

For the Seychelles : PMS 294 blue, 122 yellow, 1795 red, 356 green. The vertical flag is simply the horizontal version turned 90 degrees clockwise.
Ian Sumner, 10 Oct 2012
---