This page is part of © FOTW Flags Of The World website
Russian sport flags
Last modified: 2021-08-26 by valentin poposki
Keywords: international professional league of russian billiards | billiards | ice-hockey federation of russia | eagle: double-headed (yellow) | dynamo | spartak | ball: football | flag (blue) | mountain | table-hockey |
Links: FOTW homepage | search | disclaimer and copyright | write us | mirrors

---
See also:
Other sites:
---
About Russian sport flags
Today these are all different clubs. But in USSR they were parts of united sport societies, dealing with different sports and present in different cities.
Victor Lomantsov, 22 Sep 2003
Most of them, perhaps all, are still using the same colors, emblems and even flags than in the soviet era, or at least with only slight variations.
António Martins, 22 Sep 2003
---
Go, Russia!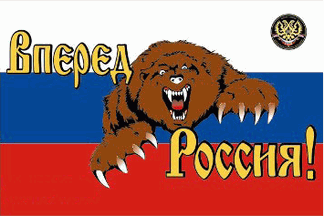 image by Chrystian Kretowicz 28 Jun 2010

A visitor to RussoVex-ml asked a lot of questions about the flag waved at the sporting events in support of the Russian national teams (football, hockey, volleyball etc) Our Viktor Lomantsov answered those questions in detail. Here is a short summary of it: The flag "Vpieryod, Rossiya!" ("Forward, Russia!" or "Go, Russia!"), featuring the ferocious brown bear, appeared first on October 17, 2007 at the Russia vs. England football match in the elimination phase of the European Championship.
Chrystian Kretowicz 28 Jun 2010
---
Ice-hockey Federation of Russia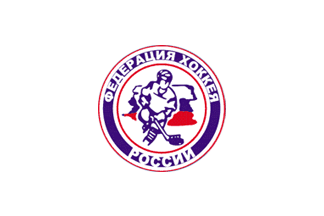 image by Victor Lomantsov, 7 Dec 2007

In search of unidentified objects I landed on this site, showing a different (newer?) emblem
Jan Mertens, 6 Dec 2007

Yes. Now they use new emblem. I saw white flag with this emblem too (in our city stadium, above the arena)
Victor Lomantsov, 7 Dec 2007
Former flag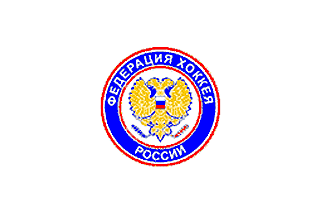 image by António Martins-Tuválkin, 6 Dec 2007

For our site, here's an improved version of Victor Lomantsov's image, sent on 22 Dec 2001. It is a white flag with the logo of the Ice-hockey Federation of Russia on the center. This is circular, seal-like, with the golden double-head eagle from the federal CoA charged with an inescutcheon of the federal flag (tierced per fess, Argent, Azure and Gules) and holding in each talon two unidentified objects, one in each talon. Around this, on a blue ring, the words "ФЕДЕРАЦИЯ ХОККЕЯ" above and "РОССИИ" below; the ring is double fimbriated white and red.
António Martins-Tuválkin, 6 Dec 2007

The two objects may be the ends of two hockey sticks. It fits the general shape of the objects and would be logical for the organization, but it's just a guess.
Terence Martin, 6 Dec 2007
---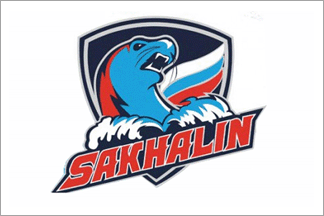 image by Victor Lomantsov, 08 May 2016

Asia League Ice Hockey (ALIH) - ice hockey league based in Far East with 9 teams from Japan, China, Russia and South Korea. Headquarters placed in Japan. From Russia, Sakhalin is involved.
Sources: http://b1.mreporter.ru/c/158907.2.jpg
http://s017.radikal.ru/i415/1509/31/a364f6c6cb61.jpg
Victor Lomantsov, 08 May 2016
---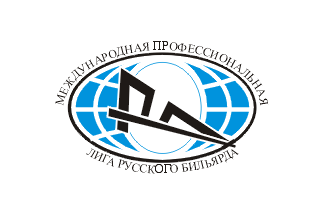 image by Victor Lomantsov, 02 Jan 2002
---
Spartak Cheboksary
image by António Martins, 19 Dec 2000

I have seen this flag in Cheboksary, where the local soccer club, Spartak Cheboksary, is a "filial" of the muscovite club — supposedly with the same flag.
by António Martins, 19 Dec 2000
---
Torpedo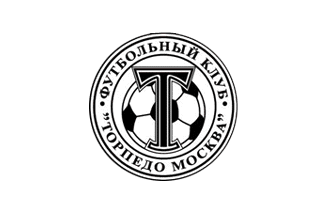 image by Victor Lomantsov, 20 Apr 2003

Official flag of FC "Torpedo" Moscow — white with logo.
Victor Lomantsov, 20 Apr 2003
---
Demchenko Alpinists Sport Club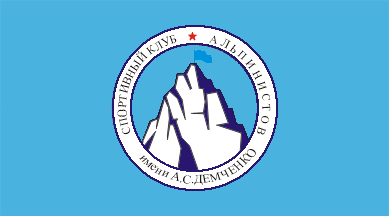 image by Victor Lomantsov, 18 Apr 2003

I have found photo of women alpinists on the top of Elbrus. They holding a flag of their Alpinist club named after A. Demchenko (Спортивний Клуб Алпинистов имени А. С. Демченко).
Victor Lomantsov, 18 Apr 2003
---
Moscow League of Table-Hockey / Московская лига настольного хоккея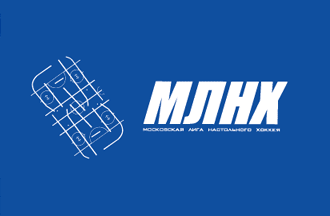 image by Victor Lomantsov, 28 May 2005

Flag of Moscow League of board-hockey (Source: http://www.mlnh.zmva.ru/)
Victor Lomantsov, 28 May 2005
---
ROSTO
Российская оборонная спортивно-техническая организация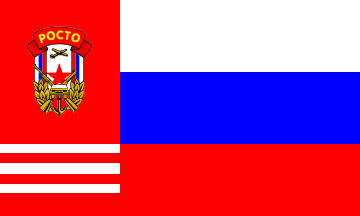 image by Victor Lomantsov, 18 Jun 2007

While doing research about the Belarusian DOSAAF, I found the image of a possible related flag used by the Russians. The image of the flag is at http://www.dosaaf.gov.by/_modules/_cnews/images/151_10_clean.jpg. DOSAAF is Russian for "Voluntary Society of Assistance to the Army, the Air Force and the Navy," similar to a scouting organization but geared towards military preparedness.
Zachary Harden, 18 Jun 2007

Modern abbreviation for ex-DOSAAF is "ROSTO (DOSAAF)" (Russian defence, sporting-technical organization; "Rossiyskaya Oboronnaya Sportivno-tekhnicheskaya Organizatsiya")
Victor Lomantsov, 18 Jun 2007

It has very close resemblance with the original (Soviet) DOSAAF flag (in FotW-ws at su@.html#dosaf, keyword over the 200 char limit and not showing, apologies!): old logo replaced by a new one, and not very different at that, old pattern kept at the hoist side and the Russian tricolor filling the fly side. Victor's image is 3:5 with the fly side taking up 2/3ths of the width (11/9ths of the height).

The red-white stripes seem to differ in detail against the soviet version (both images by Victor): 100+6+7+8+7+6+16 vs. 125+10+12+19+12+10+28. Which are the the exact specs?
António Martins-Tuválkin, 18 Jun 2011
---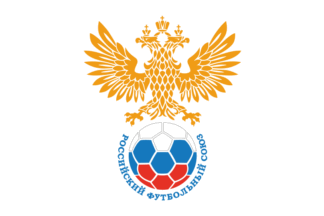 image by Tomislav Šipek, 11 March 2019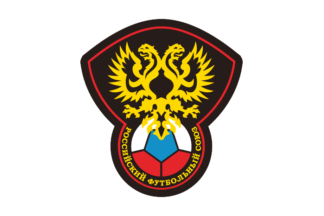 image by Tomislav Šipek, 11 March 2019

Both flags are white with the logo.
http://organizacii.mwmoskva.ru/rossijskij-futbolnyj-sojuz-narodnaya-7-1-jetazh/
https://www.segodnya.ua/sport/football/vyacheslav-koloskov-rossiya-riskuet-poluchit-sankcii-fifa-i-uefa-iz-za-kryma-541494.html
https://www.infox.ru/news/29/lifestyle/sport/57529-cempionat-rossii-po-futbolu-v-2011-2012-godah-projdet-v-tri-kruga
http://101flag.ru/rossijskij-futbolnyj-soyuz.html
https://www.rfs.ru/news/206289
https://www.gazeta.ru/sport/photo/rfs_ispolnilos_chetvert_veka.shtml
Tomislav Šipek, 11 March 2019

Former flag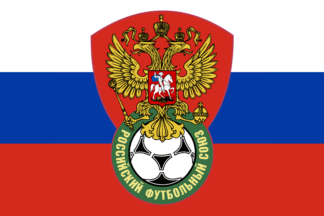 image by Tomislav Šipek, 11 March 2019
---

image posted by Daniel Rødulv in I Love Flagsby, 15 May 2012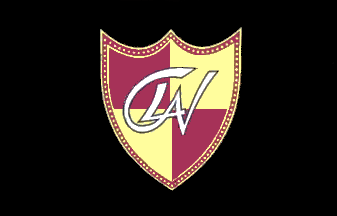 image by Rob Raeside, 31 May 2012
This flag used on clan actions: motor races, rallies etc. Chevy-Clan has two flags. Flag with the inscription is set on the first truck of the column, with a shield — on the last and perhaps on the middle.
Source: http://www.chevy-clan.ru/mainforum/index.php?topic=3586.0
Daniel Rødulv, 15 May 2012
---