This page is part of © FOTW Flags Of The World website
Serbia: Neo-Nazi groups
Last modified: 2018-07-25 by ivan sache
Keywords: neo-nazi |
Links: FOTW homepage | search | disclaimer and copyright | write us | mirrors

---
See also:
---
National Formation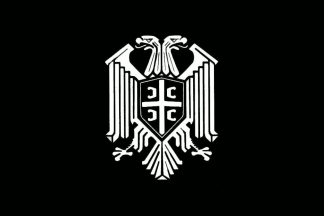 Flag of National Formation - Image by Tomislav Todorović, 30 March 2013
National Formation (Nacionalni stroj, Национални строј) was a Serbian neo-Nazi organization, composed mostly of skinheads, which gained nationwide attention in November 2005, after having interrupted an anti-Fascist gathering at the Faculty of Philosophy in Novi Sad by verbal and physical assaulting the participants. It was then revealed to wider public that the group had already existed since 2004 and that they were the authors of a number of racist and anti-semitic graffiti, as well as those which glorified persons indicted before The Hague Tribunal, in Belgrade, Novi Sad and other towns. Fifteen members were eventually sentenced to prison in 2008, but their activities, often violent, were continued in the meantime, along with extensive coverage at their website, which also exposed their program, full of Nazi commonplaces. After a lengthy procedure, the Constitutional Court of Serbia banned the National Formation in June 2011, this being the first such case in Serbia. Their website was closed down shortly afterwards, but the activities were already reduced since the sentencing of 2008 and founding of a new organization - New Serbian Program. Although the group, like many of its counterparts in other countries, claimed to have been a leaderless network of ultra-rightists, its leader appears to have been Goran Davidović, nicknamed "Fuehrer", who moved to Italy before having been extradited to Serbia for serving his prison time and returned there afterwards, using his earlier contacts among Italian ultra-rightists to become one of their leaders in the town of Trieste, where he settled.
[Wikipedia, English edition; Wikipedia, Serbian edition; Blic, 16 December 2011]
The flag of National Formation was black, in proportions about 2:3, charged with a simplified version of the Serbian coat of arms in white. This emblem was copied from a banknote (50 Serbian dinars) issued in 1942 by the puppet government which was installed in Serbia by the German occupational forces (photo). This fact is what makes the link of the flag with the Nazi ideology. The fact that the state symbols, as were used at the time, had to be originally submitted to the occupational command for approval, did not raise any doubts among the new users of the emblem about its acceptability in terms of patriotism.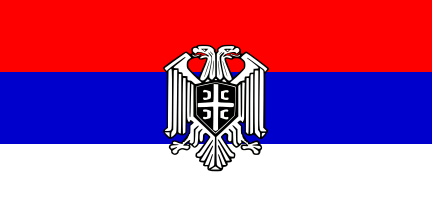 Flag of National Formation - Image by Tomislav Todorović, 13 May 2018
The other flag of National Formation (photo) was a Serbian tricolor with addition of the same emblem as in the black flag, only with a black fimbriation all around, to the center of the field; proportions were about 1:2. The design seems to have originated as a demonstration poster, frequently used by the group (photo, photo) which added their incomplete motto "NACIONALNA SLOBODA, SOCIJALNA PRAVDA" (National Freedom, Social Justice), inscribed in Cyrillic script in gold color along the top and bottom edges; the third part of the motto - "RASNI IDENTITET" (Racial identity) - was conveniently omitted for most of public appearances. The flag was used either alone or together with the black one; the latter was the case in Budapest on 12 February 2011, at an international neo-Nazi gathering (photos).
Tomislav Todorović, 13 May 2018
---
National Serbian Front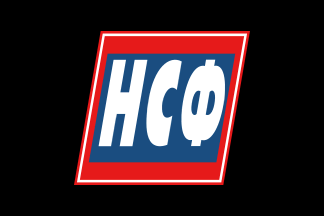 Flag of National Serbian Front - Image by Tomislav Todorović, 1" May 2018
National Serbian Front (Nacionalni srpski front) was founded in early 2016 as another attempt to found a legal ultra-rightist organization in Serbia. Whether it has been registered or not (which they did intend to do), it seems to be still operating legally, or at least without any legal counter-action, although there were requests for their banning. Beside Serbia, they claim to be active in Republika Srpska as well. While they do not claim to be exactly Nazis, their symbols reveal them as such, and so does the fact that many known neo-Nazis are their members.
[Death fo Fascists blog, 11 September 2016, Death fo Fascists blog, 19 September 2016]
The flag of National Serbian Front (photo, photo, photo, photo) is black, charged with a large emblem in the center: white initials "NSF" on a blue rhomboid, which is placed in center of a larger red rhomboid with inner white and outer red fimbriations. This emblem is prescribed in Article 3 of the Statute (text). In stand-alone use, the emblem may have word "SRBIJA" (Serbia) added in white, on a red field beneath the blue rhomboid; other territorial designations may be used as well - the word "SRPSKA", for example, is known to be used - or the word "NACIONALISTI" (Nationalists) instead (images). On flags, however, none of these additional inscriptions appear.
The emblem resembles that of the New Serbian Program, as well as those of Forza Nuova (Italy) and Noua Dreapta (Romania). These similarities were officially announced as intended (organization's website) and also speak in favor of assumption that the design was created, or at least suggested, by Goran Davidović, previous leader of National Formation and New Serbian Program, currently known to actively support the National Serbian Front from his Italian emigracy.
Curiously, the National Serbian Front describes another design as "the only proposal" for its flag: a large red disk, charged with a white cross anf firesteels and with a narrow white border, on red field. This flag seems to have never been used though. Still the design resembles a circular emblem with the same charges in black on white, which was sometimes used by the National Formation, allegedly as their only official symbol, although they used a completely different flag, which is also sometimes used by the National Serbian Front as an additional decoration at their events (photo, photo), all of that additionally revealing the connections with the earlier organizations.
Tomislav Todorović, 13 May 2018
---
New Serbian Program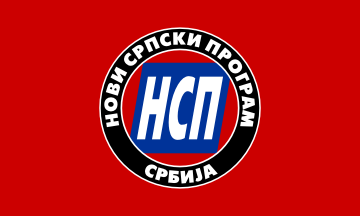 Flag of NSP - Image by Tomislav Todorović, 30 March 2013
New Serbian Program (Novi srpski program) was founded in June 2008 as an attempt to found a legal ultra-rightist organization in Serbia. Successfully registered, it was meant to be a legal cover for the National Formation, which was already in the procedure for banning at the time, for its members, most notably the leader Goran Davidović, were also active in the new organization, especially via the Internet (Vreme, No. 1,009, 6 May 2010). The new organization appeared to have been less active than the old one and its activities were "frozen" in 2010 by Davidović himself, nominally due to internal conflicts, the blame for these having been put mostly on a member who, according to an ultra-leftist site, has "betrayed" his race by close relationship with a "non-Aryan" looking woman, which was proved by their common photographs from a music festival (RevLeft forum).
The flag of New Serbian Program (photo) was red with the emblem in center, consisting of white Cyrillic initials "NSP" on a blue rhomboid which is surrounded, and partly covered, with a black ring fimbriated white and charged with names of the organiazation and the country, also in white. The size of emblem and the aspect ratio seem to have varied somewhat.
The whole design is derived from a another logo used by the group (image, image), which resembles logos of the New Force and other ultra-rightist groups which are members of the European National Front. This suggests that the emblem might have been designed either by Goran Davidović or by some of his Italian contacts, for he is known to have been maintaining good relations with members of New Force and other similar Italian organizations long before having emigrated to Italy in order to avoid the imprisonment after having been sentenced in 2008.
Tomislav Todorović, 30 March 2013
---
Novi Sad Nationalists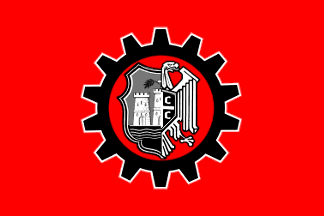 Flag of Novi Sad Nationalists - Image by Tomislav Todorović, 13 May 2018
Novi Sad Nationalists (Nacionalisti Novi Sad) seem to have been active in 2015 and 2016, as all the news reports about them date from these two years. Their flag (photos, photo, photo) was red, charged with a complex emblem: shield of arms of the City of Novi Sad, depicted in black, gray and white, dimidiating the emblem of National Formation, all within a black cogwheel with a white outer fimbriation.
Use of Nazi flag's color set (with the addition of gray), black cogwheel (another symbol sometimes used by neo-Nazis) and the emblem of National Formation, all reveal that it is not only a neo-Nazi group, but most likely a local successor of the National Formation as well, formed by its previous members. As there are no new reports about its activities after 2016, the group seems to be no longer active, its members probably having joined other similar groups.
Tomislav Todorović, 13 May 2018