This page is part of © FOTW Flags Of The World website
Moldavian Democratic Republic
Last modified: 2015-07-28 by alex danes
Keywords: moldavia | romania |
Links: FOTW homepage | search | disclaimer and copyright | write us | mirrors

---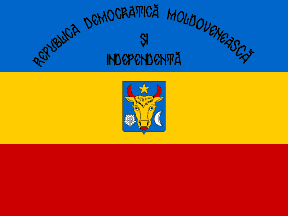 image by Alex Danes, 4 September 2008
---
---
See also:
---
About the Moldavian Democratic Republic
In February 1917 the Russian Empire started to colapse and revolutions began. On 7 November the Congress of Moldavian Soldiers proclaimed the autonomy of the Bessarabian guberniya and decided the creation of a legislative institution, named Sfatul Ţării (in English: the Country's Council). On 5 December 1917 Sfatul Ţării begun its activity, being formed by representatives of the civil population, the Army, the political parties etc. On 15 December 1917 proclaimed the autonomy of Bessarabia again, under the name of Republica Democratică Moldovenească (the Moldavian Democratic Republic), inside the Russian Federation, with equal rights. On 24 January 1918 the republic became independent and on 9 April 1918 Sfatul Ţării voted the union with Romania.

After 1990 the Moldovan press has published colour images of the flags of the Moldavian Democratic Republic, without mentioning their location or state of preservation.
Alex Danes 4 September 2008
---
Coat of arms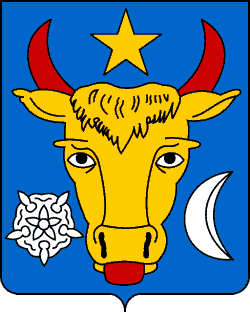 image by Alex Danes, 4 September 2008
The coat of arms of the Republic is: a French shield Azure, an aurochs' head Or horned, eyed and langued Gules, having a five-pointed star Or between horns, a rose Argent on dexter and a crescent Argent on senester. It resambles the old coat of arms of the Bessarabia guberniya, except the border with the imperial colors and the golden crown above the shield.
Alex Danes, 4 September 2008
---
The state flag is a horizontal blue-yellow-red tricolour, with the blue stripe above, approximate proportion 9:7. In the middle of the yellow stripe there is the coat of arms of the republic, and on the blue stripe, with black letters, the inscription: "REPUBLICA DEMOCRATICĂ MOLDOVENEASCĂ ŞI INDEPENDENTĂ" (meaning: "the Moldavian Democratic Republic and Independent"). The flag is surrounded by golden thread fringes.

The person who moraly created this flag, the Bessarabian heraldist Paul Gore, wrote on 12 May 1917:
"I'm not insisting on having a flag with three stripes, blue, yellow and red, arranged vertically (like the flag of the Kingdom of Romania). Let this stripes be horizontal (that is perpendicular and not parallel on the hoist). But this colors and their order must be preserved, because they are also on the coat of arms of Bessarabia. [...] It is known that the flags must be created according to strict rules of heraldry, and to colours of the respective coat of arms."
Alex Danes, 4 September 2008
---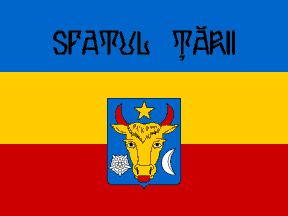 image by Alex Danes, 4 September 2008
The flag is similar to the state one, except the coat of arms is bigger and positioned in the middle of the yellow and red stripes, and the inscription on the blue stripe is "SFATUL ŢĂRII".
Alex Danes, 4 September 2008
---
Army flag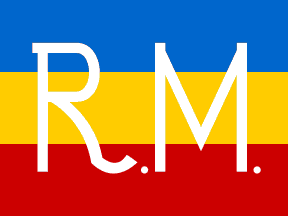 image by Alex Danes, 4 September 2008
The Army flags were created by the local women, members of the Committee of the Cultural League of Moldavian Women from Bessarabia. The flags are horizontal blue-yellow-red tricolours, with the blue stripe above. On one side, with silver embroided letters, there was the name of the regiment and on the other side, as big as the cloth, the letters R.M. (for "Republica Moldovenească", the "Moldavian Republic").

The flags were handed to the military units on 6 December 1917.
Alex Danes, 4 September 2008
---
Source: "Heraldica teritorială a Basarabiei şi Transnistriei" (in English: "Teritorial heraldry of Bessarabia and Transnistria")
Medium: book
Author: Silviu Andrieş-Tabac
Publisher, place: Editura Museum, Chişinău
Year: 1998