This page is part of © FOTW Flags Of The World website
Rom
Last modified: 2018-05-18 by rob raeside
Keywords: rom | gypsy | india | wheel | croatia | romani democratic party | heavens | earth | chakra |
Links: FOTW homepage | search | disclaimer and copyright | write us | mirrors

---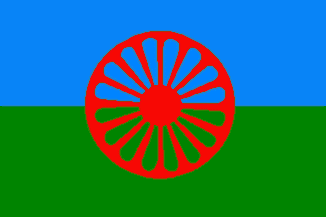 image by M. Courbet, 7 August 1997
---
See also:
---
The Roma flag is dark blue on top (representing the heavens) and green below (representing the earth) with the red sixteen-spoked chakra in the center (in recognition of the Indian origin of the Roma), representing movement and the burst of fire from which all creation emerged at the beginning of time. This flag was approved at the First World Romani Congress in 1971 at London, England.
M. Courbet, 7 August 1997
In 1971 the International Gypsy Committee organized the first World Romani Congress. This took place in a location near London... funded in part by the World Council of Churches and the Indian Government; representatives from India and some 20 other countries were in attendance. At the congress, the green and blue flag from the 1933 conference, now embellished with the red, sixteen-spoked chakra, was reaffirmed as the national emblem of the Romani people, and the anthem, Dzelem dzelem, since sung at all congresses, was adopted."
"The World Romani Congress have adopted a Romani flag which is respected by all the Roma the world over. It comprises of blue and green traditional colors with the red wheel in the center. Blue is the blue sky and the heavens. Green is the land, organic and growing. The blue symbolizes eternal spiritual values; the
green earthly values. The wheel in the center symbolizes movement and progress. It may not be out of place to point out here that the Indian national flag has also got Ashok Chakra in the center."
Source: romani.org/local/romani_anthem.html, quoted from from:
The Eastern European Roots of Romani Nationalism by Ian Hancock, in Crowe, David. and John Kolsti, eds. The Gypsies of Eastern Europe. Armonk, NY: M.E. Sharpe, Inc., 1991.
Jarig Bakker, 22 May 2000
---
Blue over green flag used (with golden wheel), by the 'Stranka Roma Hrvatske', the 'Gypsy Party of Croatia'.
Željko Heimer, 5 August 1996

See also: Democratic Party of the Croatian Roma
---
I live in Sweden and belong to the Travellers (in Sweden). Our flag is not used by everyone, but some of us would like it like this: kind of like the Roma flag, since we are related to them, but blue and yellow instead of blue and green. This is to remind us of our Swedish heritage, i.e., the flag is yellow on the upper half, and "Swedish" blue on the lower. In the middle is a red wheel, just like India or Roma, but here it means travelling.
Magnus Andersson, 19 January 2001
---
Variant seen in Catalonia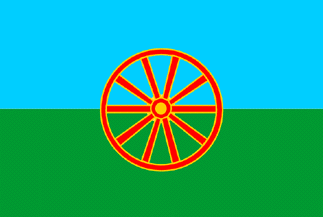 image Jaume Ollé

In Bonavista, near Tarragona, is a place where a man was selling pins and stickers with the Romany flag. The same design as a flag was also flying. The flag is the well known blue over green with red wheel, but with some details to note. The blue is light blue, like that in the Asturian flag and the wheel is lined in gold making it resemble a radiant sun. The wheel has 10 spokes. The diameter of wheel is c. 1/2 of the height. Note that this may not be according to official specifications, but it is the flag used by the Catalan Rom.
Jaume Ollé, 4 January 2000
---
"La Semana" (Sevilla), 25 November 2008, shows a photograph of a "Gypsy flag" presented by Gypsy women. The flag follows the usual Rom flag pattern, horizontally divided blue-green with a red Chakra wheel in the middle. While the flag adopted by the World Romani Congress in 1971 has a wheel with 16 spokes, the wheel shown on the Spanish flag has only eight spokes, making the emblem looking like a flower rather than a wheel.
http://lasemana.eu/content/view/12148/26/
Ivan Sache, 28 November 2008
---
A photo published on the Romani Connection website (Australia) shows a variant of the flag, with the writing "ROMANY", in white serif letters, bordering the lower part of the wheel, in the green stripe of the flag.
http://www.rromaniconnect.org/Romanicommunity.html
http://www.rromaniconnect.org/Card%20Pic5.jpg (photo)
Ivan Sache, 29 April 2012