This page is part of © FOTW Flags Of The World website
Pakistan: Construction Sheet
Last modified: 2013-07-27 by ian macdonald
Keywords: pakistan | crescent | star (white) |
Links: FOTW homepage | search | disclaimer and copyright | write us | mirrors

---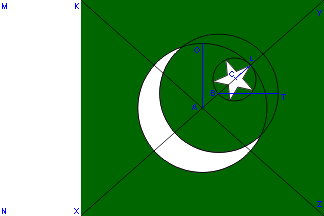 2:3 by Željko Heimer
---
See also:
---
There is no law which actually prescribes this flag. The nearest to a legal official specification appears to be that issued in "Pakistan Standard 1700" of 1985 (confirmed by later information obtained by Armand du Payrat), and it is upon these that the construction diagram has been prepared.
Christopher Southworth, 14 November 2004
Based on information at http://www.pakistani.org/pakistan/flagspec.html here are the specifications for the Pakistani flag, from a Resolution Passed by Constituent Assembly.

"That this assembly resolves that the national flag of the federation of Pakistan be of the following description.
"A dark green rectangular flag in the proportion of length and width 3:2 with a white vertical bar at the mast, the green portion bearing a white crescent in the centre and a five-pointed white heraldic star. The size of the white portion being one-fourth the size of the flag, nearest the mast, the remainder three-fourths being dark green. the dimensions of the crescent and star are obtained as follows:

"Draw the diagonal from the top right hand corner to the bottom left corner of the green portion. On this diagonal establish two points 'A' and 'B'. Point 'A' at a distance equidistant from top right and bottom left hand corners of the green portion, i.e. the centre of the green portion. Point 'B' at a distance from the top right hand corner equal to 13/20th the width of the flag. With centre point 'A' and radius 1.1/4th the width of the flag describe a second arc. The enclosures made by these two arcs form the crescent. The dimensions of the five-pointed white heraldic star are determined by drawing a circle 1/10th the width of the flag. The circle surrounds the five points of the heraldic star. The star lies with one point on the diagonal at a point where the larger arc of the crescent, if completed, cuts the diagonal."

Source: Letter to Dawn Editor, Monday Sept 21, 1998, by A.R. Thalpawala
There is no indication when the resolution was made (if it is 1998, then the flag was changed [better defined] in this regard recently!) However, this description is not at as correct as one might expect. I believe it omits some part within this sentence "With centre point 'A' and radius [...] 1.1/4th the width of the flag describe a second arc." I believe that there is a part omitted where I indicated and that it should read something of the sort:
"With centre point 'A' and radius [3/10th the width of the flag draw an arc. With centre point 'B' and radius] 1.1/4th the width of the flag describe a second arc." In any case, I believe that the paragraph clearly shows that the crescent and star are drawn towards the fly top corner (if you know what I mean) and not towards any other direction we might think of (this detail shall come handy when drawing other Pakistan flags not in ratio 2:3).
Željko Heimer, 31 August 2002
Where exactly is point B? I finally figured this out. Point B is the center point of the inner arc forming the crescent. Taking the hoist as composed of 20 units, point B is 13 units from the upper fly corner and located on the diagonal connecting that corner with the lower left corner of the green rectangle. The upper fly corner should be labelled Y, so that this line is XY.
Joe McMillan, 27 January 2003
Answering that would probably be enough to answer further questions, that is C and L, which are presumably on the same line as AB. Point L would be on the crossing of that line with the outer circle of the crescent, while C would be 1/10 of hoist closest to the center. Right?
Željko Heimer, 31 August 2002
Yes. Point L is where the circle circumscribing the star AND the outer circle defining the crescent both cross line XY.
Joe McMillan, 27 January 2003
According to the specification laid down in Pakistan Standard-1700-1985, 'Pakistan Standard Specification for the National Flag of the Islamic Republic of Pakistan' issued by the Pakistan Standards Institution, the crescent and star appear as follows:

All points are on a diagonal line from the lower hoist to upper fly of the green panel. Point A is on the centre of the green panel and is the centre point of the circle which creates the outer arc of the crescent. Point C is the centre of the circle which contains the star and is set so that its circumference touches that of Circle A. Point B is the centre point of the circle which forms the inner arc of the crescent and is found where circle C cuts the diagonal.

It is worth noting that, according to information from the Pakistan Navy, the crescent and star on the Naval Ensign are constructed slightly differently (giving a marginally thicker crescent and star).
Chris Southworth, 28 January 2003
For all practical purposes this is consistent with what the Interior Ministry site says. To work through the math again:

- The flag is shown as 20 x 30 units
- The white stripe is 20 x 7.5
- The green panel is 20 x 22.5
- This makes each of the diagonals connecting the corners of the green panel approximately 30 units (actually 30.103...).
- So for all practical purposes, the center of the outer circle defining the crescent is 15 units from each corner.
- This outer circle has a radius of 6 units (3/10 of the hoist).
- The circle circumscribing the star has a radius of 2 units (1/10 of the hoist) and is positioned with its center on the diagonal and its perimeter coinciding with that of the outer circle of the crescent.
- The inner circle forming the crescent, which has a radius of 5.5, is centered, as Christopher says, at the lower of the two points where the circle circumscribing the star cuts the diagonal line. As the MOI site says, this point is 13 units (actually a tiny bit more than 13.05 units) from the upper fly.

In any case, the images used here match both Christopher's and the MOI's math within the degree of precision possible in a 216 pixel high image.
Joe McMillan, 28 January 2003
A slightly different construction sheet can be found on this Pakistani government website.
Johnny Andersson, 14 November 2004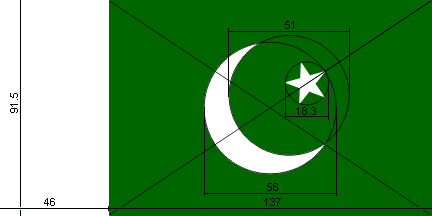 2:3 by Željko Heimer
The figures are given for the Naval Ensign are as follows:

Flag proportions - 91.5 x 183
White panel - 91.5 x 46
Green panel - 91.5 x 137
Outer arc of the crescent - 56
Inner arc of the crescent - 51
Star - 18.3

These are the figures upon which Armand du Payrat based the illustration in the Album des Pavillons 2000, and it was from him I obtained them.
Christopher Southworth, 28 January 2003
I received them on 11 02 1999 from the Pakistani attaché in Paris with the proper drawing.
Armand du Payrat, 28 January 2003
Anyone planning to draw the flag from this, note that the arcs for the crescent and the size of the star are given as *diameters* in this case, rather than as radii, as in the Interior Ministry specs for the national flag.
Joe McMillan, 28 January 2003