This page is part of © FOTW Flags Of The World website
Waziristan (Pakistan)
Last modified: 2017-11-20 by ian macdonald
Keywords: pakistan | waziristan | text: arabic | takbir |
Links: FOTW homepage | search | disclaimer and copyright | write us | mirrors

---
See also:
---
About Waziristan
Waziristan Mountain tract, SW North-West Frontier Province, Pakistan; 4373 sq. m.; pop. (1961) 394,312; divided into North Waziristan (formerly Tochi) and South Waziristan (formerly Wana); lies along border of Afghanistan; inhabited by Wazirs, a Pathan tribe, divided into the Darwesh Khel and Mahsuds; their chief town is Kaniguram. Since 1860 there have been several uprisings in Waziristan; most serious against the British, called the Third Afghan War, was in 1919-22, when Mahsuds rose in revolt. Kaniguram and Wana subdues; last Mahsud tribes submitted February 1922 (source: Webster's New Geographical Dictionary 1988). In the Times Atlas 1968 it is southeast of Kabul. You can find it on Joaquín de Salas' map of India too.

Jarig Bakker, 3 February 2000
---
1930s resistance movement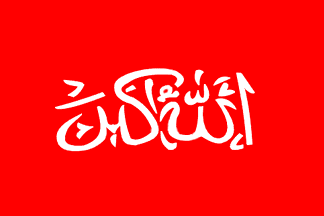 image by António Martins-Tuválkin, 11 November 2016
The Waziristan resistance movement against the British in the 30's used a red flag with the Takbir (i.e., Allahu Akbar = "God is the greatest") written on it.
Jaume Ollé and Harald Müller, 22-23 September 1997
The flag in question shows Takbir written on it in the middle, in white letters, over a red horizontal background. The Takbīr (تَكْبِير), also transliterated Tekbir or Takbeer, is the term for the Arabic phrase Allāhu akbar (الله أكبر), usually translated as "God is [the] greatest". It is a common Islamic Arabic expression, used in various contexts by Muslims; in formal prayer, in the call for prayer (adhān), as an informal expression of faith, in times of distress, or to express resolute determination or defiance. The form Allāhu is the nominative of Allah, meaning "God". In the context of Islam, it is the proper name of God. The form akbar is the elative of the adjective kabīr, meaning "great." Takbīr it is usually translated as "greatest", but some authors prefer "greater". The phrase is often transliterated less accurately as Allah akbar.
Sources: https://en.wikipedia.org/wiki/Waziristan and https://en.wikipedia.org/wiki/Takbir
Esteban Rivera, 15 November 2016
---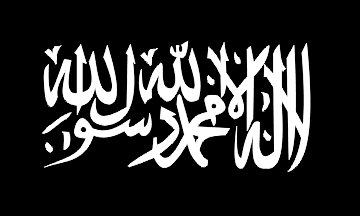 image by António Martins-Tuválkin, 29 October 2017
In February 2006, the Islamic Emirate of Waziristan was proclaimed by the Taliban and al-Qaeda-aligned militants there. It gained a sort of tacit, de-facto recognition in September 2006 when Pakistan signed the truce agreement with them. At the ceremonies of the signing, the black flag with the white shahada was raised (described elsewhere as the al-Qaeda flag in opposite colors to the Taliban flag of the Islamic Emirate of Afghanistan).
The status of the Islamic Emirate of Waziristan remains vague and not clearly or legally resolved by Pakistan or anybody else for that matter.
Source: http://flapsblog.com/2006/09/06/global-war-on-terror-watch-talibanistan-the-establishment-of-the-islamic-emirate-of-waziristan/, derived from a post by Bill Roggio at http://www.longwarjournal.org
Chrystian Kretowicz, 1 August 2008
In this article (http://www.longwarjournal.org/archives/2006/09/talibanistan_the_est.php) the black flag indeed has a name: "Al Raya" (in Arabic الراية , The Banner in English)".
Esteban Rivera, 15 November 2016