This page is part of © FOTW Flags Of The World website
House flags of Norwegian maritime companies (M)
Last modified: 2022-10-08 by

christopher oehler
Keywords: house flag | shipping: norway |
Links: FOTW homepage | search | disclaimer and copyright | write us | mirrors

---
See also:
---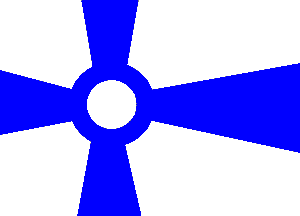 image by Jarig Bakker, 9 February 2005
Source: Loughran, A Survey of Mercantile Houseflags & Funnels, 1979. [2]
The early funnels were black with the house flag; later on it became buff (yellow) with black top, with the house flag. Caption: M. Thorvik, Oslo.
Jarig Bakker, 9 February 2005
---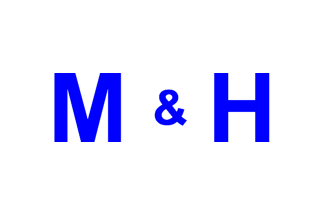 image by Ivan Sache, 23 October 2021
Lloyd's Book of House Flags and Funnels (1912) shows the house flag of Mail & Holby (#1472, p. 107), a Rosahaug-based shipping company, as white with the blue letters "M & H".
https://research.mysticseaport.org/item/l011061/l011061-c008/#72
Ivan Sache, 23 October 2021
---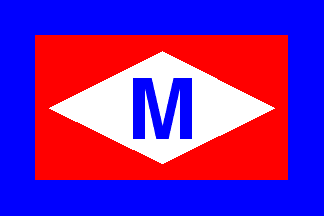 image by Ivan Sache
Source: Lloyd's book of house flags and funnels of the principal steamship lines of the world and the house flags of various lines of sailing vessels #2054 [1]
The flag is red with a blue border and a white lozenge charged with a 'M' (blue).
Ivan Sache, 01 February 2004
---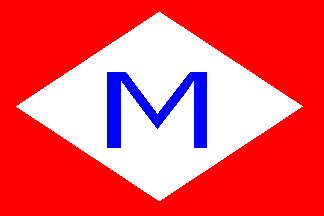 image by Jarig Bakker
Source: The Caltex book of Flags and Funnels [15]
#75 Melsom & Melsom, Larvik - red flag, white diamond, blue "M". Until the 1950s a whaling company.
Jarig Bakker, 3 January 2005
---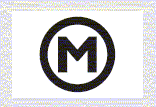 images located by Jan Mertens, 03 August 2009
Source: Skipet.
Please disregard the grey "border" which is really the background.
Misje Rederi or shipping company, based at Bergen (Norway) is part of the Misje Group.
Quote from Misje Group website (in English):
The Misje Group consists of 8 companies, whereas the activities range from ship owning to ship management. The main activity is based on short sea shipping in Europe, but is also the owner of the only weather ship in the world. The overall strategy is to become a major player within transportation of dry bulk serving coastal Europe.
A rather long - but interesting - section is dedicated to the firm's history (see upper menu). Founded as a brokerage firm by former captain turned business partner Kåre Misje in 1952; pure family affair, 1955: Kåre Misje & Co. Involvement in weather and rescue vessels in the North Sea. Fishing fleet till 1968 when herring market took a dive, from then on active in servicing oil rigs also in the North Sea. 1976, sixteen ships; establishment of repair shop. 1979: Misje Group founded.
Growth of fleet to 6 (Misje) and 20 (Misje Group), respectively. 1982, founding of Misje Offshore Marine. Further expansion (25 ships) and major reflagging to UK as Nomis Ltd, Aberdeen. Temporary decline in offshore leads to reduction of fleet and shutdown of workshop. 1994, shipping company for general cargo founded. Renamed Misje Rederi 2000, joined by Misje Bulk in 2004. Nowadays six different companies operate 13 ships.
The various firms are presented here but most texts are being updated: http://www.misje.no/index.php?p=companies
"Kåre Misje & Co is the holding company of the Misje group. In all today, the group operates 13 vessels. Misje Rederi AS has the management of the vessels, and is situated in Bergen, Norway. Ami AS, Hordatrans AS and Fortuna AS are solely financial companies, whilst Misje Bulk AS, Bergenhus AS and Polarfront AS are ship owning companies. Manning has been outsourced to NordVegr in Kaliningrad, and chartering to Strand Shipping in Mo I Rana."
The fleet is presented here (most ships have a name ending in -mi and those are registered in the Bahamas): http://www.misje.no/index.php?p=fleet
A photo album yields additional images. Three ships, among which the weather ship 'Polarfront', fly the Norwegian flag.
This message will present a single house flag but the flagoid shown on the website will not do - at best it is a romantic image: this swallowtail tapers and contains superfluous line detail.
Have a look rather at image showing of 'Sunmi': white swallowtail with straight edges, a dark blue initial 'M' inside a broad dark blue ring.
See also the Photo Album: 'Imi' (first photo) and 'Romi' (last but one photo).
Two more items (in the same vein) are shown on the Skipet Norwegian flags & funnels pages, to be presented in Part 2.
Jan Mertens, 02 August 2009

Two other Misje house flags are shown on these fine pages: http://www.skipet.no/component/content/article/25-rederiflagg-og-skorsteinsmerker/25-rederiflagg-og-skorsteinsmerker
Click 'Bergen' then 'M1' to open a pdf file. This page notes 'Misje, Kåre 1952- ' and differenciates between the former and '1987 - Misje Offshore Marine AS'.
Along with the house flag presented yesterday there are two other flags, one white (rectangular) with the M-in-a-circle in black, the other white (non-tapering swallowtail) with the emblem in red.
I understand Misje Rederi manages the fleet and - reasoning by elimination - that of the various firms in the group, Misje Bulk is the shipping company probably represented by the white-and-blue swallowtail.
Perhaps the white-and-black rectangular flag was the original one and the white-and-red swallowtail would then be flown by for Offshore Marine? I cannot yet back up this little theory with photos or other evidence. In any case here we have an archivexillum!

PS: Skipet also presents 'Misje, Jacob 1948- '. About this firm I know nothing at all.
Jan Mertens, 03 August 2009
---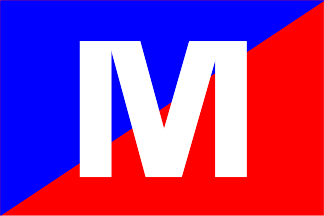 image by Jarig Bakker, 14 January 2006
Source: Brown's Flags and Funnels of Shipping Companies of the World [4]
Oslo - per fly diagonal blue over red, white "M".
Jarig Bakker, 14 January 2006
---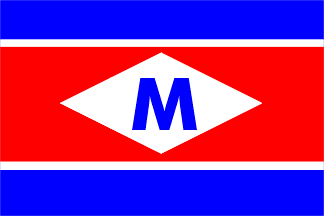 image by Jarig Bakker, 25 October 2005
Source: Brown's Flags and Funnels of Shipping Companies of the World, 1995 [4]
Farsund - Suriname-style Blue-White-Red-White-Blue, in center of the red, a white diamond, blue "M" inside.
Jarig Bakker, 25 October 2005
---
Earlier flag depicted on letterhead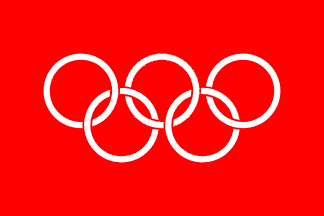 image by António Martins-Tuválkin and Manuel Gambino, 01 February 2007
An earlier and different version of the flag is shown at the Greek site of ship repair company Carrell (link not working properly). This shows a letterhead from 17 October 1960 noting that Mosvolds are "ship owners, operators, brokers, overseas traders". The flag is red with five white Olympic-style rings.
'Mosvolds Rederi AS' is now established at Farsund and flies the version shown at the head of this section.
At the Skipet website, the company information is shown as: founded 1910 (Martin and Torrey Mosvold) - 1927 Mosvolds Rederi AS - 1984 Mosvold Farsund AS plus a note about 'Kristiansands Dampskipsselskab'.
Jan Mertens, 27 September 2006
A/S Mosvolds Rederei [should read "Rederi" i.e. Brown 1995 has it wrong under the image but right in the index] was basically a family concern for most of its time although initially the Glastad family appear to have been investors. The skipet website information would appear to be a bit misleading though the following detail contains a certain amount of conjecture. Basically it started with Martin Mosvold [1876-1956] who is given as acquiring his first ship in 1910. Probably in the initial stages the ships were registered under various companies which were in turn owned by Mosvold and, in some cases at least, Glastad [and perhaps others]. References are made from assorted sources to Mosvold operating out of both Farsund and Kristiansand. In 1927 he entered tanker owning and formed A/S Mosvolds Rederi in Kristiansand and then in 1932 it was transferred to Farsund with the fleet also including fruit carriers. In 1956, after his death, the main fleet came under the control of his son, Torrey Mosvold [1910-1995] who appears to have operated from Kristiansand although there were still operations in Farsund. Determining operating companies from those merely used in a ship owning aspect is somewhat confusing but going by Lloyds the Farsund operations ended up under A/S Mosvolds Rederi whilst those in Kristiansand became Mosvold Shipping A/S. The death of Torrrey was followed in due course by the decline of the group with the Farsund operations ceasing with the breaking up of its fleet 1999-2002. The Kristiansand company was sold in 2001 to Frontline Ltd. where the name still just exists.



images by Neale Rosanoski, 17 August 2009
Source: Brown's, 1943 and Talbot-Booth, 1949
The 1st flag recorded was red with a white diamond bearing a black "M" according to Brown 1943. This version is not otherwise supported.
In "World Tankers" [Norman Middlemass 1996] the Martin Mosvold colours in respect of his shipowning from 1927 are described as being red with the 5 Olympiad rings i.e. the 2nd flag provided by António and Manuel from 1960 and supported by the skipet website, Brown 1958 & 1982, US Navy 1961 and Stewart 1963.
The 1st flag shown by Jarig from Brown 1995 probably applied to both the Farsund and Kristiansand companies. Apparently there were changes in the 1980s and 1990s within the group as they diversified and also struck some rocky times so it may have been part of an image change.
The connection made by the skipet website to A/S Kristiansand D/S I cannot follow as all leads do not mention any Mosvold involvement in what was a ferry company and from 1968-1991 was owned by Fred Olsen with its last ship sold in 1984. Talbot-Booth in his 1949 "Merchant Ships" shows the Martin Mosvold flag as being white with red rings
Neale Rosanoski, 17 August 2009
---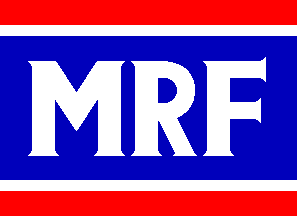 image by Kjell Roll Elgsaas
A house flag with the horizontal bands of blue, white, and red muse belongs to another company. Perhaps, MRF (Møre og Romsdal Fylkesbatar). Many Norwegian house flags have the red-white-blue combination.
Jan Oskar Engene, 20 November 1995
---
---