This page is part of © FOTW Flags Of The World website
Kvenland (Norway)
Kveeniland, Kven people
Last modified: 2021-08-25 by

christopher oehler
Keywords: norway | kvenland | kveeniland | norske kveners forbund | nkf |
Links: FOTW homepage | search | disclaimer and copyright | write us | mirrors

---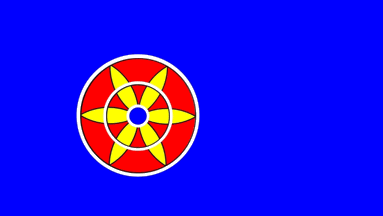 image by Jason Saber, 18 May 2017
---
See also:
---
About the flag
Kvenland is the name attributed centuries ago (back to the early Middle Ages) by various authors to the region to the North of the Bay of Bothnia. The details are partly mythical, such as the genealogy of the Kings of Kvenland in Flateyjarbók written about 1390, partly a general place name attributed to the region of Northern Finno-Scandinavia or a reference to the territory inhabited by Finnish speaking people. Kvenland in this sense was not a unified territory or a state. There is no reason to believe Kvenland had a flag.
Today, the term Kven is used in Norway to refer to the Finnish speaking population in parts of Northern Norway. In Norway, the Kven people and their language (in practice Finnish) are officially recognized by the government. The Kvens have since 1987 been organized in "Norske Kveners Forbund/Ruijan Kveeniliitto" with a an orgainizational web site
This organization had an ambition, written into its plan of action for 2006-2007, to develop a "pennant/flag in cooperation with sister organizations in Sweden and Finland." See: Handlingsplan for Norske Kveners Forbund / Ruijan Kveenilitto. I have not seen anything reported that a new flag has been launched. As far as I can see, the Kven people of today do not use the term "Kvenland" to refer to the territory they inhabit. All use of this term is historical, as explained above. This would seem to suggest that the ambition of developing a flag is related to ambition of strengthening the identity of the ethnic group rather that a territorial ambition on their part.
Earlier there have been various reports and proposals for a flag of the Kven people. I have seen references to the one described by Chrystian, the Norwegian flag with a broader (light) blue cross, though this may just as well be a common "malmanufacturing" of the standard flag of Norway. A short article was published in Nordisk Flaggkontakt [nfk] No. 33, 2001, p. 29, on a private proposal for a flag of the Kvens, put forward by an individual and reported in Norwegian newspaper in 1999. This proposal had a white field, a very narrow Scandinavian cross with even narrower blue borders and a yellow circle with a broad blue border set over the intersection of the arms of the cross. The newspaper report, published in "Framtid I nord" on 21 January 1999, is the only place I have seen this flag and the proposal does not seem to have been met with much enthusiasm.
I have kept an eye on developments on this issue over the past years, and so far as I know nothing substantial has come out of it. My conclusion is that the Kvens, or rather the organizations that represent them, have not yet adopted a flag.
Jan Oskar Engene, 29 March 2008
This report https://www.nrk.no/sapmi/endelig-et-felles-flagg-for-kvenene-1.13521954 details the adoption of a flag for the Kven people of Norway and Sweden. As far as I can tell they are basically emigre Finns.
Jason Saber, 18 May 2017
---
Norske Kveners Forbund - NKF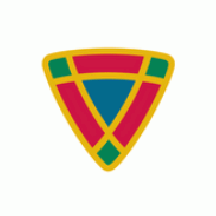 image by Chrystian Kretowicz, 30 September 2009
After numerous inquiries over several years, finally, I've got an answer (and the image as the bonus).
Mr. Ivar Johnsen, Secretary General of Norske Kveners Forbund (Ruijan Kveeniliitto), the largest Kveni organization in Norway, wrote:
"Sorry, there is no Kven flag. Our organization uses our emblem as a flag."
NKF - Norske Kveners Forbund can be found at: <http://www.kvener.no>
Chrystian Kretowicz, 30 September 2009
First, on the practifce of trolling see < http://en.wikipedia.org/wiki/Troll_(Internet) >
Recently the Kvenlandsforbundet/the Kvenland association, a tri-national organisation, chose a proposal by Bengt Johansson-Kyrö of Jukkasjärvi, which is to be finally decided at their convention in 2010. Kvenlandsforbundet is one of several groups in Northern Scandinavia organising the traditional Finnish language minorities and there is already a Torne valley flag. Leaving aside the question of the future fate of the flag proposal, it is light blue, with a red/yellow/black "Sun flower", a decorative element of Kven folk art, (a black center with a thin white border for six yellow flower petals on a red background, set within a a thin black and white circle, broken by a thin black and white concentric circle halfway between centre and the outer circle) set 1/3 out from the hoist (image).
See also < http://www.nsd.se/nyheter/artikel.aspx?ArticleID=4927893 > for a report (in Swedish) and a picture of Kvens holding a small example of the flag.
prometevsberg, 03 November 2009
---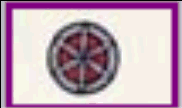 image contributed by Chrystian Kretowicz, 27 March 2008