This page is part of © FOTW Flags Of The World website
Neo-Nazi flags in Norway
Last modified: 2022-12-31 by

christopher oehler
Keywords: neonazi |
Links: FOTW homepage | search | disclaimer and copyright | write us | mirrors

---
See also:
---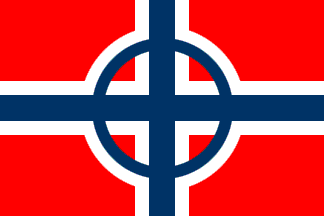 image by A.H., 29 Oct 1999
I have some information relevant to the Norwegian neo-Nazi flag. It to me appears to be a combination of the Norwegian flag with a sun wheel cross or "St. Olav's Cross", used in lieu of the swastika by the Norwegian Nazi government. It is an ancient symbol, but in the past few hundred years it seems to be predominantly associated with Scandinavia. They are commonly seen decorating older churches in areas of the midwestern US where Scandinavians settled as well.
Source: http://en.wikipedia.org/wiki/Sun_cross
Michael Brady, 05 November 2009
This supposed Norwegian neo-Nazi flag might actually just be a flagoid: it is the illustration which was used for the cover of the book Vargsmål ("Varg's Speech") by Norwegian neo-Nazi activist Varg Vikernes and no flags with such design are currently known to have been used. Still it is clearly a neo-Nazi symbol, being a reflection of Vikernes' beliefs, which combine neo-Nazi ideas with Norse neo-Paganism. On the other hand, it is not related to the Vigrid organization, as Vikernes has not been their member nor is known to have collaborated with them, despite their beliefs having much in common with his.
Source: Varg Vikernes at Wikipedia: https://en.wikipedia.org/wiki/Varg_Vikernes
Tomislav Todorovic, 20 August 2022
---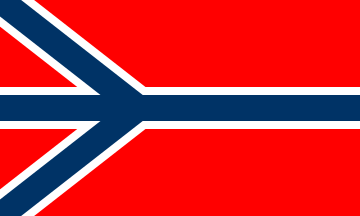 image by Tomislav Todorovic, 20 August 2022
Vigrid is a neo-Nazi organization which combines their ideology with Norse neo-Paganism [1]. That is visible from their name, borrowed directly from Norse mythology, where it is used as the name of a large plain at which the last battle between the Norse gods on one side and all of their enemies on the other side is supposed to take place at at the end of the world [2]. The group has tried to operate as a political party, having run in the parliamentary election in 2009, but received an insignificant number of votes (less than 200), which put an end to such attempts [1].
The symbol of Vigrid is the "life rune", typically depicted between two oak branches [1, 3] - the same as was used in the USA by National Alliance (https://www.crwflags.com/fotw/flags/us%7Dnalln.html) and National Vanguard (https://www.crwflags.com/fotw/flags/us%7Dnaz.html#nvang). This device also makes part of another symbol, where it appears on the rectangular background whose design is derived from the flag of Norway by replacing the cross with a life rune, while keeping the colors in their positions [3]. The said background pattern, without the foreground device, is used as the flag, but only one photo of it seems to exist [4], so it is either used very rarely or there are very few copies of it.
Sources:

Tomislav Todorovic, 20 August 2022
---
In the March 20th, 2006 edition of the Norwegian newspaper VG, there is a photo of members of Vigrid, a Norwegian right-wing extremist organisation. On the wall in the background, a vertical version of the World Church of the Creator flag is prominently displayed. The disc is fimbriated black and centered. The charge inside the disc is rotated, so it is displayed with the right side up.
Arnt Richard Johansen, 20 March 2006
---