This page is part of © FOTW Flags Of The World website
Civil Ensign (Malaysia)
Last modified: 2023-06-03 by

zachary harden
Keywords: red ensign | malaysia |
Links: FOTW homepage | search | disclaimer and copyright | write us | mirrors

---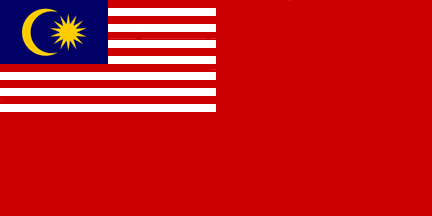 1:2
image by Clay Moss, 5 January 2006
---
---
See also:
---
Description
Red flag, 1:2 dimensions, with national flag in canton.
Most of the time the national flag is flown rather than the civil ensign although there are still occasions where the latter is used.
Robert Kee, 14 February 2001
I have seen enough of Malaysian red ensigns now to say very confidently that no manufacturer in Malaysia adds the fimbriation to the red ensign. I don't know if it should be there or not any more, and thus far, I can't find a Malaysian in charge who knows either. By observation, I would say 90% of the red ensigns being used are 2x4 feet, with the other 10% being 3x6 feet. I have seen a couple of 1x2 feet, maybe one 18x36 inches, and I have seen one that believe may have been as large as 4.5x9 feet.

As a courtesy flag, virtually all foreign ships, who bother to hoist a courtesy flag at all, use the national flag. In Penang/Langkawi waters, a scant few Malaysian ferries use the national flag. Of the private non- merchant yachts and boats I have observed, the majority use the national flag as their ensign while most of the really high end expensive yachts use the red ensign. I would say 99% of all red ensigns sold are broad cloth. Proper "bunting" ensigns and national flags are generally 10 to 20 times more expensive, but last only 6 times longer. I know this because our Vexillology class among other things has conducted a series of color and wear tests to see how each type flag/ensign holds up in weather. It turns out that the "better" flags aren't that much better after all.
I have also seen several defaced red ensigns on TV. They are displayed behind the head of the Navy every time he is on the news.
Clay Moss, 9 April 2005
I was pleased to see that the Penang city ferry service had outfitted most of it's ferries with brand new 2x4 foot red ensigns. Maybe the 1:2 Malaysian red ensign isn't dead after all!
Clay Moss, 13 January 2006
---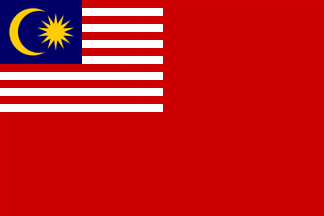 image by Clay Moss, 5 January 2006
2:3 Malaysian national flags are manufactured and commonly available anywhere large quantities of flags are sold. The most popular sizes are 12x18 inches, 2x3 feet, 4x6 feet and 5x7.5 feet. 2:3 flags tend to be flown in situations where a logo flag is involved, and someone is trying to match up the Malaysian flag exactly.
Clay Moss, 5 January 2006
---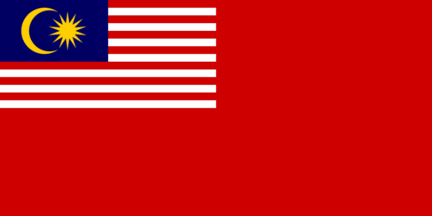 image by Željko Heimer, 25 May 2002
Red ensign with the national flag in canton fimbriated from the rest of the red field with a blue line. Source: Album des Pavillons 2000 [pay00].
Željko Heimer, 25 May 2002
None of the red ensigns I have seen thus far have the blue fimbriation flanking the canton on the fly end and bottom.
Clay Moss, 5 December 2003
The most notable thing about the red ensigns I have seen is the absence of the blue fimbriation that, according to regulations, should separate the canton from the red background. I have seen four red ensigns fluttering on the water and have seen five others for sale at the local flag place, none of which are fimbriated.
Clay Moss, 4 November 2003
This is hardly surprising, since the fimbriation is unnecessary for the 1963 version of the National Flag, whereas, it would be required to separate the 11th stripe of the 1950 flag from the field.
Christopher Southworth, 4 November 2003
I have information that the blue fimbriation should be "no more than one-half the width of a red or white stripe", but I don't have any original documentation, and therefore, no way of confirming it. Nor do I know whether this fimbriation should be taken from the canton or is additional to it - I had assumed that it was added when drawing up my own specification, but just don't know? If this clause (or regulation or whatever) was actually carried forward from the old to the new version of the flag then this fimbriation would have got narrower in 1963, but as it is (in essence) now superfluous the chances are that it may not have?
Christopher Southworth, 11 April 2005
The fimbriation would have been necessary when the Malaysian national flag, (canton), had 11 stripes and the bottom stripe was red. Now that the bottom stripe is white, there's no point in having the fimbriation. Local manufacturers have evidently figured that out. I find it interesting that the Naval ensign has no fimbriation either, at least where actual samples are concerned. The bottom white stripe is swallowed by the rest of the flag. I hope to find a spec sheet for it at the same time I find one for the red ensign.
Clay Moss, 12 April 2005

There is no blue fimbriation flanking the fly end and bottom canton on Malaysia's current red ensign. Cheong Hing said that in 40 years, they have never made one. Maybe the fimbriation should be there technically, but Malaysian flag makers never add it as they never receive such requests from civil operators. My guess is that years back, there was probably some verbal edict passed down stating that the fimbriation was not necessary on a 14 Stripe Malaysian canton and thus it should be removed, but this was never put in writing. The only Malaysian red ensign I have seen in Malay waters with the blue fimbriation was Italian made and flying from a brand new Italian built ferry. I guess the ferry company threw it in with the package.
Clay Moss, 5 January 2006