This page is part of © FOTW Flags Of The World website
Sarawak (Malaysia)
Negeri Serawak "Bumi Kenyalang", State of Sarawak "Land of the Hornbill"
Last modified: 2023-06-03 by

zachary harden
Keywords: sarawak | borneo | star: 9 points (yellow) |
Links: FOTW homepage | search | disclaimer and copyright | write us | mirrors

---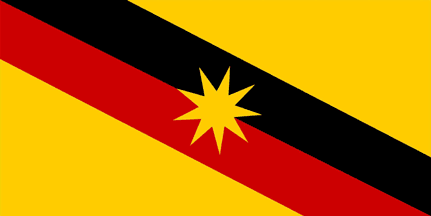 image by Clay Moss, 17 September 2005
---
---
See also:
---
Description
It's interesting to see the state revert to the colours used by the Brooke family when they ruled the state as Rajahs, even if the Christian and monarchist symbolism of the cross and crown from the Brooke flag has been (understandably) dropped.
Roy Stilling, 27 July 1996
The Sarawak flag was adopted by the Parliament of Sarawak in 1988. The flag was first raised at the National Day parade in Kuching on August 31, 1988. At that time I received from the Sarawak government a brochure called: Bendera negeri Sarawak. Lambang negeri Sarawak. Lagu kebesaran negeri Sarawak. From this brochure stems the following transcription:
Interpretation of the three colours
Red Colour: symbolises the courage, determination and sacrifices of the people in their tireless pursuit to attain and maintain progress and esteem in the course of creating a model State;
Yellow Colour: denotes the supremacy of Law and Order, unity and stability in diversity.
Black Colour: symbolises the rich natural resources and wealth of Sarawak such as petroleum, timber etc. which provide the foundation for the advancement of the people;
The Yellow nine pointed Star denotes the nine divisions where the people live in harmony. The Star symbol also embodies the aspiration of the people of Sarawak in their quest to improve their quality of life.
Jos Poels, 6 August 1996
---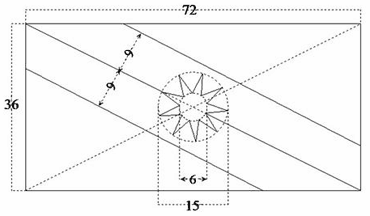 by Christopher Southworth and Clay Moss
---
Orientation and Colour of the Star
As far as I know the 9-pointed star on the Sarawak flag must be drawn so that one of the points is directed to the upper hoist corner of the flag, and bisected by the red-black diagonal [centerline].
Uros Zizmund, 13 August 1997
According to the Malaysia Information Department Sarawak page, as far as its orientation is concerned, the star is shown bisected by the red/black diagonal, as Uros Zizmund shows it:
Rob Raeside, 13 August 1997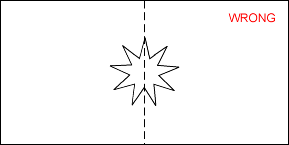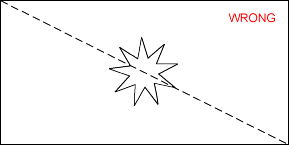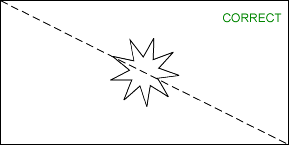 all three image by Uros Zizmund
The star should have one point aiming up the diagonal center line directly at the top hoist corner. It is noteworthy though to inform you that some manufacturers in Malaysia don't know this rule and have printed flags with the star pointing toward the lower fly corner. They're rare mind you, but they're out there nevertheless.
Clay Moss, 17 September 2005
---
Sarawak State Flag 1963-1973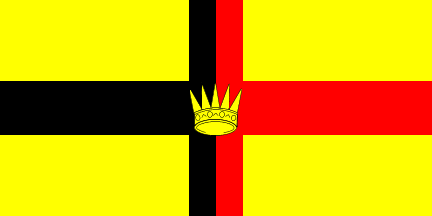 1:2 image by Uros Zizmund
On 9 March 1963 the independent Sarawak adopted the old State flag but with proportions 1:2. When it joined Malaysia on 16 September 1963 the State flag remained unchanged.
Mario Fabretto, 18 September 1997
Mauro Talocci [in Flag Bulletin?] reports the merchant flag was readopted 9 March 1963 as state flag, and was 1:2.
Jaume Ollé, 2 November 1998
---
Sarawak State Flag 1973-1988
image by Jaume Ollé
The red over white with a blue triangle in the hoist appears to have been used by a republican rebellion in Brunei (circa 1970) which extended to Sarawak.
Jaume Ollé, 9 June 1997
The Brunei rebellion was in 1962. I don't think the red, white and blue flag had anything to do with that, but it was certainly used as the state flag within Malaysia until the early eighties.
Martin Laverty, 20 July 1998
According to Pedersen 1980, "the flag was instituted on 31-8-1973 (in remembrance of 10 years inclusion within the Federation of Malaysia). The colours of the flag are the national colors, to which symbolic significance as attributed: courage and perseverance (red), honesty and purity (white); and national feeling (blue)."
Jarig Bakker, 7 April 1999
The 1973 flag is indeed linked to the Brunei Rebellion. The Brunei Rebellion flag was based on Indonesia's (the bulk of Borneo is in Indonesia). The green triangle at the left side of the flag represents the unity of Sabah, Sarawak and Brunei under the rule of the Muslim sultan of Brunei. An earlier discarded variant of the Brunei Rebellion flag made its way to Sarawak and became Sarawak's 1973-88 flag. This was possible because one of the key participants in the Brunei Rebellion was a Sarawakian independence activist who later surrendered to the Malaysian government and received a pardon and political rehabilitation. When Sarawak needed to ditch its 1963-73 flag which was too British and colonial, he sold the blue-triangle flag of the Brunei Rebellion to the Sarawak state leaders. As for the new state flag of 1988, Sarawak did not readopt Brooke's colours. Brooke's colours are red and blue. Brooke changed the state colours of his kingdom to black, red and yellow because of the advice of the Bruneians, who form 20 per cent of Sarawak's population, and who ruled the state before he arrived in Borneo. Brunei's original colours are yellow (for the royalty), black (for the nobles) and red (for the masses).
James Lam, 26 August 2003
---
image located by Valentin Poposki, 02 May 2022
The flag of the Kuching South City Council is white with city coat of arms centered.
Valentin Poposki, 02 May 2022
---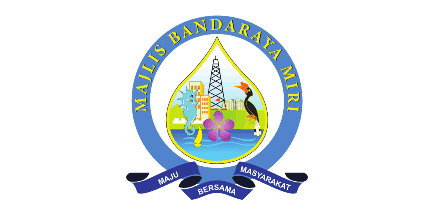 image located by Valentin Poposki, 02 May 2022
Here is the flag of the Miri City Council.
Valentin Poposki, 02 May 2022