This page is part of © FOTW Flags Of The World website
Kedah (Malaysia)
Kedah Darul "Aman", Sultanate of Kedah "of Peace"
Last modified: 2023-06-03 by

zachary harden
Keywords: kedah | sultan | shield (gold) | crescent (green) |
Links: FOTW homepage | search | disclaimer and copyright | write us | mirrors

---
image by Clay Moss, 3 September 2005
---
---
See also:
---
Other sites:
---
Description
Kedah has a red flag with golden shield over a green crescent surrounded by a yellow wreath in the canton.
Željko Heimer, 6 April 1996
At the top left hand corner, there is an emblem of a red crescent and green shield with wreath of yellow. The wreath is a wreath of paddy (or padi i.e. rice stalk) which is the State's principal product. The background is red which is the traditional colour of the State, signifying prosperity. The crescent signifies Islam. The shield symbolises the role of the sultan as the protector and guardian of his subjects and all inhabitants of the state from unjust government.
Thomas W. Koh, 14 May 1997
Flaggenbuch 1939 [neu39], Pedersen 1970 [ped70], Smith 1975 [smi75c], Album des Pavillons 1990 [pie90], Dorling-Kindersley 1997 [udk97] all disagree with each other about the exact size and location of the emblem.
Ivan Sache, 16 January 2000
From the State of Kedah Official Website:
State Flag: The state flag features a red crescent moon below a green shield and is enveloped by a yellow wreath against a red background. Red is the traditional colour of the state and also signifies prosperity while the crescent moon is symbolic of Islam. The shield symbolises the Sultan of the state as the protector and guardian of his subjects.

Emblem: The wreath which consists of paddy seeds symbolises the state's principal agricultural commodity - rice. The crescent moon symbolises Islam while the shield represents the sovereign's authority.
Herman Felani M.Y., 6 November 2003
The image shown above is the current most popular design. It is being manufactured by virtually all of Malaysia's flag makers, and the defacement appears as Kedah's official "coat of arms" on literature and the "Welcome to Kedah" signs on the north/south highway. I have thus far counted 17 different variants of Kedah's flag with several other renditions of the flag's defacement. This particular illustration was created exactly from the Kedah flag in my personal collection.
Clay Moss, 3 September 2005
My notes on the specification sheet for Kedah read as follows: "The Sultanate of Kedah was one the original members of the Federated Malay States (under British protection), of the subsequently independent Federation of Malaya and then (from 1963) of the Federation of Malaysia. Unconfirmed information suggests that this flag was adopted in 1912, however, no official statistics are known at this time, and the construction details given here are based on flags in actual use. Please note that the Arabic inscription (shown in red, white or green) on the shield may be an unofficial addition? Red is the traditional colour of Kedah. The wreath of padi represents the main crop of the state, the crescent stands for Islam and the shield is a symbol of authority."
Christopher Southworth, 3 September 2005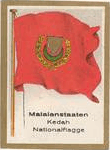 image located by Klaus-Michael Schneider, 31 October 2007
According to Cigarette ALBUM "Die Welt in Bildern Album 7 : Flaggen der Welt, aussereuropäsche Staaten", edited between 1928 and 1932 according to the international boundaries in the included map of the world, depicted in the ALBUM on p.6, image no.245, Kedah has a plain red flag with golden shield, not a yellow one, over a green crescent surrounded by a yellow wreath in the centre of the flag.
Klaus-Michael Schneider, 31 October 2007
---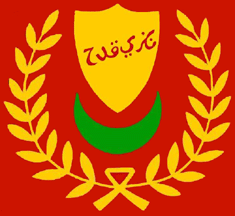 image by Clay Moss, 6 September 2005
The detail of Kedah's current defacement. This is the defacement being currently manufactured by virtually every flag maker in the country. This has not always been the case and several variants exist, shown below: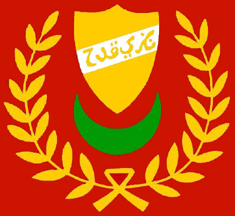 image by Clay Moss, 7 September 2005
This is the Kedah state flag defacement I would consider to be the second most popular among the batch. Someone commented off line that they thought the inner arch of the crescent should touch the bottom tip of the shield at center on each on any Kedah flag. I commented to them that I had seen a couple of samples of such defacements, but that overwhelmingly the crescent and shield are separated as per my illustrations.
Clay Moss, 7 September 2005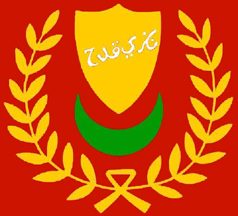 image by Clay Moss, 8 September 2005
This is the 3rd most abundant Kedah defacement I have seen.
Clay Moss, 8 September 2005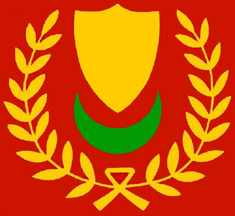 image by Clay Moss, 9 September 2005
A Kedah defacement without the Arabic script. This is actually the first Kedah defacement I personally saw when arriving in Malaysia and was a bit surprised when they began to appear with the script.
Clay Moss, 9 September 2005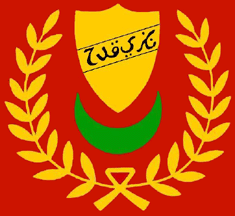 image by Clay Moss, 10 September 2005
Another variant of the defacements I have seen on Kedah flags. I have seen 12 other variants on a single flag each.
Clay Moss, 10 September 2005
---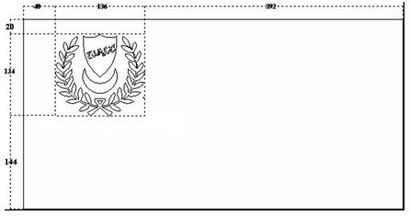 image by Clay Moss, 3 September 2005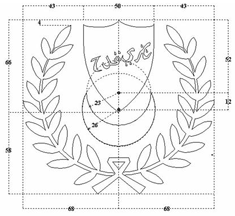 image by Clay Moss, 3 September 2005
Based on a flag of 288 x 576 units, the defacement rests on the horizontal meridian, it is therefore set 20 units down from the upper edge and is set 48 units in from the hoist.
Christopher Southworth, 3 September 2005
---
Sultan's Standard
Bendera Sultan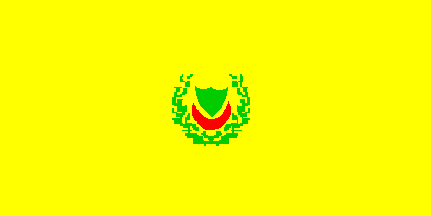 1:2 image by Ivan Sache, 16 January 2000
Plain yellow flag with the emblem in the middle. Emblem with green shield and garland and red crescent. Source: Flaggenbuch 1939 [neu39].
Ivan Sache, 16 January 2000
Sejarah Kedah (History of Kedah) 1987 [ism87], pp. 156 to 160, shows the Bendera Sultan (Sultan's Standard). The field is in yellow, and the centre is charged with the emblem of Kedah. However, the shield and laurels were rendered in green and the crescent is rendered in red.
Herman Felani M.Y., 6 November 2003
---
President of the State Council and Sultan Advisor's Standard
Bendera Presiden State Council dan Pemangku Sultan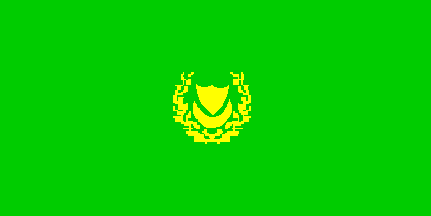 1:2 image by Ivan Sache, 16 January 2000
Plain green flag with the emblem in the center, plain yellow. Source: Flaggenbuch 1939 [neu39].
Ivan Sache, 16 January 2000
Sejarah Kedah (History of Kedah) 1987 [ism87], pp. 156 to 160, shows the Bendera Presiden State Council dan Pemangku Sultan (State Council President and Advisor). The field is in green, and the emblem of Kedah is charged in the centre. The emblem of Kedah was totally rendered in yellow.
Herman Felani M.Y., 6 November 2003
---
Crown Prince's Standard
Bendera Raja Muda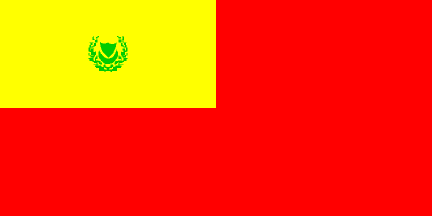 1:2 image by Ivan Sache, modified by Santiago Dotor, 18 July 2006
Sejarah Kedah (History of Kedah) 1987 [ism87], pp. 156 to 160, shows the Bendera Raja Muda (Crown Prince's Standard). It has a red field, and a yellow canton. On the yellow canton, is the emblem of Kedah rendered all in green.
Herman Felani M.Y., 6 November 2003
---
Standard of HRH the Sultanah
Bendera Khas Duli Yang Maha Mulia Sultanah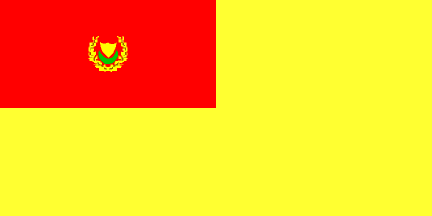 1:2 image by Ivan Sache, modified by Santiago Dotor, 18 July 2006
Sejarah Kedah (History of Kedah) 1987 [ism87], pp. 156 to 160, shows the Bendera Khas Duli Yang Maha Mulia Sultanah (Standard of HRH the Sultanah) It has a yellow field, and a red canton. On the canton is charged the emblem of Kedah in its proper colours as per the State Flag.
Herman Felani M.Y., 6 November 2003
---
Standard of the Honourable Prime Minister
Bendera Tuanku Bendahara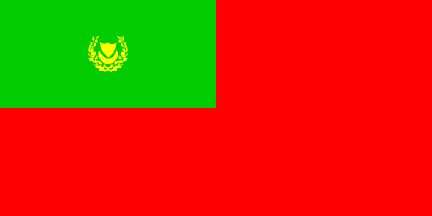 1:2 image by Ivan Sache, modified by Santiago Dotor, 18 July 2006
Sejarah Kedah (History of Kedah) 1987 [ism87], pp. 156 to 160, shows the Bendera Tuanku Bendahara (Standard of the Honourable Prime Minister). It has a red field and a green canton. The emblem of Kedah is charged on the canton and is rendered totally in yellow.
Herman Felani M.Y., 6 November 2003
---
State Ensign
Panji-Panji Kapal-Kapal Kerajaan Negeri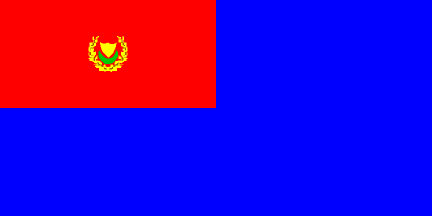 1:2

image by Ivan Sache, modified by Santiago Dotor, 18 July 2006
Sejarah Kedah (History of Kedah) 1987 [ism87], pp. 156 to 160, shows the Panji-Panji Kapal-Kapal Kerajaan Negeri (State Ensign). It has a blue field and a red canton. The emblem of Kedah is charged on the canton in its normal colours, as per the state flag.
Herman Felani M.Y., 6 November 2003
---
Civil Ensign
Bendera Perniagaan Negeri Kedah
1:2
image by Ivan Sache, 16 January 2000
A large per bend [upper hoist to bottom fly] red stripe between a yellow upper fly and a green bottom hoist. Source: Flaggenbuch 1939 [neu39].
Ivan Sache, 16 January 2000
Sejarah Kedah (History of Kedah) 1987 [ism87], pp. 156 to 160, shows the Bendera Perniagaan Negeri Kedah (Civil Ensign) as shown above.
Herman Felani M.Y., 6 November 2003
---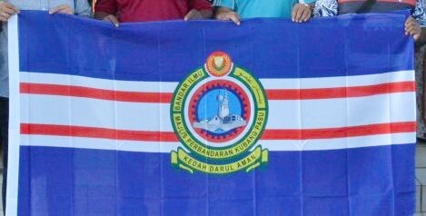 image located by Valentin Poposki, 02 May 2022
Here is the flag of the Kubang Pasu Municipal Council.
Valentin Poposki, 02 May 2022
---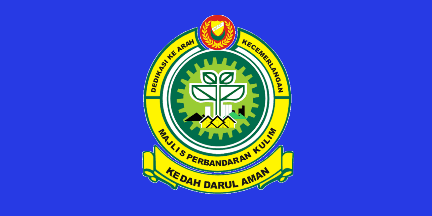 image located by Valentin Poposki, 02 May 2022
The flag of Kulim Municipal Council is blue with municipal emblem centered.
Valentin Poposki, 02 May 2022