This page is part of © FOTW Flags Of The World website
Lebanese American University (Lebanon)
Last modified: 2021-05-07 by ian macdonald
Keywords: lebanon | lebanese american university |
Links: FOTW homepage | search | disclaimer and copyright | write us | mirrors

---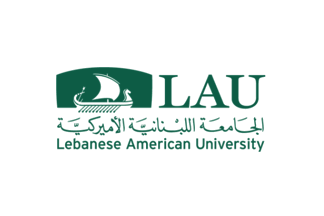 image by Ivan Sache, 4 April 2021
---
See also:
---
Description
Presbyterian missionaries Eli and Sarah L. Smith came to Lebanon in 1835. Noticing the prevalent illiteracy among girls in Beirut, Sarah decided to offer classes to the local population. With a handful of students, she started what soon became known as the American School of Girls.
After a sectarian conflict in 1860, ASG was renamed Beirut Female Seminary. It went through several changes—including a few interruptions—before reverting to its original name in 1868, and becoming a popular school for women which included secondary education.

In 1921 the American University of Beirut (AUB) began accepting women into its schools of medicine, dentistry and pharmacy. In 1924, ASG started a two-year junior college curriculum that was mandatory at the time for young women wishing to pursue bachelor's degrees at AUB. In 1927, this program became known as the American Junior College for Women (AJCW)

In 1948–49 the AJCW program was expanded under the name Beirut College for Women (BCW). In 1950, it was granted a provisional charter by the Board of Regents of the University of the State of New York and it was authorized to bestow four-year Bachelor of Arts degrees and two-year associate degrees. In 1955 the Board of Regents granted BCW an absolute charter with all its rights and privileges, including the authority to also hand out Bachelor of Science degrees.
In 1970 another milestone was reached when the Lebanese Government officially recognized BCW's BA and BS degrees as equivalent to the national Licence.

Having accepted men into some programs, the college changed its name to Beirut University College (BUC) in 1973. By October 1975 men were admitted into all programs.
According to a BUC Board decision, the institution became a university in October 1992. In 1994, the Board of Regents in New York approved BUC's request to change into the Lebanese American University (LAU).

LAU is composed of four Schools: School of Architecture & Design, School of Arts & Sciences, Adnan Kassar School of Business, and Gilbert & Rose-Marie Chagoury School of Medicine.

https://www.lau.edu.lb/about/history/
LAU website
The university adopted a new log and flag in 2009.
The flag of LAU us white with the university's logo.

Photos
https://www.facebook.com/LebaneseAmericanUniversity/photos/10157389322738070
https://www.facebook.com/LebaneseAmericanUniversity/photos/10157148948453070
https://www.facebook.com/LebaneseAmericanUniversity/photos/10157034540943070
https://www.facebook.com/LebaneseAmericanUniversity/photos/10156759301783070
https://www.wlnjournal.org/blog/2019/11/writing-centers-at-schools-an-initiative-by-the-lebanese-american-university-writing-center/
https://www.itgholding.com/album/56/itg-holding--lebanese-american-university-lau-signed-an-agreement-to-promote-academic-cooperation/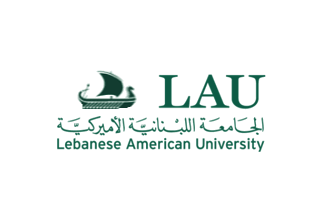 image by Ivan Sache, 4 April 2021
On some flags, the ship is represented in green on a white background.

Photos
https://www.facebook.com/LebaneseAmericanUniversity/photos/10157219894108070
https://www.facebook.com/LebaneseAmericanUniversity/photos/10156984157393070
https://www.facebook.com/LebaneseAmericanUniversity/photos/10156923266893070

The logo of LAU, adopted in October 2009, is composed of the university's emblem (a Phoenician ship within an arched frame), initialism ("LAU", and worldmark (the universality's full name in English and Arabic).

Dark green is the official LAU color, specified as:
Pantone 336
CMYK 100 9 58 45
RGB 0 103 81.

The font is Raleway, a sans-serif typeface family initially designed by Matt McInerney as a single thin weight. It was later expanded into a 9 weight family by Pablo Impallari and Rodrigo Fuenzalida in 2012 and iKerned by Igino Marini.

https://stratcom.lau.edu.lb/files/lau_visual_identity_style_guide.pdf
Branding Guidelines

The first seal of LAU was adopted in 1937 based on a class project by Elizabeth Kuenzler Marshall. The representation of the ship was limited to the hull and oars. The ship was surrounded by the AJCW's motto: "To Strive - To Seek - To Find".
The logo was modified in 1948, when the institute was renamed to BCW. The ship is portrayed with more detail, boarded by nine men holding a round shield and a spear, while the sea is represented by two zigzags.
In 1973, the logo was amended for the new BUC. The ship lots its crew but was equipped with a mast and sail.
The next seal, featured on the former flag [as shown in the FOTW website] was adopted in 1994 to reflect the creation of LAU.
The present-day's companion seal of LAU does not seem to be used on a flag.

https://stratcom.lau.edu.lb/branding/
LAU website
Ivan Sache, 4 April 2021
---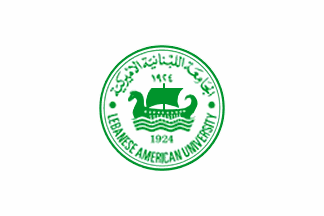 image by Eugene Ipavec, 20 July 2007

Flag: photo 1, photo 2.
Eugene Ipavec, 20 Jul 2007