This page is part of © FOTW Flags Of The World website
Saraya al-Khorasani Organization (Iraq)
Saraya Khorasani Vanguard
Last modified: 2020-10-16 by ian macdonald
Keywords: saraya al-khorasani organization |
Links: FOTW homepage | search | disclaimer and copyright | write us | mirrors

---
Version 1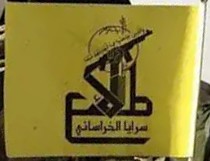 image located by Esteban Rivera, 25 September 2020
---
See also:
---
This is the flag of the 18th Brigade within the umbrella organization called "Popular Mobilization Forces": "سرايا الخراساني (English: Saraya al-Khorasani) (also known as سرايا طليعة الخراساني (English: Saraya Talia Al-Khorasani, Saraya Khorasani Vanguard ), an
Iranian-aligned group with origins going back to the 1990s. First made more of a public impact through advertising its deployments to Syria on social media in 2013." (http://www.aymennjawad.org/2017/10/hashd-brigade-numbers-index, https://www.voanews.com/episode/iran-backed-militia-taking-leading-role-operation-iraqs-hawija-3762056, http://rawabetcenter.com/en/?p=825, https://jamestown.org/program/a-short-profile-of-iraqs-shia-militias/ and https://www.facebook.com/saraya.alkhorasany, this last source is unavailable).

The group traces its roots as back as 1986 when a Company (a military formation usually made up of a maximum of 100 members) called سرية الكرار, Saraya al-Karar, (English: al-Karrar Company, although it is usually accepted to be named Brigade even though its manpower does not reflect its designation). It evolved later on in 1995 as the military wing of the Iraqi political party حزب الطليعة الإسلامي , Hezb Taleea al-Islamiya (English: Islamic Vanguard Party) which was officially recognized as such in 2003.
Sources: http://historicoblog4.blogspot.com/2017/04/mourir-pour-assad-11-saraya-al-khorasani.html
and http://www.francesoir.fr/politique-monde/saraya-al-khorasani-milice-chiite-irakienne-soutien-syrie-iran-bataille-de-mossoul-combats-alep-guerre-etat-islamique-ei-daech-al-yasiri?platform=hootsuite

It derives its name from أبو مسلم الخراساني (English: Abu Muslim al-Khorasani, or more formally Abu Muslim Abd al-Rahman ibn Muslim al-Khurasani, or Abd al-Rahman bin Muslim al-Khorasani, although his name is claimed to be إبراهيم بن خكّان (English: Ibrahim bin Khakan) who was a Persian general in service of the Abbasid dynasty, who led the Abbasid Revolution that toppled the Umayyad dynasty (sources: https://ar.wikipedia.org, https://en.wikipedia.org/wiki/Abu_Muslim)

The flag of this military unit is a horizontal yellow background featuring the logo in black.
---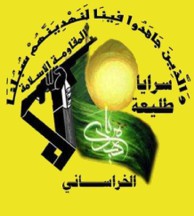 image located by Esteban Rivera, 25 September 2020
Source: https://fr.wikipedia.org/wiki/Saraya_al-Khorasani
image located by Esteban Rivera, 25 September 2020
Source: https://fr.wikipedia.org/wiki/Saraya_al-Khorasani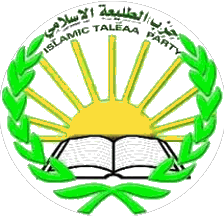 image located by Esteban Rivera, 25 September 2020
Source: http://isp-iraq.com/wp-content/uploads/2013/04/1.pdf
This is the logo of the Hezb Taleea al-Islamiya party.
Esteban Rivera, 25 September 2020