This page is part of © FOTW Flags Of The World website
Makran - Indian Princely State
Last modified: 2011-06-11 by ian macdonald
Keywords: indian princely state | makran | pakistan | baluchistan |
Links: FOTW homepage | search | disclaimer and copyright | write us | mirrors

---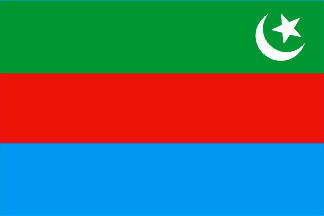 image by Chrystian Kretowicz
Makran (sometimes spelled erronously 'Mekran') has a flag in the reverse order of colors of Kharan. According to Filcher (1984), the upper band, green with the crescent moon and star represents the Islamic faith of Makranis and belonging to Pakistan. The red symbolizes the sacrifices in the fights to maintain the independence of the Emirate. And the blue band stands for the extensive sea coast of the country.
Source: Filcher (1984)
Chrystian Kretowicz, 16 January 2003
---
See also:
---
EMIRATE OF MAKRAN
Baluchistan Province, Princely States of Baluchistan
11 Gun Salute
Area: 26, 000 sq. mi
Acceded to Pakistan on March 17, 1948

Towards the beginning of the 16th century the Portuguese found their way to India and captured several places along the Makran coast. They never penetrated inland and were unable to establish anything more than heavily defended military bases at various points. In 1581 they destroyed Gwadar and Pasni by burning them to the ground. In the 18th century, Makran came gradually under the control of the Kalat Khanate, which was ruled then by Nasir Khan I. It was not until the 19th century that the British got interested in this area during the time of the First Afghan War in 1838. An expedition was sent into the area to pave way for the building of the Indo-European telegraph line, which passed through Makran. On its completion in1863, Major Goldsmith was posted to Gwadar as Assistant Political Agent. In 1872, a firm boundary between Persia and British Baluchistan was established and Makran became a part of the British Empire. After partition of India and creation of the Muslim state of Pakistan, Makran acceded to it on March 17, 1948. The Princely state, the Emirate of Makran, was abolished officially in 1955 and subsequently Makran was divided into several districts of Pakistani Baluchistan. Source: Filcher (1984)
Chrystian Kretowicz, 16 January 2003
In his book "Les drapeaux de l'Islam", Lux-Wurm (2001) describes a rather enigmatic "Makran" flag. Makran is the name of the coastal area of Pakistan along the Oman Sea. The name of the area might have been derived from Persan "mah-i-khoran" (fish eaters), Sumerian "magan", or Parthic "makuran". Makran was conquered by Cyrus in 530 BC. The Arabs settled in Makran in 643, and Muhamad ben Qasim Al Thakafi introduced Islam there in 711. According to the Moslim geographers of that time, Makran was a desert and hostile land. In Xth century, the Afghan Ghaznevid dynasty established in Makran a vassal Emirate to gain an access to the sea. The Ghorid dynasty did the same in 1186. In 1290, Marco Polo sailed along the coast of Makran and mentioned "Kesmacoran", ruled by a Baluch king. In XVIIth century, a local ruler, the Khan of Kalat, offered the area to the Sultan of Musqat, who appointed a "wali", a kind of Governor-Resident. It seems that the flag of Makran dates back to this period. In 1958, the Sultan of Oman sold the territory to Pakistan, which incorporated it into the province of Baluchistan.

The flag is 2:3, horizontally divided green-red-blue with a white crescent and star in upper fly. The crescent and star placed on the green stripe symbolize Islam, the red stripe recalls Muskat plain red flag, and the blue stripe symbolizes the coast.
Ivan Sache, 27 April 2002